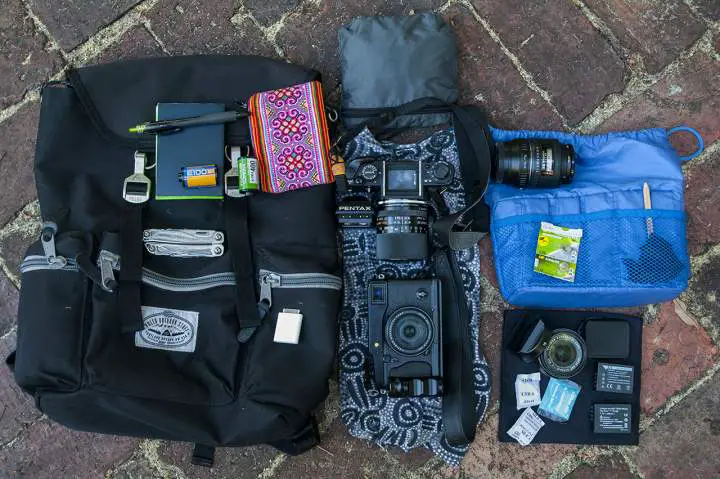 In your bag No: 1325, Jesse Roberts
Jesse has been on the site before, not only with a bag but with a project too. And now he is bag with the latest iteration of his bag. Stuffed to the gills again, this bag shot has a little bit of everything. Check it out.
Hello from Perth, Western Australia, my name is Jesse and I'm a returnee to the site, with a few changes since bag no 870. The bag pictured is a re-creation from a holiday a couple of weeks ago to Bali, Indonesia. I travelled with my wife, 1-and-a-half year old son, and a couple of friends. It was my first time to a place which it seems like every other Perth resident has visited, and gets a bit of a bad rap for being a magnet for Australians wanting to drink too many Bin Tangs and behave badly. Balinese people seem very friendly though, the jungle is beautiful and from what I gather it's seen as a bit of an exotic location for people visiting from further abroad.
My bag has changed since last time, as has my main digital shooter.
– The bag is a Poler Stuff backpack, which has served me well for almost a year now, being used almost every day to commute to work by bicycle. Missing from this shot are the puncture repair kit, fresh tube, tyre levers and pump that usually live in one of the side pockets, but I took them out for the holiday (and have not used them in a whole year and thousands of kms on the cheapest tires I could find, Vittoria Zaffiro wirebeads, for any bike commuters reading). I didn't take a laptop, but the laptop sleeve is a nice secure spot for keeping your passport and any cash you don't want in your pocket.
Sitting on top of the bag in no particular order: 
– Pen and notebook, used to write down the names of a couple of people I took portraits of, and a few Indonesian words and phrases I never used as everyone spoke English (I kind of feel bad about not trying out of courtesy).
– Wallet (actually a simple zip-up purse a friend got from Vietnam for my wife but she didn't need, and I'd lost my wallet, score)
– SD card reader for iPad (the iPad stayed at the hotel the whole time)
– Leatherman multitool. I bought this one day when I needed pliers at home, couldn't find them, and of course they turned up as soon as I'd bought the Leatherman. Solid investment though, I use it a surprising amount, though didn't need to on this trip.
– Super expired Kodak E100 GX film that I used the last few frames of while away, will hope for the best when cross-processing this, and a roll of only just expired Fuji Superia xtra 400 that didn't make it into the camera. I mentioned with my last bag entry my reservations shooting film as a vegetarian, and am still scrounging unwanted or surplus rolls where I can. The recent JCH article about the environmental impacts of film vs digital was a really interesting read, thanks to the author. (Please all feel free to point out the futility of my half-heartedly trying to keep my conscience clear). I also had much more luck avoiding having my films x-rayed at the airports than in previous travels, just a side note.
Next to the bag is a rain cover (top), and the two cameras I took, sitting on a Buff head-scarf/bandana type thing, which I've had for years, is really handy for hiking or riding in the winter or travelling in cold places, and serves well to wrap up the SLR pictured. 
The Pentax LX was in my last bag. I'd just got it then, haven't regretted the purchase since, and a nice surprise was the quality of the lens pictured that came in the gumtree bulk buy, and I'd planned on selling. It's a Tamron SP 90mm f2.5, which does macro. It's also got a really funky "Adaptall 2" mounting system, the lens come off it's mount, and back in the day you could presumable buy it with mounts to suit various brands if you were using more than one system. I imagine it wasn't a huge commercial success, but the image and build quality is great. I generally shoot wider angles (35 on film, often 18 on digital crop sensor), and I thought I'd read that Steve McCurry's favourite focal length was 90mm-ish. So I decided to try and keep this lens on and move out of my comfort zone (After a quick internet search I learned that 90mm isn't Steve's fave, but it was a nice idea). I loaded this camera with super expired Fuji 160 NPC while in Bali.
Below the Pentax is a Fuji X-Pro1, which I also bought second hand. It came with the cheap grip shown, which I like. The grip didn't line up with the tripod mount when I got it and required some attention with a drill (that's ebay for you). I want to love this camera. For a couple of weeks when I first got it I didn't like it at all. Now I usually really like it, but still sometimes find it a bit limiting, and I've never been sold on the out-of-camera jpgs which some people rave about. I definitely appreciate it most when I go back to using my old DSLR though, so that's a good sign. I also dropped it a couple of metres off a rock while hiking, it bounced another five metres or so down a steep trail, and came out basically unscathed. On the camera is the 27mm f2.8, which, again, I sometimes like and sometimes think it seems a bit soft, but it's usually pretty good, focuses relatively fast, is tiny, and I got it new really cheap after buying the body, when cash was unfortunately a bit of a limitation. Not quite as wide as I'd like (something like 40mm equiv) but the 23mm Fuji lens is really pricey in comparison, and also nowhere near as compact.
To the right of the cameras is a Pentax 35mm f2 lens on cheap ebay Fuji X adapter (no issues with the fit of this one). The X-Pro1 is definitely not for video. Even the manual focus is electronically driven, so you always have the sound of the lens focussing really loudly in your footage if you focus during video. The Pentax lens and adapter were in case I wanted to take video without the focussing noise, but I didn't get the chance anyway.
The lens is sitting on a little bag insert, which held all the camera gear bar the SLR. On top of that are spare batteries for the Pentax, a pencil and lens cloth (memory cards were in there too).
Below the bag insert is a Fuji 18mm f2 lens, which I really like, with hood and lens cap. This focusses to a very close distance and has the faux-mechanical aperture ring, which I prefer to using a control wheel, as I often shoot in aperture priority. 
Below that are some silica gel sachets from food packaging to try and fend of some humidity, as the Fuji is not weather sealed. Sitting next to those are a couple of spare batteries, all on top of a handy lens cloth/pouch that came with the lens.
Missing from the shot are nappies, snacks, water, insect repellant, an epi pen and emergency epilepsy meds that were included when exploring with our son (his pretty effective regular meds have meant that we've never had to use the emergency meds for bad seizures).
You can find some of my pictures on instagram (@_jesseroberts) and my website www.jesseroberts.com.au. I also have a fairly under-utilised facebook page (facebook.com/jesserobertsphoto), though I only post a few pictures I do try and share links to other people's work that I find inspiring. Instagram is great in ways, I've found some really talented people using it and also met some people in real life, but it also has it's limitations. I'm on the lookout for a format to show my photos online with more ease and sharing potential than the website, but without the massive feeds you accumulate and the advertising on Insta. Please recommend anything you've had good experiences with!
I'd love to hear from any of you if you are travelling to the far-flung Australian west coast and want to shoot.
Thanks Bellamy for keeping up a top-notch site.
Thanks for sharing your bag with us again, Jesse. I like that LX, a very capable camera.
Check out the links and make sure you come and comment.
Keep them coming folks, we need more submissions, so get your bag on Japancamerahunter.com.
Send me a hi resolution image of the bag. Optimum size is 1500 across. Please ensure there is a bag in the shot, unless you don't use one. The more you can write about yourself the better, make it appealing and tell us a story.
Oh and don't forget your contact details (twitter, flickr, tumbler et al). Send the bag shots here. Please understand that there is a long wait now as there is a backlog of submissions. Not all make the cut, so make sure yours is funny/interesting/quirky. And please make sure the shot is of good quality, as the ones that are not do not go up.
Cheers
Japancamerahunter