Get Featured: Duran Levinson
Duran shares with us his work from a series he has been working on about Rwanda. Duran tries to capture the changes since the genocide of the Tutsi people 20 years ago. Read on.
My name is Duran Levinson; I am a 26-year-old film photographer & cinematographer from Cape Town, South Africa.
I am interested in telling stories and documenting life in a unique way. I have been taking my photography seriously for 1-½ years and shoot exclusively on film as I have a huge passion for analog story telling.
I recently spent two weeks in Rwanda. I was there to take photos and find stories worth telling. The project itself turned out to be a journey around the whole country meeting all kinds of wonderful people who shared insights with me, which in turn lead to a lot of self discovery. I believe the story can be interpreted as a contemporary African photo essay that represents life 21 years after the Rwandan genocide.
"INDIVISIBLE"
An analog photo essay on life in modern day Rwanda
Written & Photographed by Duran Levinson Edited by Annie Brookstone
July 2015
Can a photograph really tell a story? Can we accurately portray anything when by nature the medium is framed and manipulated to create the image the photographer wants you to see? There seems to be an inherent problem with pointing a camera at anything these days. This is the photographer's dilemma, on a quest to feel something real and portray it as honestly as possible through a single moment in time.
In April 1994 between 800 000 and a million Tutsis were murdered in Rwanda. Six years old at the time, I too young to comprehend world news, unaware of the wave of violence sweeping through a country only a short flight from my home in South Africa.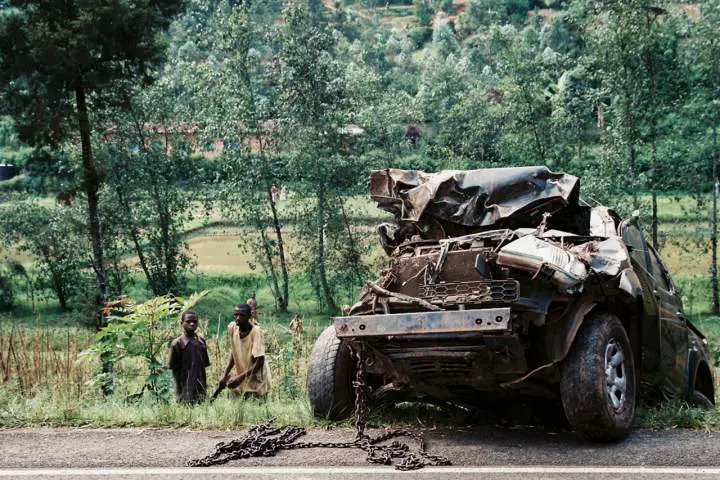 Twenty-one years later I arrive in Kigali by myself. I have a travel backpack, two analog cameras, an empty notebook and no idea what to expect. First came the offer to travel to Rwanda to work on a commercial and spend two weeks exploring the country. The next step was getting onto the first available flight. I haven't had time to think beyond that. All I know is that my plan is to take pictures and document life in present- day Rwanda. I don't know what stories I'll stumble upon and what experiences I'll have. I'm just another tourist with a camera…
Kigali City surprises me from the moment I arrive. The streets are pristine, the green rolling hills and endless valleys are picture perfect as I whizz downtown on the back of a moto-taxi. Roadside plastic gorillas are my welcoming party as we dart through the traffic – them and the signs urging "Kwibuka" the Kinyarwanda word for "remember".
I am staying in a complete stranger's house, but he welcomes me with open arms, as do most people – a good sign of things to come, I hope. My first stop is the Genocide Museum in Gisozi. Standing above a mass grave with 250 000 people buried below me is impossible to describe: it doesn't feel real.
I don't want to go anywhere because of preconceived notions, so I decide to dive into Kigali. Nothing feels off-limits. I walk around a Kacyiru and people stare. I understand how painfully out of place I am. I sit with kids playing in the dirt. One of them asks for my pen and I have to break up the resulting fight over. I visit a small arts center for kids. I bond with creative kids. Children represent a large percentage of the Rwandan population and while more than 60% of the population lives in poverty; Rwanda has the highest primary school enrollment rates in Africa for both boys and girls.
Downtown Kigali is a busy place. People pack trucks with goods into the sky. People barter on every block. Reaching Nyabugogo is a photographer's dream. The transport hub for the whole of East Africa is a chaotic symphony of floods of people and buses in all directions, the bustling business of a major transport route. I meet a fixer and some people who are keen to laugh and talk to us. My new friend doesn't speak a word of English but we spend the next six hours together and he understands me enough to help me meet and capture portraits of people I come in contact with.
Our bond feels like something solid, calm, in the bedlam and I'm sad when our day comes to an end and we part ways.
At a local market I meet men practicing unorthodox medical diagnoses with laptops, treadmills and buckets of water. I get roped into a nice man's business to test out his medial assessments free of charge. I agree. Within minutes a crowd has gathered to watch the "Umzungu" get his medical tests done. He tells me my liver and head is damaged and suggests moving onto traditional healing next. I thank him for his time but decline. By now the queue of people lining up for his business has quadrupled. I feel happy to have helped and we exchange details, I shoot some photos and call it a day.
I wander into any area without fear. Safety is Rwanda is paramount – beyond that of any other country I've visited. People keep asking me if I'm lost but I feel like I'm on the right track. I visit Camp Kigali, a memorial to the 10 Belgian UN peacekeepers who were killed here in the 7th April 1994. Bullet holes texture every surface and the floor is riddled with grenade craters. I sit on the floor and try to reflect on what happened in this space. Echoing life back at home in South Africa, it's a strong reminder of how much can change in two decades.
If Camp Kigali is a quiet memorial to the past, the densely packed markets plunge me straight back into the present tense. They're lined with every fruit and vegetable imaginable; the clothing goes on forever. Nine out of 10 people in Rwanda are subsistence farmers – this is business at its finest in the third world.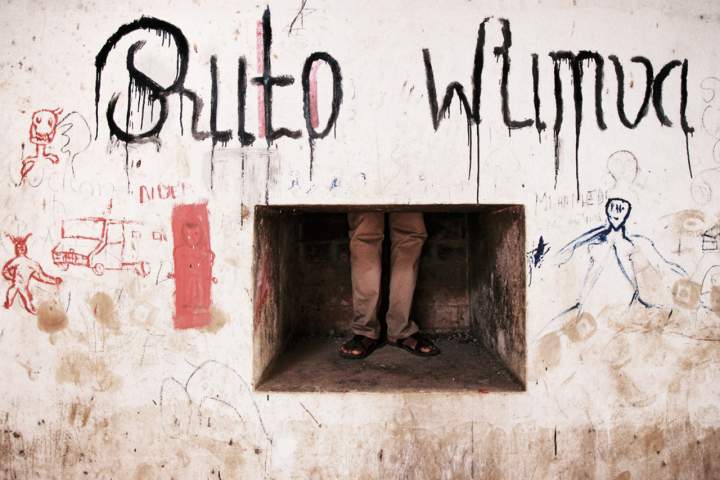 A drive towards the border and Lake Kivu allows me some insight into rural life here. I photograph an elderly woman hard at work – women are the backbones of their villages and the country as a whole – her lined face standing in stark contrast to those of the many children also at work in the endless fields. The countryside inspires me to take some of my favorite photos of the trip; disparity is everywhere, in those faces in the fields and in the ever-present natural beauty and profound poverty coexisting in every frame.
Nyamirambo is unlike anywhere else in Rwanda. It's a culturally rich area where art, religion and diversity merge seamlessly. I befriend some local hip-hop heads and they take me to "California City", one of the darker and more interesting hoods of Nyamirambo. Cruising the frenetic secondhand clothing markets, people haggling for the best deals in every direction, I'm so painfully out of place that it's wonderful. This creates some special photo opportunities, after which we grab brochettes (goat on a skewer) for lunch and I spend the rest of my time in Nyamirambo befriending locals and sharing stories.
One of my final days in Rwanda is spent shooting a music video for a local rapper. We end up shooting in an abandoned zoo on the top of a mountain and I feel like I'm truly in a location that has never been photographed like this before. A large group of rappers and kids come to hang out with us and join in on the fun; still, the laughter and jokes we share don't belie their hardships of life for young adults in Rwanda.
Tenacity. It's a theme that follows me to the end of the trip. Rwanda gives me hope that countries dealing with instability and turmoil can go on to heal and produce a positive future for all their citizens. I know what I have seen & photographed and I hope that I am telling that story.
The End.
Duran Levinson
Thanks for sharing your project with us Duran. It is a fascinating insight into the genocide and how it has shaped a society. Really great work.
Come on, share with us what you have and get yourself featured.
Click on this link and send in your project/work: Get Featured. *I am looking for mainly projects, not individual images*
Oh, and click here to see a few of the photographers that have been on the site before https://www.japancamerahunter.com/?s=featured
Please make sure you come and comment, polite and constructive critique is welcome.
Thanks
JCH