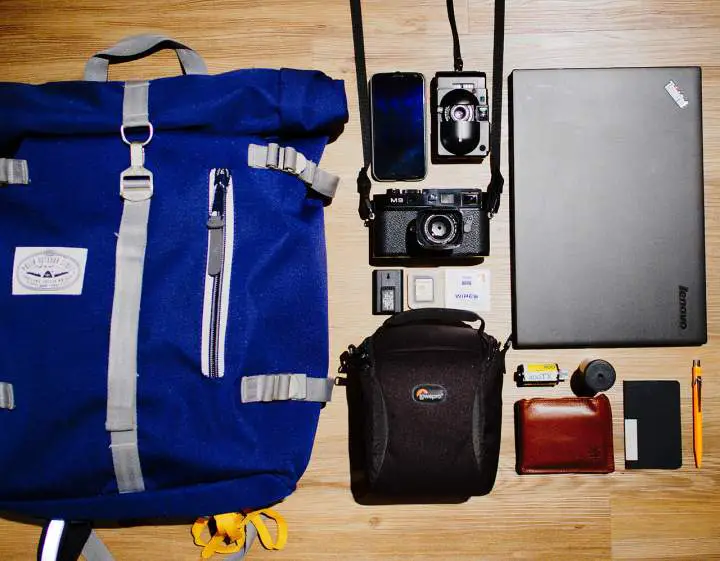 In your bag No: 1208, Tianhe Yang
A thoroughly modern bag for you all today, with a sweet little analogue twist. I couldn't carry a laptop around all day, but Tianhe needs to for work. Check this one out.
I've been following your blog for a few months now, and find the content informative and interesting. The features of personal projects and dives into new photobooks are particularly fun, as are the bag shots. And of course you produce some great camera gear and lovely photography, too. Keep up the nice work.
You surely get a ton of these, but I thought I'd throw my bag shot into the mix.
I work as a web developer, and find it more convenient to have my laptop at hand wherever I go. With the bulk of a computer and extra clothing for the rainy Pacific Northwest, my philosophy is to keep the camera gear light and focused.
I shoot mainly street photography. I'm not sure why I've been addicted to it for so long, nor why I'm still not tired of it. But walking through the city, there's always an undeniable human energy that, when mixed with the right light at the right moment, reflexively causes a snapshot to be burned into my brain. As long as that continues to happen, I'll be attempting to capture those moments as I remembered them. In a way, the pictures seem to take themselves.
My everyday Poler rolltop contains:
– a Leica M9 + Summicron 35mm ASPH + spare battery and memory: there's not much to say; this is a perfect balance of size, handling, and performance in all lighting conditions.
– an Olympus XA + BW400CN: for special occasions when I feel that something deserves to be captured on film. The near-silent shutter, manual advance, and diminutive size also help me get shots in situations where the M9 might not be discreet enough.
– lens wipe and blower brush (sorry, forgot the take the latter out of the bag)
– a little Lowepro case that holds all the camera gear
– a Moto X phone
– a Thinkpad X1 Carbon with Linux: I have to put in a word for the Rawtherapee image editor, which has builds for OSX and Windows as well. Its demosaicing algorithm delivers amazing pixel-level sharpness from the M9 sensor.
– a flash drive made out of a Tri-X film container, custom-built by a friend of mine. Tri-X is my first and favorite film.
– my wallet
– a Moleskine notebook + Caran d'Ache ballpoint
I also enjoy making landscape photography on my weekend hikes. The landscape kit is a bit heftier, and includes a tripod, 15mm Heliar, 24mm Elmar, 50mm Planar, and 135mm Elmarit.
Something I wanted to share that's not a physical tool but one that I find useful for my photography is shutterdial. shutterdial is an image search engine I built that lets users find images based on camera settings. I remember thinking when I shot my first serious, fully manual camera how great it'd be to have a way to see how awesome images could be taken at all the various settings available to my camera and its lens. Today, as an avid photographer, I still think it'd be handy to have such a tool to help with a range of situations that I'm not intimately familiar with. Well, now it's possible, and I hope you'll find shutterdial useful too.
All the best,
Tianhe
Flickr: https://www.flickr.com/photos/agis
Site: http://tianheyang.com/
Twitter handle: @tianheyang
Thanks for sharing your bag with us, Tianhe. A nice setup you have there.
Check out the links and make sure you come and comment.
Keep them coming folks, we need more submissions, so get your bag on Japancamerahunter.com.
Send me a hi resolution image of the bag. Optimum size is 1500 across. Please ensure there is a bag in the shot, unless you don't use one. The more you can write about yourself the better, make it appealing and tell us a story.
Oh and don't forget your contact details (twitter, flickr, tumbler et al). Send the bag shots here. Please understand that there is a long wait now as there is a backlog of submissions. Not all make the cut, so make sure yours is funny/interesting/quirky. And please make sure the shot is of good quality, as the ones that are not do not go up.
Cheers
Japancamerahunter