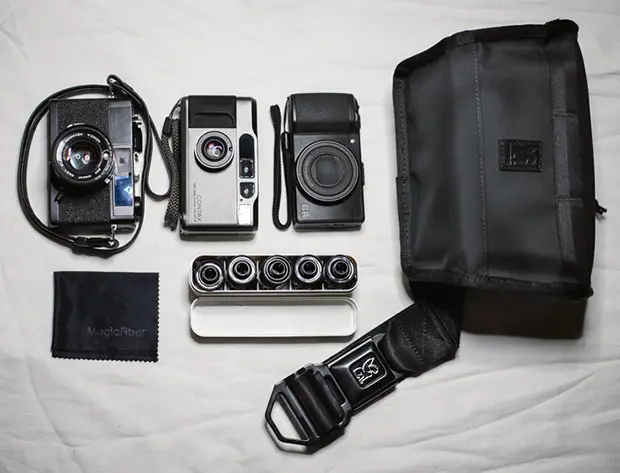 In your bag 1126, Jon Jacob Arcinas
JJ shares with us his bag of legends. 3 different compact cameras that are legends in their own right. Check it out.

Greetings from Orange County California!
My name is JJ, short for Jon Jacob Arcinas. Yes Jon Jacob, i hear that song every time haha. I have been shooting for 7 years now, and i don't see myself stopping anytime soon. I don't have a specific type of photography, I'm willing to try out anything! I do enjoy automotive, portraiture & street photography.
I shoot digital and film. Surprisingly, i've only been shooting film for 1 year. It beats sitting at a computer editing pictures all day. Shooting film has definitely made me a better photographer because it slows me down, and i put more thought into each shot.
I'm hooked on film! Buy film not megapixels right?
Here is what I would like to call my "Minimalist on the go" setup. This is what i would bring most of the time for my street photo outings. Excellent quality in such a small discreet package, you really don't need anything else.
The Bag: Chrome Niko Sling BLCKCHRM LTD
I also have a Billingham Hadley Pro but i would say this is my favorite and most used bag. Very well padded, weatherproof, and it looks cool haha. Perfect for when i go for a ride on my bike or skateboard. Compact size, and very stable when worn. I also love the seatbelt buckle. The click assures everything is buckled up and ready to go without worry.
The Cameras:
Ricoh GR – This is my take everywhere digital camera. Excellent image quality, fast, and very portable. Best image quality that can fit in your pocket. Snap mode works like a dream for street photography. I also use this as my play camera when i want to save money on film. Selfies, food pictures, you name it.
Contax T2 – Everybody's favorite compact film camera, Am I right? Titanium body, great glass, and the aperture ring on the lens is a godsend.
Konica Auto S3 – This is my first and only rangefinder, until i.. get a Leica of course. The images that come out of this thing surprised me. It is VERY sharp, the lens is often compared with Leica lenses.
The other contents within:
JCH halfsize film case – I love this thing. Keeps everything organized, and i always get complements! You'll usually find Portra 160/400, Ektar 100 or some cheap Fuji Superia film.
MagicFiber –  One wipe on the glass with this thing summons a genie that will clean and make your pictures so good, people will want to pay a lot of money for em. ;D
Thats pretty much it. Plain and simple.
Instagram – Check it out and follow me haha @jj.arcinas
Flickr – https://www.flickr.com/photos/hoyitsjj/
Thanks for sharing your bag with us, JJ. I love the legacy compacts you have there. Excellent.
Check it out and make sure you come and comment.
Keep them coming folks, we need more submissions, so get your bag on Japancamerahunter.com. Send me a hi resolution image of the bag. Optimum size is 620×473. Please ensure there is a bag in the shot, unless you don't use one. The more you can write about yourself the better, make it appealing and tell us a story. Oh and don't forget your contact details (twitter, flickr, tumbler et al). Send the bag shots here. Please understand that there is a long wait now as there is a backlog of submissions. Not all make the cut, so make sure yours is funny/interesting/quirky. And please make sure the shot is of good quality, as the ones that are not do not go up.
Cheers
Japancamerahunter