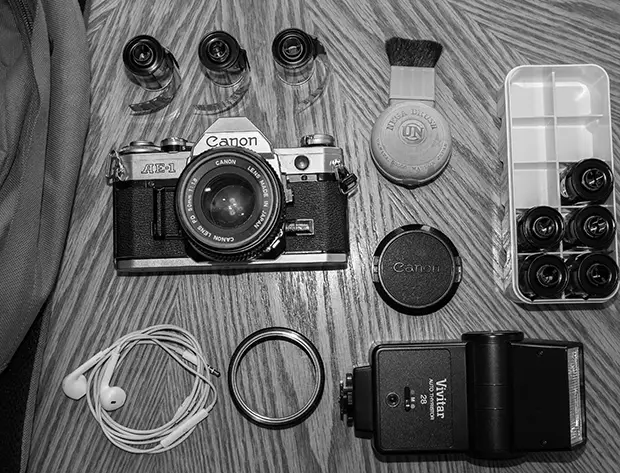 In your bag 936, Julian Broom
Only 15 years old and shooting film. Julian shares with us his school/camera bag. check it out.

Hello everyone,
My name is Julian, I live in Los Angeles and I'm 15 years old. Going to school makes it hard to find time for photography, but I still do. My bag is very multi purpose because most of the week it's my school bag and on the weekends or after school I fill it with camera gear.
I really got into photography about two years ago when my parents gave me a Canon T3 for junior high graduation. It was a great camera but, earlier this year I started noticing that the its quality wasn't so great and I decided to try out film. I picked up this AE-1 at a yard sale for ten dollars, the lady thought it was broken. Ever since then I've been mostly shooting film, although I do sometimes pull out my Canon T3. I only have a 50mm lens for the AE-1, which is a great all around but I'd like to get a wide angle lens eventually.
Canon AE-1 with 50mm f/1.8
Bellamy's film case
Lens cleaner
Headphones
Vivitar flash
Lens hood
Herschel Backpack
I don't have much preference when it comes to film. Most of the time I end up shooting X-TRA for color and HP5 for black and white because they're cheap. Although recently I just stocked up for a trip to Scotland and decided to sample so I got a variety. I bought some Portia for the first time, I'm looking forward to shooting that. Quite exciting. I haven't gotten around to scanning any of my film pictures, so everything I have on Tumblr is from my digital camera.
Thanks for checking out my bag!
My Tumblr page:
julianbroom.tumblr.com
And my twitter:
@sirjulianbroom
Thanks for sharing your bag with us Julian. Fantastic to see someone so young shooting film.
Check out the links and make sure you come and comment.
Keep them coming folks, we need more submissions, so get your bag on Japancamerahunter.com. Send me a hi resolution image of the bag (please make sure it is horizontal) and its contents, with some details about yourself and what you shoot. Oh and don't forget your contact details (twitter, flickr, tumbler et al). Send the bag shots here. Please understand that there is a long wait now as there is a backlog of submissions. Not all make the cut, so make sure yours is funny/interesting/quirky. And please make sure the shot is of good quality, as the ones that are not do not go up.
Cheers
Japancamerahunter