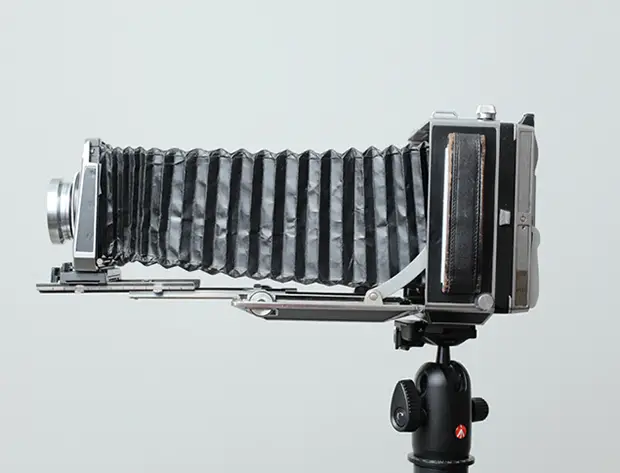 An introduction to 4×5 large format photography Pt: 2 by Benn Murhaaya
Following on from the epic part 1, part two is now ready for your enjoyment. This is huge and maybe not safe for work for some people as there are some naked people in the images. Come and check it out and learn something.

Operating the camera
Finally, we are getting to use the camera itself. No more boring stuff. So after mounting the camera to a solid tripod it's best to level it. With ball head and planar bubble level it's rather easy task, with 3D head, it can take a bit more. For shooting portraits the camera does not have to be perfectly leveled. But if you are shooting a whole figure it can happen that the head will be in focus but feet won't. For architecture this is a must. You might even want to invest into a better hot shoe level than those tiny ones that are on tripods.
Let's say we are taking portrait of a person. If it's the field camera we want to open it and move the lens to the rough position which will be adjusted during focusing. Field cameras such as Linhof Technika have a set of removable stops on the rails that fix the lens in infinity focus position. This greatly reduces the preparation time but these usually need to be adjusted for your particular lens because even though it's marked for 150 mm, the real focal distance can be anywhere from 145 to 155, plus the mounting of the lens (using shims) may displace it as well. With rail cameras, there might be some markings as well or you can mark it by yourself.
If the lens has a lever for opening the shutter we open the lens, if not, then all lenses have B mode usually. We set the shutter for B, c ock and expose and hold. It's best to have a wire release that can held open we are set. If the lens has a T mode we don't have to have these releases with that can be secured while open.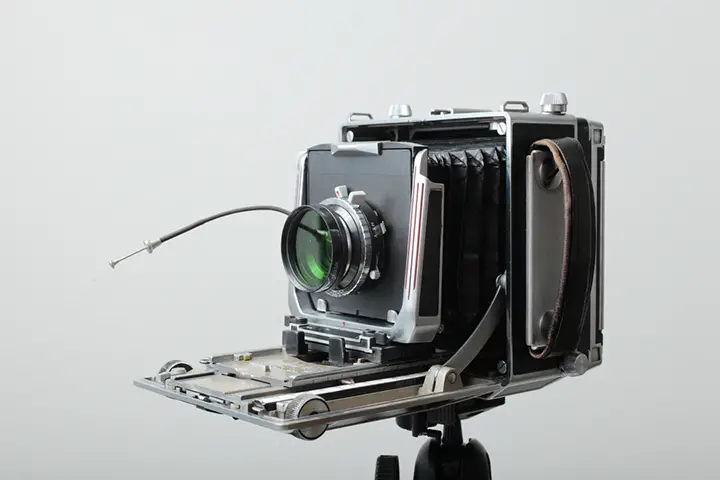 135 mm lens focused to infinity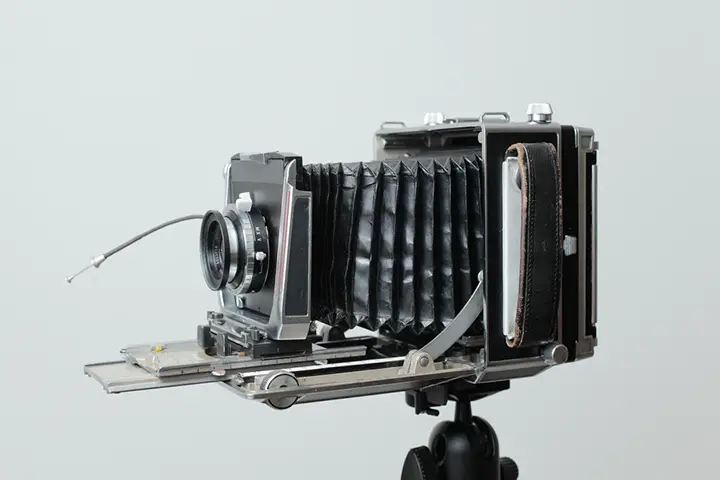 135 mm lens focused to a tight portrait at about 180 mm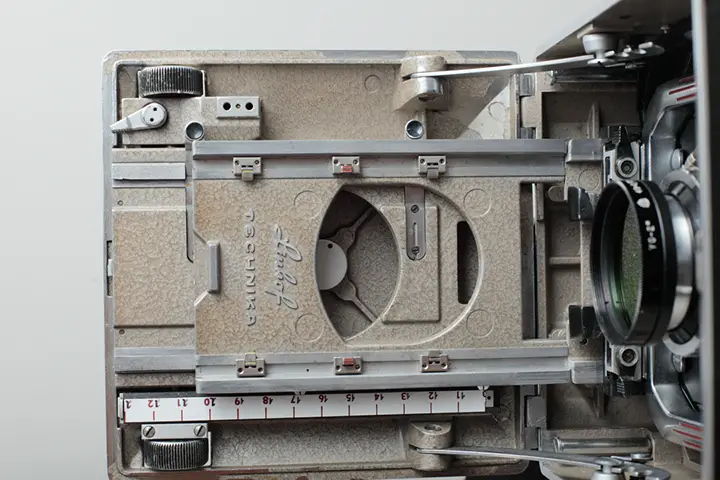 customizable stops for various focal lengths. Notice a makeshift rules on the bottom.
So the lens is open, then we cover ourselves and the back of the camera with black cloth and we can start observing the image on the focusing screen. With a loupe can start adjusting the focus. Now remember that the image is upside down rotated 180 degrees about the axis going through the lens. There are upright viewfinder made that work the same way as in TLRs, image is upright but mirrored but these are usually cumbersome. Focusing is done by moving the lens away from the focusing screen.
On rail cameras the focusing screen can be moved away from the lens as well, some cameras offer coarse and fine focusing knobs. At first we don't have to focus very precisely, because we still need to measure the light. What we need to account for now is bellows factor. Remember, the lens might have an aperture 5.6 but this is only when it's focused to infinity. If you are focusing closer, you are moving the lens away from the focusing screen and the effective aperture rises quite significantly.
Some rail cameras have a marking on the rail in cm. If not, it can be easily marked. I marked rails on my Linhof Technika field camera as well. If you are not going to use many lenses you might want to mark the distance not in cm or inches but in bellows factor. For computing the bellows factor we can use a calculator, guesswork or a great android application that my friend wrote for me and I helped him with it. (PhotoCalc app for android – https://play.google.com/store/apps/details?id=com.rdq.photocalc).
Once we got the rough bellows factor we can set that factor together with any filters on the light meter. We measure the light. Now if the lens has that special lever for opening, we can now set the shutter speed and c ock the shutter. Leave the lens on widest aperture for just a moment. And prepare your film holder. Now it's time for last and critical focus, tell the model to hold still and not to move forward or backward. Close the shutter with the lever. The shutter is now ready.
If you are using B or T for preview you need to set the correct speed and c ock the shutter again. Set the aperture. Insert the holder, slide out the dark slide. Last direction to the model (no blinking, hold the breath, with the slow films and slow lenses even during the sunny day outside the shutter speeds can be in around 1/8 – 1/15th), release the shutter, insert the dark slide with the dark side facing out and you can take out the film holder. Make any necessary notes on the holder. You can do this really quickly with the lenses equipped with the opening lever and if you are not stopping down the lens for portraits. For architecture, there is no hurry, take your time.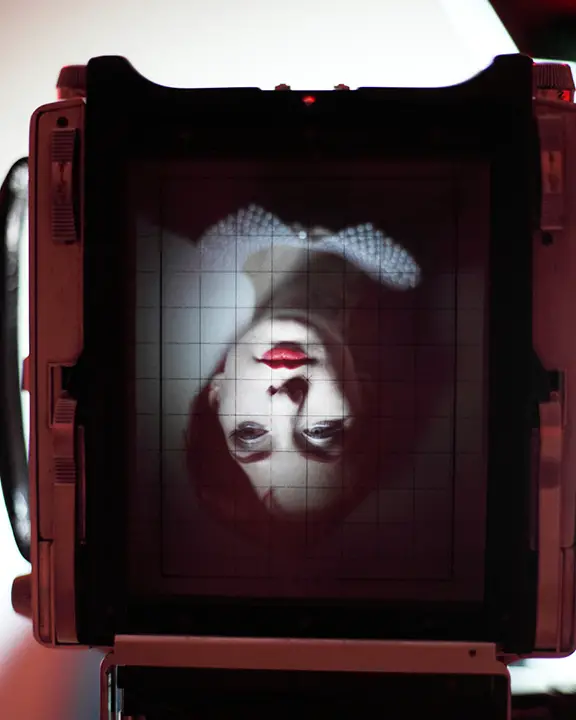 image projected on the ground glass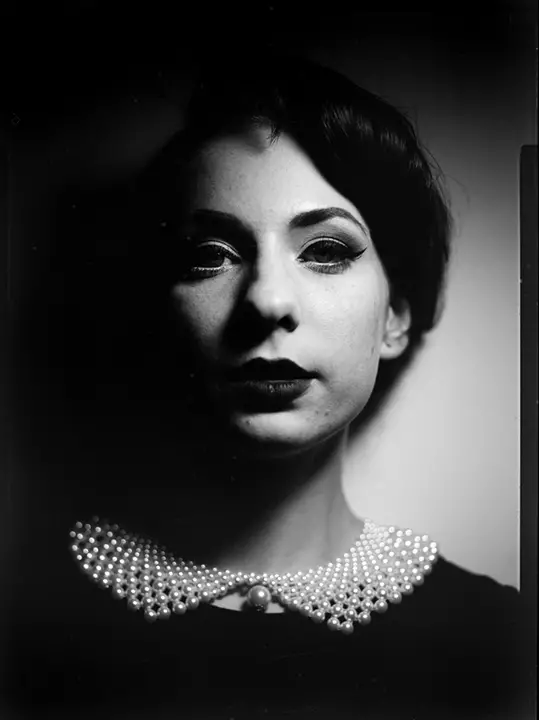 final image
A good tip is to tap the lens holder gently before inserting it in to camera to dislodge any dust particles that might get inside. Those will result in black dots on final print.
You may have noticed that the camera allows for some special movements as tilt, shift, rise, fall but we won't cover them right now. There will be a special article just for those. This is just an introduction so let's not get ahead ourselves.
As marginal as the bellows factor might seem to anybody used to just SLRs it's not marginal in any way. In portrait setting with my 135 mm a portrait with bit of headroom is usually around 160 mm extension. This is 0.5 EV. 180 mm for a tight headshot is around 0.9 EV.
For those of you, who want really shallow depth of field and want to use long lenses (around 300 mm for 4×5) you might want to check if your camera has double or even triple extension. Rail cameras can be extended by mounting the standards on the longer rail or using rail extensions. Some camera like Linhof Technika allows for such extension. But there are drawbacks. Even at the full extension while you can focus to infinity you might not be able to focus for a portrait. Going from 300 to 400 for a portrait might not be possible. Also the bellows can get to stretched and sag in and block the lens from inside.
There are special frames that slide onto the rail which hold the long bellows. For cameras such as Sinar the longer bellows might be needed. For macro work it's even crazier. To get 1:1 size you need to extend the lens to twice the focal length. So macro with a 300mm lens might get bit crazy. Also with this extension you are full two stops down on the bellows factor. Considering the hair thin depth of field and usual max aperture of f/64 you will need a crazy amount of light and still have really thin depth of field. There are special reproduction lenses with apertures going to f/290 and smaller.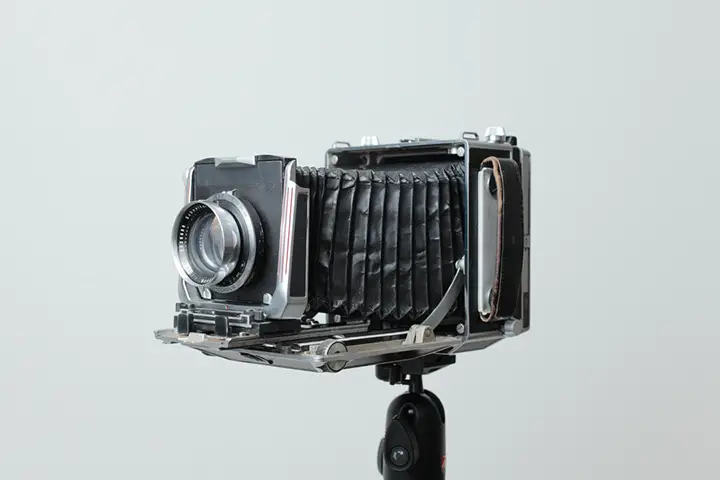 210 mm lens focused to infinity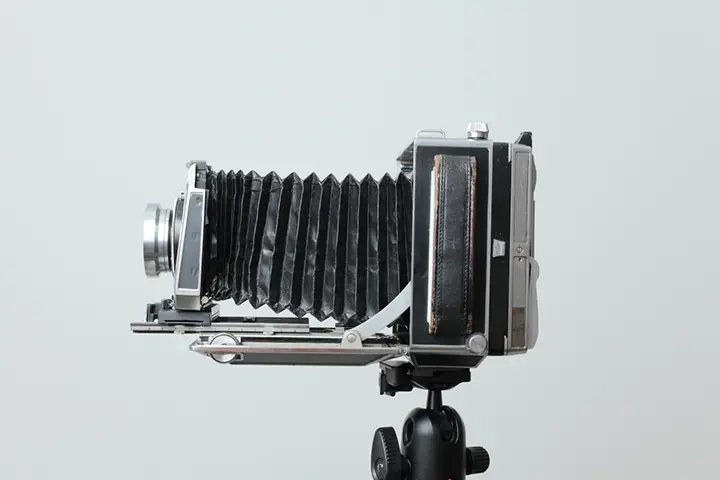 side view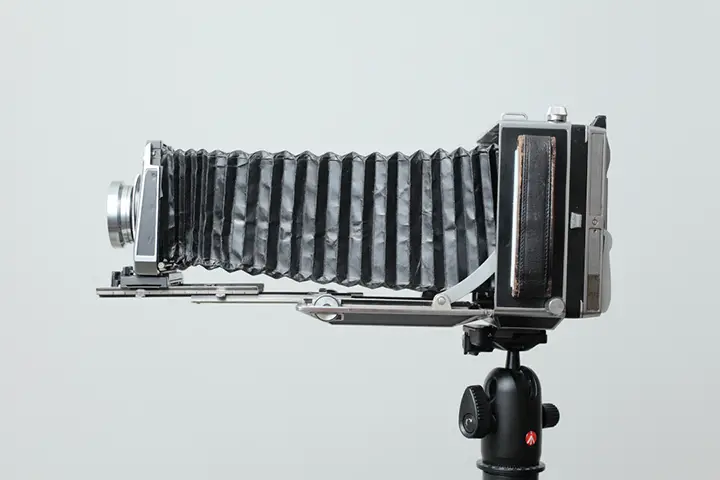 almost maximum extension (about 400 mm, the back can be extended fem cm and you could probably squeeze out a few cm in front. For such settings a tripod mount on the front door is good thing. The bellows might start to sag and the camera itself might get bent a bit but the new ball head is rock solid. Money well spent.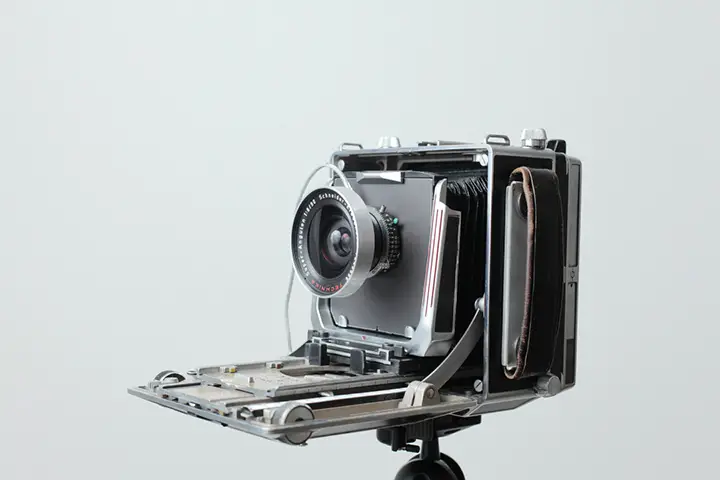 wide angle lens Schneider Super Angulon 90/8 focused to infinity. It is mounted in the preshifted lens board because the body prevent the front standard from large movements.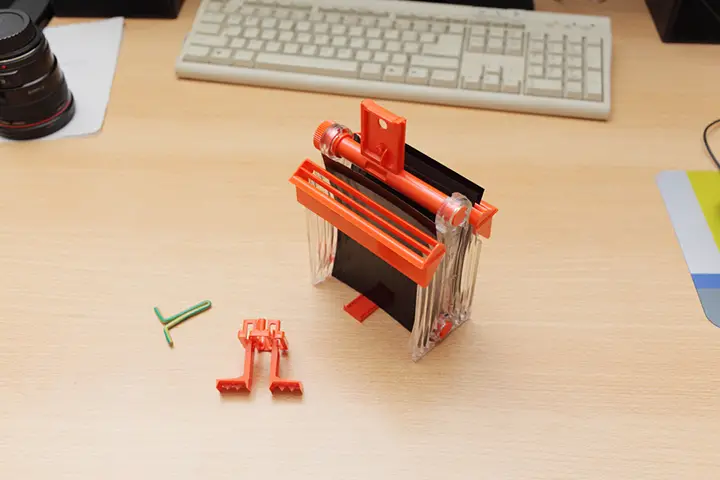 Combiplan holder. Orange things on the sides help to line insert film in the dark room.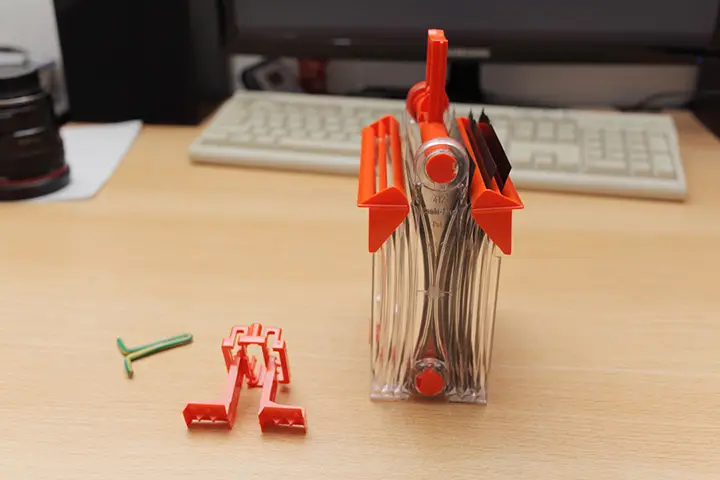 there is plenty of room between the sheets. I use this holder also for drying as it leave no marks on the film.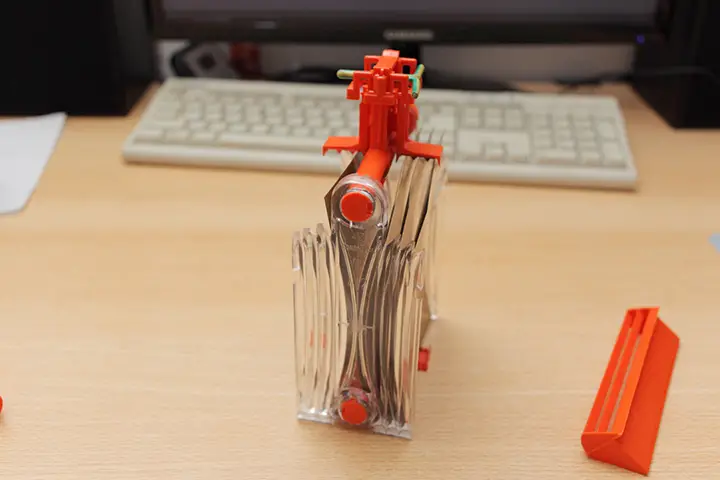 after the sheet are loaded the guides are removed and films are secured in place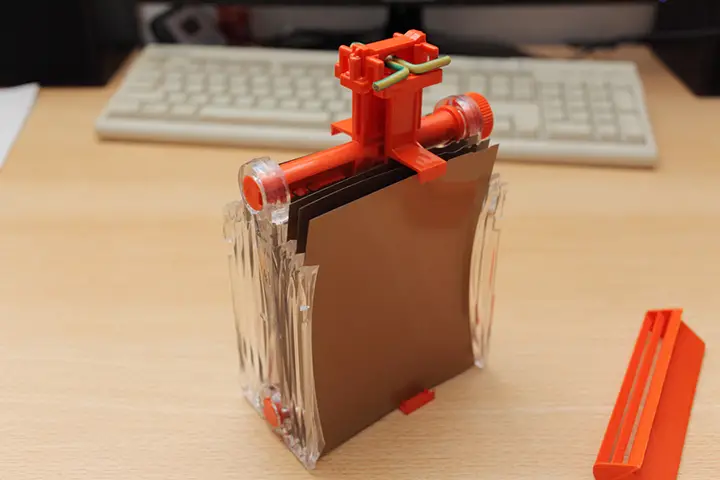 I fashioned a locking wire so it wont get loose. 9×12 films are smaller and it can get loose when you agitate too much
Film processing
Now after you've shot your invaluable frames it's time to develop them. The easiest way is to drop them at the nearest place that develops sheet film but such places can be hard to find and very expensive. In city where I live (Prague Czech republic) a processing of one slide or print sheet film costs about 15 dollars. Plus many places don't use machines and process these films in a drum that can sometimes lead to uneven processing.
The best way is to develop your films at home. Black and white films are no problem for real photographer. My personal favorite gadget for developing sheet film is a Combi Plan developing tank. It consist of a holder that can hold up to 6 sheets or either 9×12, 10×15 or 4×5 films and light tight canister. Although that this canister has light tight drains on top and bottom, change of the solutions is best done in darkness when you take the holder with the films preferably to a water bath or stop bath, change the pour out the developer, pour in the fixer and put in the holder. Draining the canister through the small drain holes can take more than a minute and can result in uneven developing. It takes one liter of solution. Otherwise the films are not submerged in the chemistry
Another solution is to use drum tanks. These look much like your standard Jobo or Patterson tanks but a bit bigger. Then can take usually 9×12, 13×18, 18×24 and their ANSI counterparts so they are bit more universal. Sheets are spread around the circumference of the tank held by their edges so the chemistry can reach both sides. This method takes considerably less chemistry a 100 – 200 ml can be used to process a batch of films but the tank has to lay on a special (or DIY) holder with wheels that allows you to rotate the tank. Don't forget to change the direction so your films won't get one side developed more than the other. Also since the films are not submersed all the time and there is more agitation the developing times has to be adjusted.
A simple drum tank for large format film can be made from an old 135/120 tank by gluing in something to hold the film.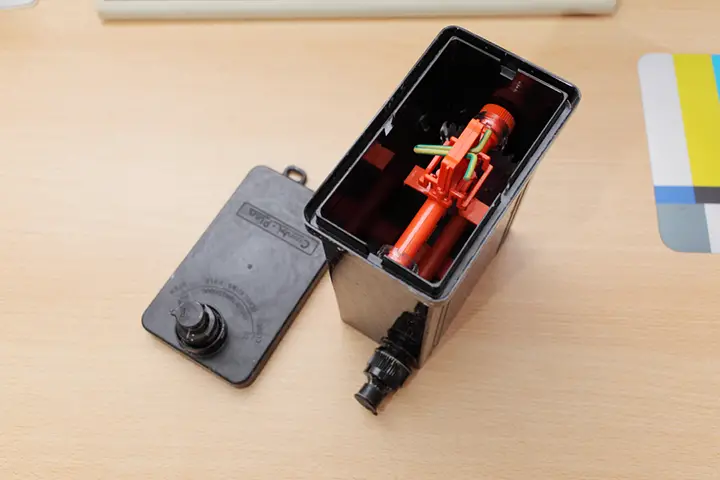 combiplan tank with inserted holder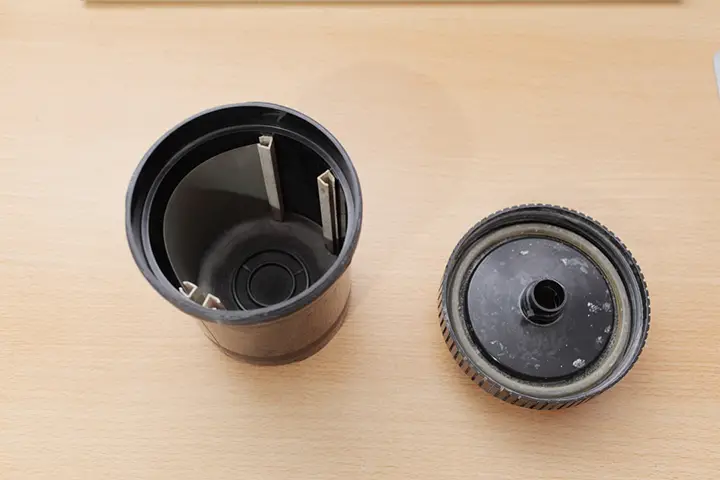 Old drum tank for 135/120 turned into 9×12 by gluing in rails. The film has to face towards the center of the tank when inserted. The back should not touch the sides but when it does the antihalation layer won't get washed away but it can be washed away later.
For small batches a developing in printing trays is also possible but make sure you won't scratch the films.
Troubleshooting
So there might be few things going wrong some of them can be solved by you some might require a technician. Let start with the easy mistakes:
1)    I forgot the loupe and can't focus properly. If you have any other lens with you (a 50/1.4 for a 135 might be a best choice) you can use it as a make shift loupe. I did this once with the fifty and it worked great. Or for architecture you can focus as precise as you can and then step down the lens to f/22 – f/44
2)    I accidentally inserted the dark slide the same way in. Just put the holder in the camera with the lens closed and undo this mistake in seconds
3)    Part of my image is out of focus still. Well you might have tilted your front or back. Try checking the camera with a precise bubble or digital level.
4)    There are some light leaks on my images. Now this is a tough one. First check if it's happening only with certain holders or certain lens. Some lenses might not be mounted properly and can let the light around the lens hole. Or check your bellows. Also when the sides of the lens holder are shiny and not matte they might produce a lighter line around the edge of the lens. Especially when the light is strongly directional coming from one side.
5)    My images are completely blank. Another tough one. Check if the lens is working. Have you accounted for bellows factor and filter? These guys eat light like bun cakes. Films especially for RTG (btw cheap source of quality and interesting films) are not panchromatic and shooting with orange or red filters will result in blank image.
Well that's pretty much it for a brief introduction to large format cameras. In next parts I'd like to cover the camera movements and how they affect final image. And here are some of my large format pictures
Thanks to Benn Murhaaya for this informative and detailed guide. You can check out his work at his site http://murhaaya.com/ and his images below.
As usual comments are most welcome.
You can also see part one here https://www.japancamerahunter.com/2014/04/introduction-4×5-large-format-photography/