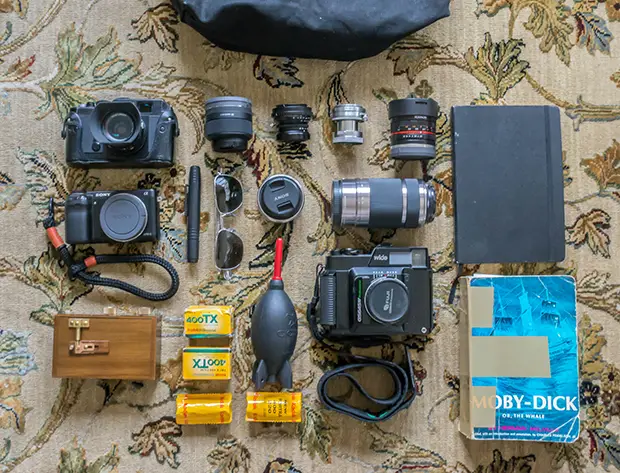 In your bag 861, Pete Duval
Inside a writers bag no less. Today Pete shares his bag, and a battered copy of one of my personal favourite books. Check it out.

Hello. My name is Pete Duval. I'm a fiction writer, teacher, occasional (and somewhat reluctant) seeker after the truth; and I live in Philadelphia, Pennsylvania. For some time now, in both my photography and my writing, I've been trying to, as Conrad puts it, "render the highest kind of justice to the visible universe, by bringing to light the truth, manifold and one, underlying its every aspect."
Here is my bag.
Cameras
Voigtlander Bessa-R
NEX-6
Fujica GS645W
"Zero Image" Pinhole
Lenses
Voigtlander Ultron 35mm
Voigtlander Snapshot-Skopar 25mm
Sigma 30mm
Sony 16mm
Summitar 5cm
Rokinon 8mm
Sony 55-210mm
Other
Leuchtturm1917 notebook
Bobbs-Merrill annotated edition of Moby-Dick.
I have a tumblr site: duvalpete.tumblr.com.
Thank you for Japan Camera Hunter.
Thanks for sharing your bag with us Pete. Nice to see one of those Fujica cameras getting some use.
Check out the links and make sure you come and comment.
Keep them coming folks, we need more submissions, so get your bag on Japancamerahunter.com. Send me a hi resolution image of the bag (please make sure it is horizontal) and its contents, with some details about yourself and what you shoot. Oh and don't forget your contact details (twitter, flickr, tumbler et al). Send the bag shots here. Please understand that there is a long wait now as there is a backlog of submissions. Not all make the cut, so make sure yours is funny/interesting/quirky. And please make sure the shot is of good quality, as the ones that are not do not go up.
Cheers
Japancamerahunter