In your bag 856, Hogarth Ferguson
Hogarth has been on the site before, but it was long long ago and many things have changed since then. Check out his current system.

I've been featured before (bag 342), with a lot of gear, probably too much, honestly. I used all the cameras before, but found that choosing which camera to use, and which too leave at home annoying, so I usually brought a lot of gear and shot the same photo on three or four formats.
Since then, I have been through quite a few sales and purchases, and think I have gotten my kit bag to exactly where I want it to be, at least for now.
I'm still a photographer in Baltimore who travels as much as possible and shoots almost entirely film. Also, I have dogs, the best dogs.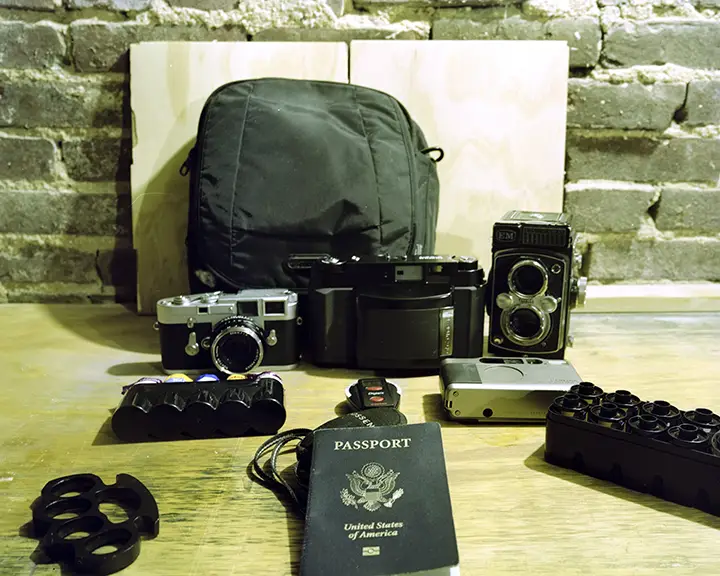 My bag includes
-Fuji GF670
-Leica M3 + 40mm Nokton
-120 case with mixed films
-35mm case with mixed films
-Gossen Digisix
-Brass Knuckles, because, well, Baltimore.
The GF670 I got from Bellamy and can not be more pleased with the transaction, or the camera, it folds small enough to fit in a pocket (if my pants are skinny jeans) and opens quick enough to get the shot I need. I love the 6×6/6×7 changeability of the camera, and the meter is spot on.
The M3 really nothing needs to be said about, just a classic, perfect 35mm camera. The nokton is great, and with the frameline window covered, its almost the right framing.
The gossen is great, compact, easy to use, though I would like to get a voigtlander vc for the Leica.
The camera cases are awesome, I love them. If you ever want to introduce a 5 film 35mm holder, I wouldn't be upset.
The bag is some pacsafe bag, with wire mesh in the material, and wire in the straps, with locking clips, it is an anti-theft bag that fits my cameras perfectly, as well as my cases, meter, and has an RFID for my passport when I travel. The knuckles go in my pocket (and no, I do not try to fly or travel with them)
The second bag is the exact same but has two cameras I use, not as much as I'd like, but use. The Yashica is awesome, but the shutter lags and needs to be fixed, the contax was just given to me from a friend, his dad had it, but he died and wanted to pass it on (as well as a Nikon F5 with a grip of lenses, professional lenses)
Also, both these were shot with my Crown Graphic on expired 4×5 Portra 160vc, just seemed appropriate for all the film cameras and your site.
You can see my photos a few places
www.instagram.com/hogarth_f
www.flickr.com/photos/loadlimit
www.hogarthferguson.com
Thanks for sharing your bag with us. I hope you never have to use the knuckledusters.
Check out the links and make sure you come and comment.
Keep them coming folks, we need more submissions, so get your bag on Japancamerahunter.com. Send me a hi resolution image of the bag (please make sure it is horizontal) and its contents, with some details about yourself and what you shoot. Oh and don't forget your contact details (twitter, flickr, tumbler et al). Send the bag shots here. Please understand that there is a long wait now as there is a backlog of submissions. Not all make the cut, so make sure yours is funny/interesting/quirky. And please make sure the shot is of good quality, as the ones that are not do not go up.
Cheers
Japancamerahunter