In your bag 818, Zach Emerson
Another returnee today…It seems that once you go JCH, you can never leave, lol. Anyway, Zach shares with us not only his bag, but his processing area. Very cool.

My name is Zach Emerson, I am 17 years old, I come from a small community in the PNW, and I have been shooting for about 4 or 5 years now. I had a bag featured once before (number 673) and I'm back with an updated set up!
I mainly shoot people, and I think that is where my photography has really fallen into place, street is another favorite of mine! This bag is what I carry around all the time, just a basic kit with 2 bodies, a lens or two, and a point and shoot.
So! The contents of the bag, which is still the same bag as last, a Kelly Moore Boy Bag which includes:
Canon:
– Canon 6D w/ grip (in mirror)
– Sigma 35mm f/1.4 (in mirror)
– Sigma 85mm f/1.4
– Canon AF35M
Mamiya:
– Mamiya C330 Professional TLR w/ prism
– Mamiya Sekor 55mm f/4.5
– Mamiya Sekor 135mm f/4.5
– A couple of cable releases
– Fujifilm Neopan Acros 100 120mm
And just a couple other things like the notebook and pen, a water bottle, some gaffers tape, travel tripod, and glasses.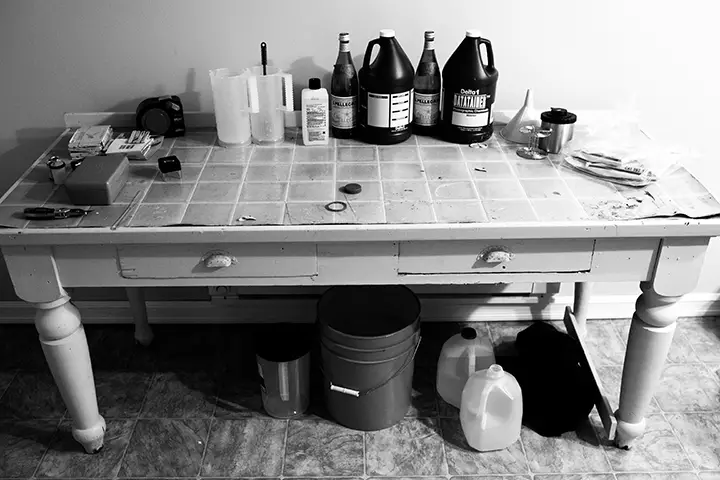 Also, I have a little processing setup going on in my bathroom, It works out pretty well, lots of room to move around and work. I'll be going to college soon so I wanted to get a jump start on what I'll be learning there! I love developing and the whole process, It's very rewarding knowing you had full control over how your final image turns out, and I am glad I shoot film! #believeinfilm
Warmest,
Zach Emerson
Thanks for sharing your bag and your work area. It is great to see how other people process.
Check out the links and make sure you come and comment.
Keep them coming folks, we need more submissions, so get your bag on Japancamerahunter.com. Send me a hi resolution image of the bag (please make sure it is horizontal) and its contents, with some details about yourself and what you shoot. Oh and don't forget your contact details (twitter, flickr, tumbler et al). Send the bag shots here. Please understand that there is a long wait now as there is a backlog of submissions. Not all make the cut, so make sure yours is funny/interesting/quirky. And please make sure the shot is of good quality, as the ones that are not do not go up.
Cheers
Japancamerahunter