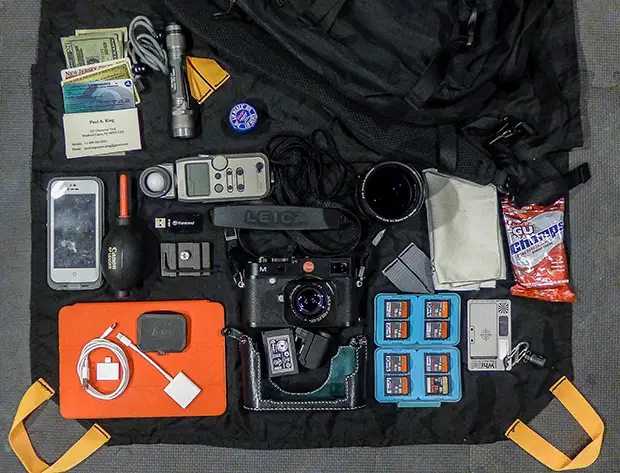 In your bag 809, Paul King
A very outdoorsey type of bag for you all today. Although I don't think this camera actually goes hiking. Come and have a look.

I am an executive manager by day, and have been a serious photographer most of my life.  My current bag is a small Patagonia shoulder pack that I bought on sale for $25.  It happens to hold everything in the photo pretty nicely, and very securely, while I am shooting.
I always bring too much, and this bag is good for 4 hours up to about a week if I throw in a Leica charger.
I am shooting the Leica M240 since delivery in October 2013, having sold my M9 at that time.  My current lens of choice is the affixed Summilux 35 FLE, with the Noctilux .95 as needed.  The Nocti is fitted with a B+W variable ND filter for daylight use.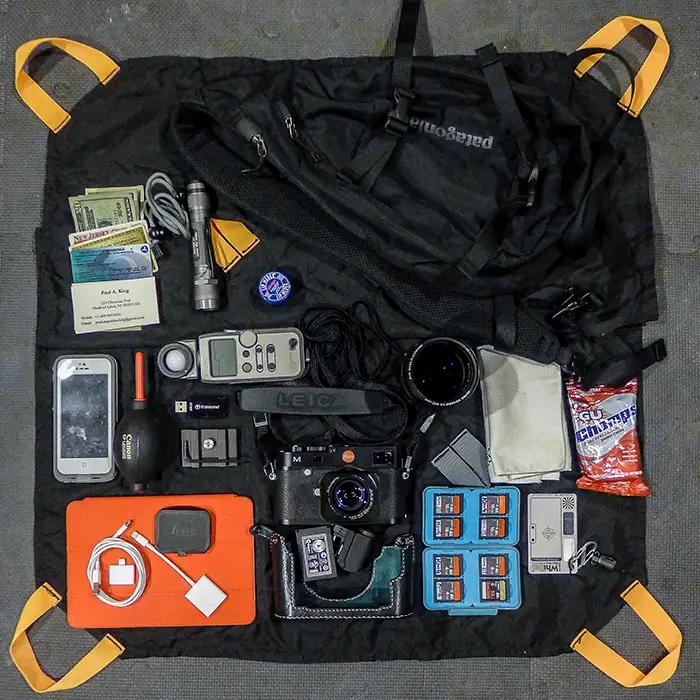 The iPhone, ID, Amex, cash and Blistex are all creature comforts having no photographic value, except to keep my anxiety low(er).  The commercial pilot's certificate comes in handy all the time for photography and getting places.  I am still missing the all important photo port in my C-177RG's  window, though.
I use the rocket blower, WhiBal card, microfiber cloth, and the Transcend USB card reader regularly.  The EVF-2, the flashlight, and the Arca-Swiss base plate are for the frequent night work.
I carry way to many memory cards, but maybe a friend will need one in a pinch.  I use the Sekonic meter about a third of the time to slow myself down a bit – it helps me to think about things when I am going too fast.
The extra M240 battery and the Gu Chomps are for situations where the time gets away from me.  The iPad Mini is mostly for way finding, etc., and also for storage, if needed.
Paul A. (Pablo) King
New Jersey, USA
Thanks for sharing your bag with us Paul. Nice flashlight.
Check out the links and make sure you come and comment.
Keep them coming folks, we need more submissions, so get your bag on Japancamerahunter.com. Send me a hi resolution image of the bag (please make sure it is horizontal) and its contents, with some details about yourself and what you shoot. Oh and don't forget your contact details (twitter, flickr, tumbler et al). Send the bag shots here. Please understand that there is a long wait now as there is a backlog of submissions. Not all make the cut, so make sure yours is funny/interesting/quirky. And please make sure the shot is of good quality, as the ones that are not do not go up.
Cheers
Japancamerahunter