In your bag 792, Aivaras
The original and the best, bag no 792 comes to you from Lithuania. That is what I love about this, it is totally global, full of people sharing their passion. Come and check out Aivaras' two bags.

My name is Aivaras. I'm 33 hobbyist photographer from Lithuania. I was taking pictures since I got my first digital camera in 2003. From 2012 I started to involve into photography more and same year I accidentally stumbled into film photography (I found simple consumer grade AF Pentax film SLR in my office achieves  – that's the story).
My needs and wishes for equipment evolved during last two years and for today I settled to present kit (kits actually). There are two versions of my bag sets that I present here; they differ by film camera and lenses.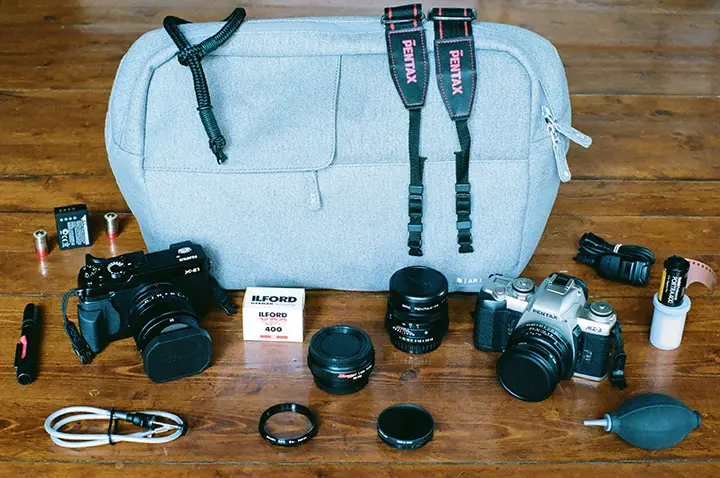 First and most used kit is with autofocus film camera:
–       Pentax MZ-3 film SLR – camera with best handling and ergonomics I've owned, very good balance of automation and simplicity, best from MZ line for me. Tried to use MS-S – but it's already to complicated. I'd like to state that it has everything I need and nothing I don't, but in fact it has one thing that I don't need (useless panorama mode) and its lacking one thing (mirror lockup, not big problem).  See how much I love this camera? Cant stop writing about it.
–       Pentax-FA 43mm F1.9 Limited lens
–       Pentax-FA 77mm F1.8 Limited lens
–       Fujifilm X-E1 camera with Thumbs Up EP-9S and original Fuji grips  – I'm  happy with this camera and with both grips its very confortable and could be used handheld with low stutter speeds. Big plus for fuji, together with IQ  is classic controls which helps me fluently switch between film and digital cameras (my fuji and pentax has similar control logic – aperture on lens aperture ring with option of automatic, shutter speed on top dial with option on automatic).
–       Fujifilm XF35mmF1.4 R lens
–       Mitakon / Zhongyi Lens Turbo PK-FX – interesting and useful adapter for using my Pentax lenses on Fuji camera, keeping approximately similar focal length and depth of field as on film.
–       Asahi close up filter Nr. 1
–       ND and CPL filters
–       Remotes for both cameras
–       Spare batteries for both cameras
–       Lens pen
–       Dust blower
–       Wrist strap (Lance)
–       Neck strap  – modified it adding same connectors as on wrist strap and now I can switch wrist strap with neck strap in few seconds.
–       Film
When I'm in mood for BW film photography, I change film camera and lenses. Second kit is somehow mystically more related with BW manual focus, manual film rewind and rendering of older lenses gives more regarding process and result. Probably.
Anyway, second kit differ by camera and two lenses:
–       Pentax ME super film SLR. There is chance that this camera is the same age as me, that's cool. Its upgraded with grip that helps with handling camera a lot. I was surprised that somebody makes and sells (ebay) those grips even today.
–       SMC Pentax-M 50mm F1.7 lens
–       SMC Pentax-M 100mm F2.8 lens
Some of my pictures taken with this and other equipment are here: http://www.flickr.com/photos/aiwalit/
Thanks for wonderful site!
Aivaras
Thanks for sharing your two bags with us Aivaras. I must admit, I have never used a Pentax MZ, but I have heard very good things.
Check out the link and make sure you come and comment.
Keep them coming folks, we need more submissions, so get your bag on Japancamerahunter.com. Send me a hi resolution image of the bag (please make sure it is horizontal) and its contents, with some details about yourself and what you shoot. Oh and don't forget your contact details (twitter, flickr, tumbler et al). Send the bag shots here. Please understand that there is a long wait now as there is a backlog of submissions. Not all make the cut, so make sure yours is funny/interesting/quirky. And please make sure the shot is of good quality, as the ones that are not do not go up.
Cheers
Japancamerahunter