Another year over
The biggest camera fair in Japan was upon us this week, and it gave me some interesting insights into the business in Japan. Read about the highs and the lows here.

I get up early for these shows, as anyone will know. But in recent times I have decided against getting up at 1am to brave the cold in order to pitch my spot. It seems like every year the (mainly) Chinese traders arrive earlier. And this year was no different. I arrived at 7am and was told that I am number 38 in the line, which didn't really bother me as I knew there was no treasure that I was after. But I spoke to the others in the line and they arrived the night before at 6pm! Unreal.
To be honest with you, I don't like this battle for the items that seems to be going on, as the other traders don't play fair. They employ students to sit outside all night and then turn up at 9am to collect their tickets, thus ensuring that they have first pick on the best items. It should be one ticket per trader, and you should be the one lining up, nobody else. But that is my two cents.
Still, it was a good show and there was a really good turnout. There have been some changes this year as a couple of the stores have closed, so there were new tables with new stores and for the first time a table from a manufacturer (albeit a small one), selling small batch made hoods and accessories. This tells me that the industry here is changing. The stores are consolidating and they are trying to sell less to the buyers and more to the collectors. Many of them don't hide the fact that they are not happy some of these treasures are leaving Japan, but there is little that can be done. But it is not all bad. There were at least two stalls at the show who openly scout items from the European and American markets. So there is stuff still coming in.
As usual there were loads of amazing little treasures to be found. Like this boxed Zeiss Ikon Maximar. Not an amazing camera, but pretty amazing to find it with the box. Now all we have to do is find some film for the bugger….
Oh wait…there you go. Yes, there is a film stall at the show now. A lovely little company in Japan is really passionate about film and they have some weird and wonderful goodies available. Including cowfilm (I jest). But they did have something very special, which I have not seen for a while…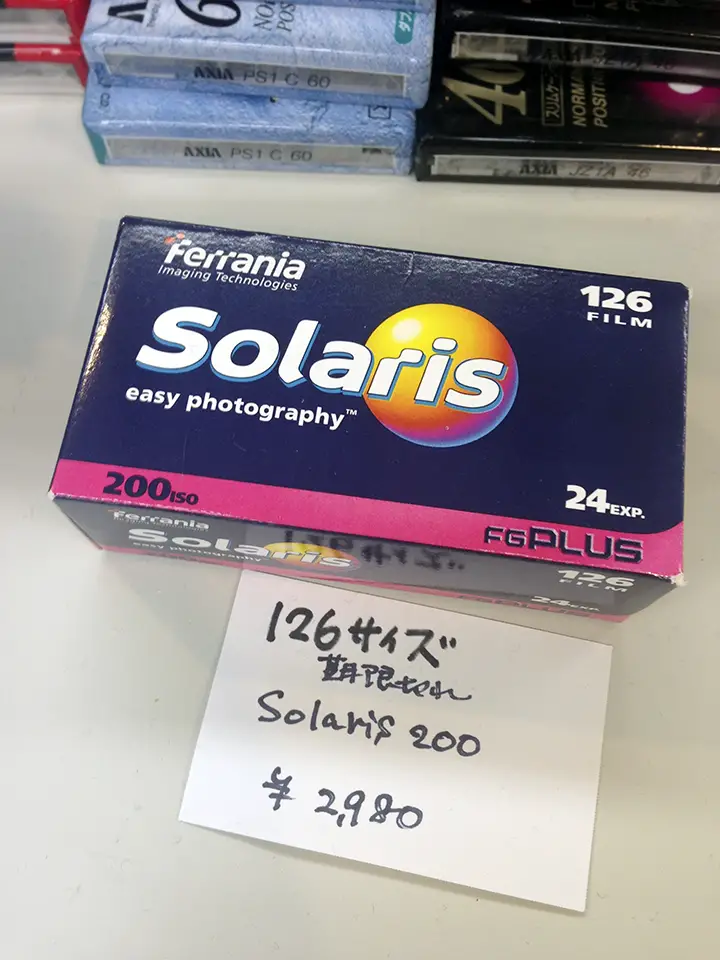 Yes indeed, Solaris 126 film. This is one of the films that I really hope we will see from Ferrania this year, that would be really cool. Imagine all of those classic cameras that could be put to use again. It would be like instagram, only real and not harvesting your data.
It is really great that they are making the effort to be at the show and they obviously have confidence in the market to risk the expense of being part of this show.
There really was something for everyone at this show. Including cameras like this, A Leotax T with a Fujinon 5cm lens. It is pretty cool to see this camera anyway, but even cooler to see it like new with the original box and leather case. I was blown away by this.
Just as I was blown away by this. A fully working and original Leitz G 1 16mm Kinoprojektor with the lamps still intact. I mean, who just has one of these lying around the place for over 60 years? Someone in Japan, obviously. I didn't even dare to ask a price.
For these lenses I didn't have to ask a price. They were all pretty bloody expensive. But when you see what they are and the condition they are in, then you know you are talking some serious glass. Zunow lenses, Tanar lenses, Contax lenses and many more. All of them insanely rare. And there is one, the one I have wanted for so long. the one lens that I dearly want to own myself…
This lens is disturbingly rare. I have only seen three since I have been doing this, and all of them were a bit different because all of them were prototype lenses. The price for this lens just keeps on climbing, so I shall have to get it soon or I will never get it at all.
And these, Fuji Cristar lenses. I know so little about these and I would dearly love to try some of them. It is my goal to have a shop full of amazing glass like this. Testing it all day long and sharing the results with everyone.
But the show is not just about the fancy pants stuff. It is also about everything camera related. You want junk? You want memorabilia? Then this is the place.
You can get junk cameras, cameras to repair or use as spare parts. Flash units, cases anything that you might need. You out of manuals? Don't worry bro, we got you…
Anything in fact. There was even a stall with classic Kodak items, sealed forever and to be entered into a collection somewhere.
The show is still on and there are still a few bargains to be found. It will end on Sunday, so now is the time to get something special. Let me know if you want me to pick anything up for you and I will see what we can find.
Thanks
Japancamerahunter