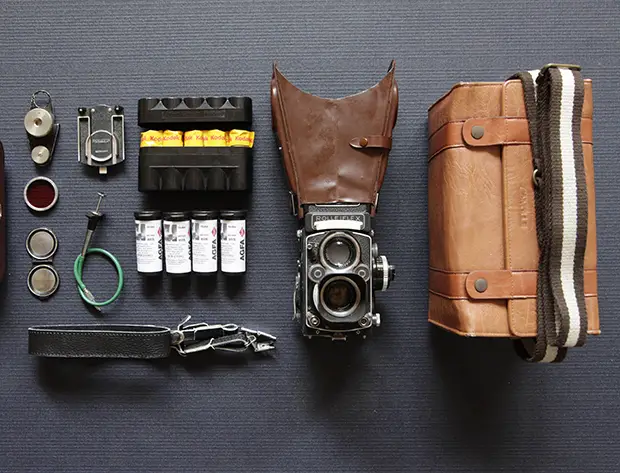 In your bag 775, Guna Dwi/strong>
This has to be one of the most beautiful bags I have ever featured. It is just visually stunning. And the cameras are something you don't see everyday. Come and check out this wonderful bag from Indonesia.

Hi Bellamy, greetings from Indonesia :)
really love your site and useful film case.
My name is Guna Dwi and I live in Jakarta, Indonesia.
I've been shooting with analog cameras for 6 years, exclusively only on film for my personal work and use digital camera for my main job as freelance photographer.
for personal works I'm working with alternative photographic processes too such as Van Dyke, Cyanotype, and Liquid Emulsion.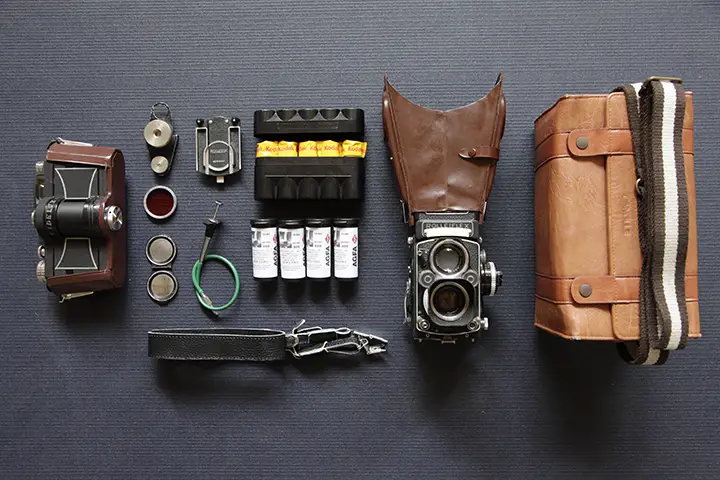 So here inside my bag :
– Caiyoule bag
– Rolleiflex 3.5 F Whiteface Zeiss Planar with Binocular Focusing Hood — my daily camera besides Rollei 2.8 Biometar. Ideal for portrait works, still life or street photography.
– Widelux F7 —-  a swing lens panoramic camera.
– Rollei Panoramic Head Adapter
– Rollei Lens Cap and Orange Filter for B&W
– Rolleifix for tripod adapter
– JCH film case and Kodak Portra 400 inside
– Rollei Retro 80S
– Cable Release
After searching and used different kind of cameras especially 35mm, finally i decided to use only panoramic camera on 35mm and focus to medium format camera.
Now I'm only shoot with panoramic cameras such as Widelux F7 and Hasselblad XPan
In medium format i always trust my TLR Rolleiflex and Hasselblad 500 C/M for square format work.
My favorite films are Kodak Portra for color, Kodak Tri-X 400 For B&W. Fuji Velvia 50 for slide film.
I'm looking forward to try Cinestill color negative film, i think i'll combine with Xpan to give cinematic feel.
You can see my works on website
www.GunaDwi.com
or Facebook Page : https://www.facebook.com/pages/GunaDwi/429827593744530?ref=hl
Thanks !
Thanks for sharing your bag Guna. I love the simplicity and the purposefulness of this bag. A true beauty.
Check out the links and make sure you come and comment.
Keep them coming folks, we need more submissions, so get your bag on Japancamerahunter.com. Send me a hi resolution image of the bag (please make sure it is horizontal) and its contents, with some details about yourself and what you shoot. Oh and don't forget your contact details (twitter, flickr, tumbler et al). Send the bag shots here. Please understand that there is a long wait now as there is a backlog of submissions. Not all make the cut, so make sure yours is funny/interesting/quirky. And please make sure the shot is of good quality, as the ones that are not do not go up.
Cheers
Japancamerahunter