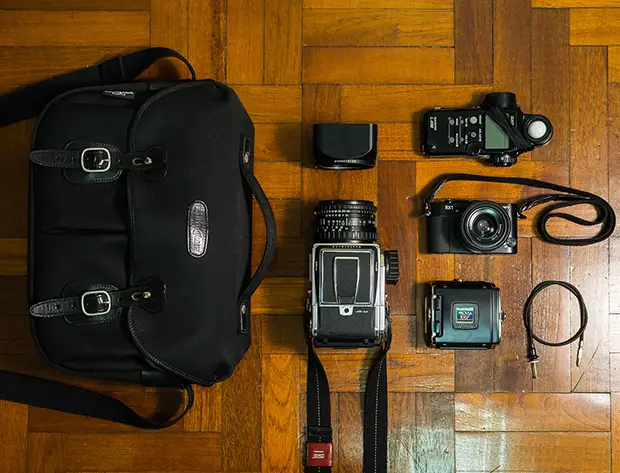 In your bag 715, Jing Wen
Jing was one of the very first to feature a bag on JCH, over 700 entries ago! Wekk, now he is back and sharing another great bag with us. Check it out.

Two years ago, I was featured as bag #11 but since then, all the contents of my bag have changed and the only thing that has stayed the same is the Billingham bag! The general trend is that I've been trying to streamline my shooting setup. So here's what's in my bag now:
Hasselblad 501C/M
I upgraded to this model from the venerable 500C/M simply because I wanted to do macro with the Hasselblad and the Gliding Mirror System in the 501C/M would eliminate the vignetting in the viewfinder, which can take up almost 1/4 of the screen! There are some minor upgrades to the body as well, the base is no longer metal but has a rubbery coating making the edges not so sharp and better for putting on surfaces. And finally it has a split prism focusing screen, which helps a lot when I'm focusing on lines and edges, as I am fairly likely to do.
Zeiss Planar T* 2,8/80 CFE
Exactly the same optical formula as the CF version but the main difference is in the focusing helicoid, which is redesigned to be smoother and easier to turn. Not to mention the new rubberised grip controls on the focusing and shutter speed rings.
A12 'Black Dot' film magazine
I usually bring around 2 of them, one for black & white film and the other one for slide film. The 'Black Dot' film magazine comes with the darkslide holder at the back, which is a real boon for darkslide management because I hate putting it in my pocket.
Sony RX1 with Zeiss Sonnar T* 2/35
This is the latest addition to my shooting setup. Although I'm not a fan of the 35mm FOV, when cropped as a square it comes very close to the Hasselblad 80mm FOV, maybe just a fraction larger. Of course, it has a great sensor paired with a superb Zeiss lens, which is why I picked it. And I feel that it's a good substitute when slide film dies eventually.
Cable Release
Never know when I might need to use a much slower shutter speed and there is a structure or object that I can rest the Hasselblad on so that I can use the cable release. Also, the same cable release can be used for the RX1 so that's a bonus!
Everything else from my previous setup has been dropped simply because I never used them anymore. Keeping them in my bag for "what-if" situations was just pointless and adding unnecessary bulk.
My contact details:
Website
Flickr
Tumblr
Thanks for coming back to us after all this time. It is really great to see how you have developed.
Check out the links and make sure you come and comment.
Keep them coming folks, we need more submissions, so get your bag on Japancamerahunter.com. Send me a hi resolution image of the bag (please make sure it is horizontal) and its contents, with some details about yourself and what you shoot. Oh and don't forget your contact details (twitter, flickr, tumbler et al). Send the bag shots here. Please understand that there is a long wait now as there is a backlog of submissions. Not all make the cut, so make sure yours is funny/interesting/quirky. And please make sure the shot is of good quality, as the ones that are not do not go up.
Cheers
Japancamerahunter