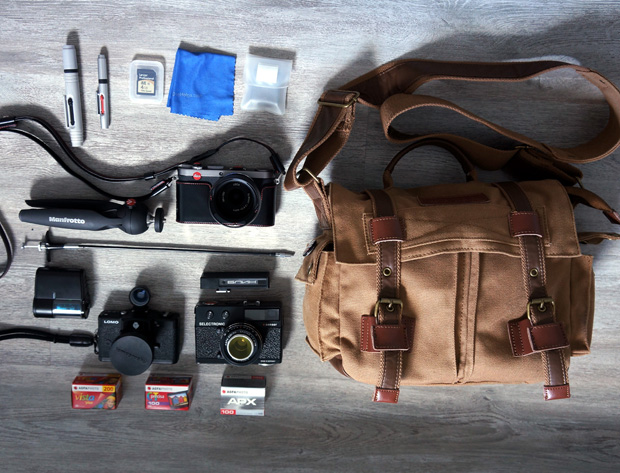 In your bag No: 630, Cherub
Thierry, AKA Cherub, shares his bag with us today. A long time shooter, Cherub has a pretty interesting setup, including a camera that I have not seen before. Come and check it out.

My name is Thierry Sacchi, nicknamed Cherub (all my family and friends call me like that !), french and a photography enthusiast since a so long time, I almost can't remember when it started for me. I really don't know why, but I can remember having fun with cameras even when I was 7 …
"Serious" photography for me started in 1984, with my brother buying our first SLR, a Canon AL1. I shot almost everything, everywhere, doing at the time even experimentations, in shooting or in the lab. Same time I started to go on motocross tracks, and naturally my photography went to sport photography. With ups and downs, meaning sometimes I shoot every week, then not at all for months ! … Then I bought my firsts autofocus cams, Canon EOS 650 then EOS 5 … Until 2006 when Digital came to my motocross photography life ! I completely stop to shoot film, without knowing that it will be back years later …
I traveled a lot during 3 years, following high level atheletes in the Motocross World Championship, shooting a lot with Canon 20D, 30D and 40D, shooting maybe too much, even becoming webmaster, but I was not professional, just using all my free time and energy in the process  …
But I started to be bored with travelling, shooting always the same "things", same peoples in the same places each years, and in high rates … 7fps is boring, I can tell you ! lol
I bought then my first Leica, a D-LUX4 … The little compact opened my eyes to the world; literally. My life went to another side at the time. Motocross business and industry peoples became less attractive to me …
Taking time for myself, I even thought to became a monk …
With sport photography now behind me, I offered myself a Leica X1, my favorite even today, and I started to collect cameras, using all of them ! I own now almost 40 cameras, list should be exhaustive ! lol
Film photography went back to my life at the same time with the Lomography LC-A+ and all the Lomography stuff in the air ! I can tell you even if you see all of this "commercial stuff" (it is !); that it opened my photography to another level. And feeling of film is unique, and unbeatable !
My favorite subject is now Religious and Medieval architecture, travelling with my wife, visiting places and only enjoying photography for what it is, and no more for business or commercial purposes.
I like to mention photographer Don Doll : "for me photography is a form of prayer"; that is now my feelings with the light writings (literally photo/graphy), and I think it will stay like this until my last day on that strange but also beautiful planet.
So, what's in my bag ? Which stuff I use the more often to "pray with my pictures" ? Here is a list of the photographic tools that are in my bags right now :
– Leica X1, ordered to Leica next day after its presentation on 10.09.09 ! Wait until next February to receive it ! My favorite Digital camera, with lots of Gariz accessories, extension tube and hood. Extra batteries. Extra Lexar cards of 4Go.
– Lomography LC-A+ with wide lens and viewfinder. I am still experimenting with it, double exposures and much more … Colorsplash flash is always around too.
– Agfa Selectronic Sensor, I fell in love with Agfa when I started collecting cameras, and I own several different models. The Selectronic is one of my favorite with the Optima 500SN; bring one or the other … I use sometimes a Lomo Blik rangefinder (CCCP made) on the Selectronic.
– Agfaphoto films, Precisa CT (my favorite !), Vista Plus and APX.
– Lenspen ! Just love them !
– Manfrotto Pixi small tripod, the last add in my bag !
– The bag itself is a Chinese bag of the brand Backpacker … I used that one very often now, but I own several Lowepro also.
I hope it was not too boring for you guys to read me ! Anyway keep up the good work Bellamy , and more important : HAVE FUN !
With love from France,
Cherub
blog in french : www.sacchibros.com
Lomography Home (where you can see all my film work) : www.lomography.com/homes/cherub38
Twitter : @cherub38
Thanks for sharing your bag with us Thierry, it is cool to see you retaining this passion for shooting over all those years.
Check out the links and make sure you come and comment.
Keep them coming folks, we need more submissions, so get your bag on Japancamerahunter.com. Send me a hi resolution image of the bag (please make sure it is horizontal) and its contents, with some details about yourself and what you shoot. Oh and don't forget your contact details (twitter, flickr, tumbler et al). Send the bag shots here. Please understand that there is a long wait now as there is a backlog of submissions. Not all make the cut, so make sure yours is funny/interesting/quirky. And please make sure the shot is of good quality, as the ones that are not do not go up.
Cheers
Japancamerahunter