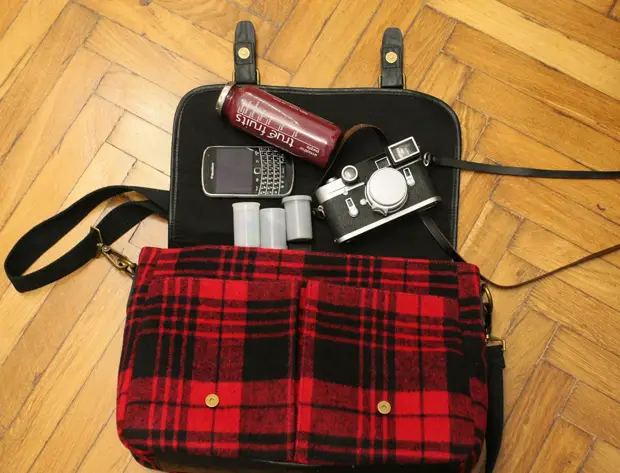 In your bag 374, Robert Marco Detoyato
Cool bag today. Super simple and tartan print. This bag has the bare essentials. Come and have a look at Robert's bag.

I am a break out Photographer. I currently own only one DSLR (A Canon EOS-1D  MkIII) which I use to cover events. However, I still prefer using film for most of my art (I specialize in portraits). In my bag, I always carry my Leica M4 with the "goggled" 8-element Summicron 35mm attached. I also have an F3, but I am still in search of a suitable lens to pair it with.
I adhere to a very "zen" kind of photography. I only have one lens per camera body, I use available light as much as I can, I prefer using full mechanical and manual cameras (with the exception of the 1D and F3), I rarely use a lightmeter (yes, I have an exposure table inside my black pocket notebook), and when I shoot a portrait, I only do it once. It are these guidelines that help me bring out what I consider the best of my photographic skills. I believe that overthinking a shot is just like having too much equipment, they both interfere with the creation of that ideal photograph. In other words, I strive to make every photograph I make a masterpiece.
What's in my bag?
– Leica M4 + Summicron 35 (8-element, googled version)
– Kodak Portra 400
– Lomography Lady Grey iso 400 B+W film
– Personally modified Exposure Chart (only when the lighting gets tricky)
– a snack or beverage
The Bag: a normal Plaid Messenger Bag from Aldo
Contact Info:
Twitter: SpeedGrapher82
Fotoblur: http://www.fotoblur.com/people/rmdetoyato
Deviant Art: http://paradigmhelm.deviantart.com/
Thank You for this really interesting project!
With best Regards,
R.M.Detoyato
Thanks for sharing your bag with us Robert. That is a lovely simple setup that you have there.
Check out Robert's links and make sure you come and comment.
Keep them coming folks, we need more submissions, so get your bag on Japancamerahunter.com. Send me a hi resolution image of the bag (please make sure it is horizontal) and its contents, with some details about yourself and what you shoot. Oh and don't forget your contact details (twitter, flickr, tumbler et al). Send the bag shots here.
Cheers
Japancamerahunter