In your bag No: 641, Chris Trigaux
Today we have a total film purist bag for your enjoyment. Chris has an interesting mix up of gear. I like this one as it is not overly heavy with too many items. Check it out.

My name is Chris Trigaux. I'm about to start my senior year as an art photography student at Syracuse University. I've been pretty seriously into photography for 6+ years now. My bag is on a strictly film diet, usually chopping down bulk rolled hp5+ doing street photo work with the Leica. If I want to do a serious portrait, or find myself in a studio, the medium format gear comes into play. The actual bag is a no-name thing that was bought at a tag sale. At the time it had pentax spotmatic in it that I shot with like crazy until it was replaced by the Leica a month or two ago.
The Gear:
Leica m4-2 with voigtlander 35mm f/2.5
Hasselblad 500cm with 80mm f/2.8 T*
Hasselblad Sonnar 150mm f/4
Hasselblad A-12 back x 2 (one for color, and one for b/w)
Minolta Auto Meter IV F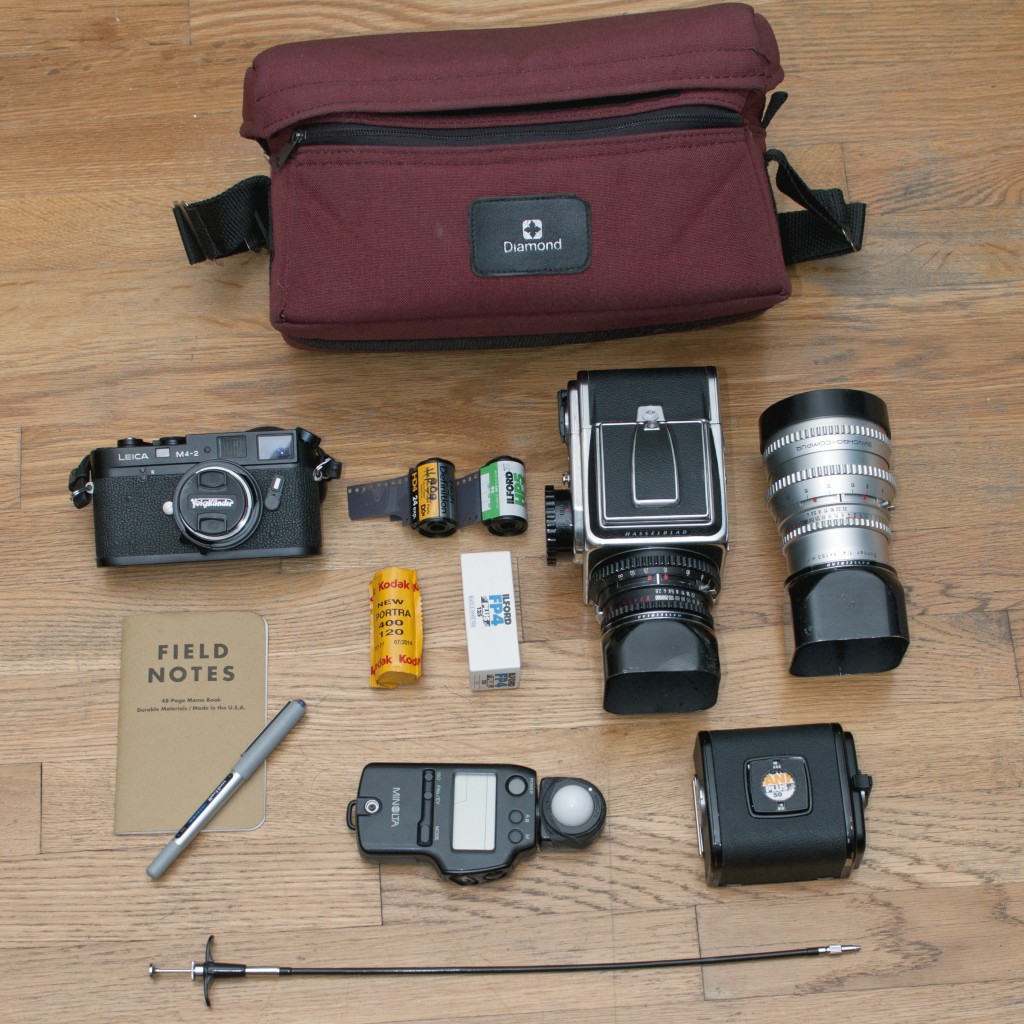 I figured the other objects are pretty self explanatory. For film, I'm usually shooting Portra 160 / Fp4+ in the Hasselblad, and Hp5+ in the Leica. Check out my work below! Right now my blog is showing stuff from when I was in Prague, Czech Republic for about 6 months.
Website: www.christrigaux.com
Blog: www.christrigaux.tumblr.com
Thanks for sharing your work with us Chris, a very cool setup you have there. I like the M4-2, not often you see people shooting them.
Check out the links and make sure you come and comment.
Keep them coming folks, we need more submissions, so get your bag on Japancamerahunter.com. Send me a hi resolution image of the bag (please make sure it is horizontal) and its contents, with some details about yourself and what you shoot. Oh and don't forget your contact details (twitter, flickr, tumbler et al). Send the bag shots here. Please understand that there is a long wait now as there is a backlog of submissions. Not all make the cut, so make sure yours is funny/interesting/quirky. And please make sure the shot is of good quality, as the ones that are not do not go up.
Cheers
Japancamerahunter