In your bag No: 631, Ralph Schmolling
Today we have a very cool Zenza bag for you all. Ralph knows his kit well and explains to us some of the problems that you might find with the classic Bronica setup. Check it out.

reading your blog for some time now – enjoying! – , and watching in awe what other people are able to acquire (and carry around ;-) )
I'd like to contribute one of my bags now…
I am a historian & nurse living in Hamburg, Germany shooting for my pleasure primarily, documenting the life around me. That means my family and kids, their friends in daycare and school. I do shoot the occasional "landscapy scene" if I stumble upon it in this big city. I do not shoot street or candid, most of the time I do engage my subjects to some extend. For me my mainstay is available light, but I have dabbled a bit with flash (see below).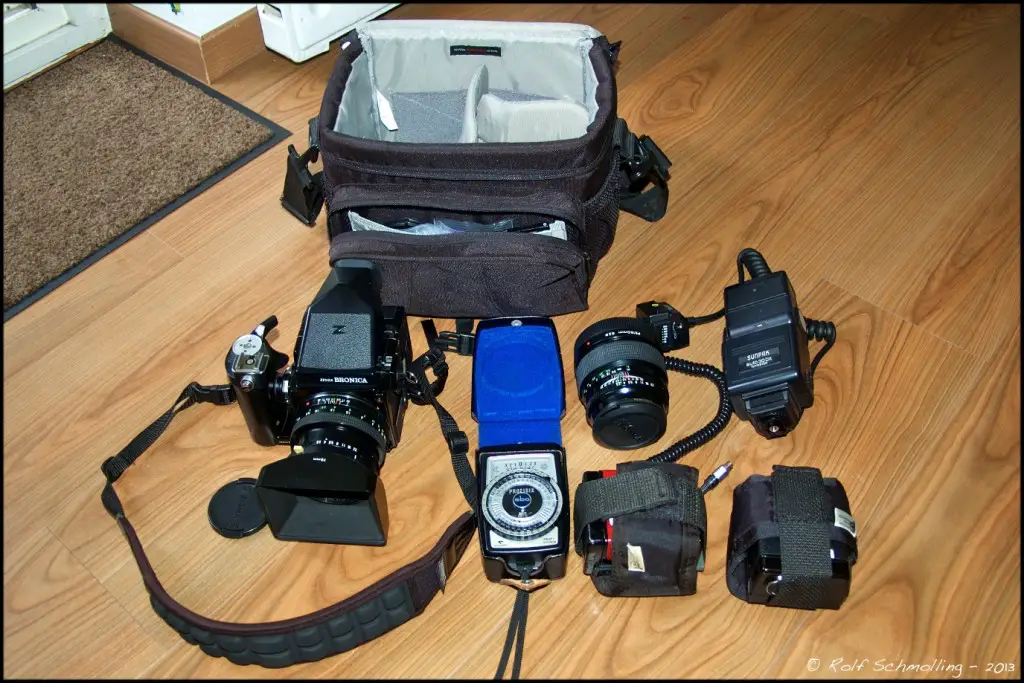 This is my medium format bag (There is a 135 bag too based on a Nikon F2 Photomic but that's for another day).
If I do not keep things as light as possible (Zenza Bronica ETRSi (645) one lens with hood, Lightmeter) I take this.
Zenza Bronica ETRSi (645) with Speed Grip; clear matte screen and unmetered prism. The strap is from Calumet.
Zenzanon-PE 1:2.8 f=75mm with hood & B+W Skylight filter
Zenzanon-PE 1:3.5 f=150 & B+W Skylight filter (still have to get the right hood)
1 120 magazine with Tri-X 400 on camera
1 120 magazine with new Kodak Portra 400
1 120 magazine with new Kodak Portra 160
which is my usual film stock I shoot with.
I keep 'em in pouches which I can clip to my belt, so I might leave my bag somewhere else.
Spare dark slide in a plastic contraption I got somewhere.
Gossen Profisix Lightmeter (currently being replaced by a beaten up Sekonic 508 I acquired recently).
Some labels for my different film stocks to note iso and date.
As I said before, my mainstay is available light,
but occasionally I take a Sunpak 30DX  speedlight with dedicated adapter to be able to use TTL-flash (actually off the film metering OTF). I am still getting used to flash, especially near-to-camera flash… I am no strobist (yet). I want to explore TTL-fill-flash… Need to get some stuff to soften it up and then try it out more. (Only) here I'd like the instant feedback of digital.
All packed into an old Lowepro EX 180. It is compact and sturdy and I just about manage to carry it loaded. I'd like it to have little feet but I can manage.
On my shopping list are some color filters (yellow, red, orange, ND).
The Bronica is a truly lovely piece of equipment and excellent value! With the Speed Grip and prism it handles like a 35mm camera (It is not that much heavier than my Nikon F2 Photomic). I love the huge screen where focus jumps quickly in place. Available shutter speeds (up to 1/500) are the occasional problem but then I just switch film stock.
I have shot fast moving kids in the water at swim training at my son's elementary school. Shooting medium format film meant almost no penalty in grain and sharpness when pushing Tri-X 400 to 3200 to achieve manageable shutter speeds…
I  shoot wide open, most of the time (or keep to 3.5 or 4 – the PE lenses have Aperture in half stops!) and chose film stop accordingly. I develop my own Black & White keeping a hybrid workflow (no time and place for a darkroom). My color negative film I send to FINDLab, USA (www.findlab.com) for processing and scanning.
For those interested in trying out a Zenza Bronica ETRSi (645) a note of caution: The later film magazines (E-II type) come with an insert which quite often is broken: the inserts have two little doors to fix the film rolls in place, these doors are locked when inside the magazine itself. Unfortunately the locks consist of very flimsy thin plastic discs which are easily broken when interacting with the metal lever which keeps it shut (or when the photographer is not careful). So when advancing film the doors might be pushed out, causing a light leak fogging part of the roll, this malfunction ruined some exposure on a otherwise perfectly alright Agfapan 25… and took some time to diagnose. I then found that two out of five of my inserts I got via ebay had broken locking disks.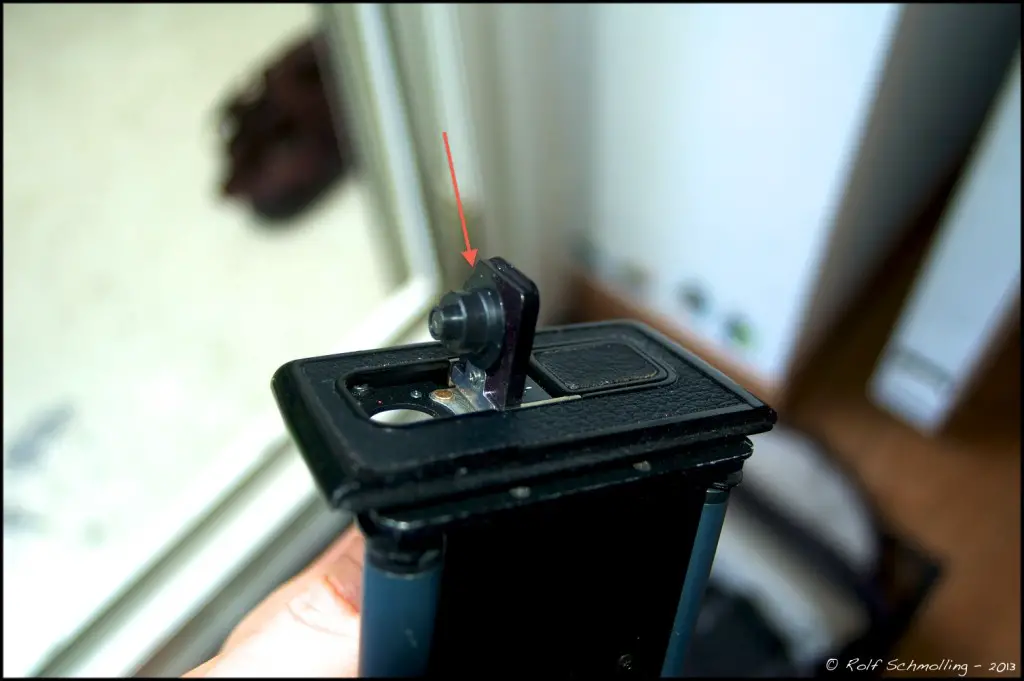 The older inserts have sturdy metal disks in place which just keep working (see attached image). I was able to salvage doors from 220 inserts which are cheaper because of the lack of available 220 film and repair some of my 120 inserts, but I now keep to the older inserts.
My http://rlfsoso.tumblr.com/   shows my own images (well 97%).
Best regards,
Rolf
Thanks for sharing your bag and thanks for the really useful information about the Bronica inserts. That was something I didn't know.
Check out the links and make sure you come and comment.
Keep them coming folks, we need more submissions, so get your bag on Japancamerahunter.com. Send me a hi resolution image of the bag (please make sure it is horizontal) and its contents, with some details about yourself and what you shoot. Oh and don't forget your contact details (twitter, flickr, tumbler et al). Send the bag shots here. Please understand that there is a long wait now as there is a backlog of submissions. Not all make the cut, so make sure yours is funny/interesting/quirky. And please make sure the shot is of good quality, as the ones that are not do not go up.
Cheers
Japancamerahunter