In your bag No: 620, Tony Straw
We have had a few very simple bags lately. So it is nice to see a bag with a few more bits in it. Including a 3D camera! But wait, there is more. Come and have a look.

I've been a fan of the what's in my bag spot for a while to discover people's work, hear about their foray into photography, and to see the various cameras and carrying combinations in play.
Like many other hobbyist photographers I progressed from a point and shoot to a dslr before settling on the Fuji x100. I found that I was rarely taking my larger camera and lenses out with me and with a young family I didn't want to miss capturing moments of my kids growing up due to not wanting to carry a heavy camera. So I sold my slr and lenses to finance the purchase of the little fuji. Best move ever.
After months of only taking an occasional random shot I was now snapping all over the place because I always had my camera with me. I started up a 365 project, which turned out to be a 366 one thanks to a leap year, made sure i found a few minutes spare each day to go looking for something to shoot, and spent the year with the camera glued to my side.
During the course of the year I rediscovered film photography, something I hadn't tried since high school, and acquired a bad case of analog GAS. This led to the accumulation of a Nikonos V, a Pentax Spotmatic, an Olympus Pen D, an Hasselblad 500cm, a Polaroid 250, and my final addition – a Nimslo. Each has a different use: the Nikonos for beach and underwater shots, the Hasselblad for medium format goodness, the Polaroid for instant prints, the Nimslo for 3d pics, the Olympus for easy carrying, and the Pentax for old school charm. After spending some time carrying various combinations of these cameras I found myself settling into my current carrying combination in a Thinktank Retrospective 5:
– Fuji X100,
– Hasselblad 500cm,
– Nimslo,
– mix of 35mm & 120 film, usually Portra & tmax,
– old iPod touch with a light meter app,
– an ND filter for the X100,
– a camera release cable,
– a good book (for awhile I tried to jam an iPad into the bag but I've been rediscovering classic reads lately).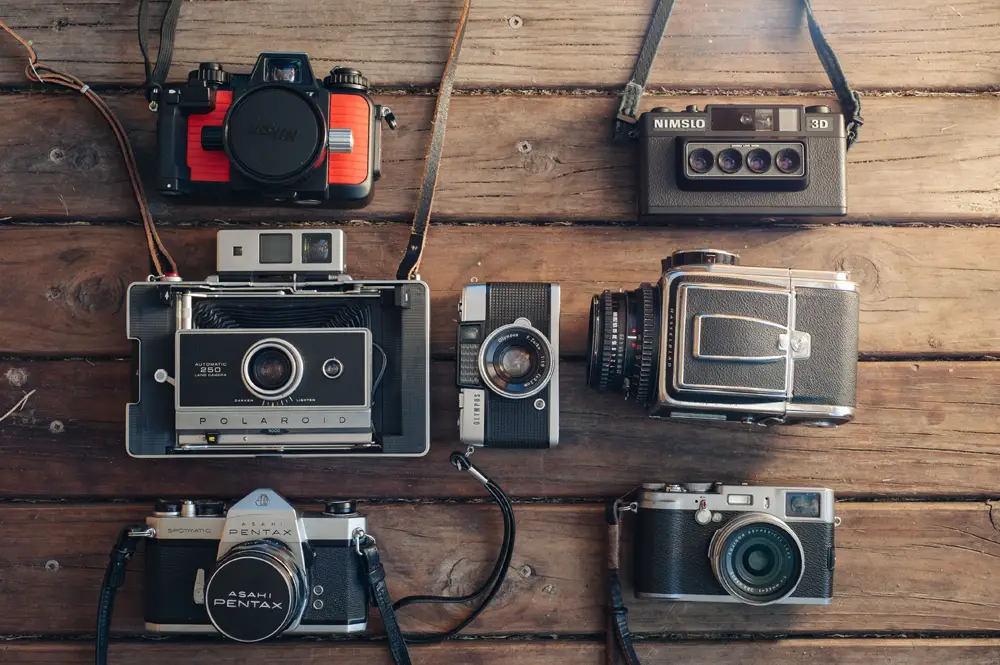 Depending on where I'm going I'll swap out the Hassie for the Nikonos (beach trips) or the Polaroid (family outings) but the Fuji and Nimslo are mainstays. The Fuji gives great digital files that can be appreciated immediately and the 3d wigglegrams that can be made from the Nimslo prints give a sense of presence to a scene (if they don't give you a seizure first).
My pics are scattered across the intertubes at the following locations:
500px.com/tonystraw (the alright stuff)
Dubiousphoto.wordpress.com (my photo dumping ground)
Analogtone.tumblr.com (my film spot)
Keep up the good work Bellamy,
Cheers,
Tony
Thanks for sharing your bag and your thoughts Tony. Very happy to have you here. Love the selection too.
Check out the links and make sure you come and comment.
Keep them coming folks, we need more submissions, so get your bag on Japancamerahunter.com. Send me a hi resolution image of the bag (please make sure it is horizontal) and its contents, with some details about yourself and what you shoot. Oh and don't forget your contact details (twitter, flickr, tumbler et al). Send the bag shots here. Please understand that there is a long wait now as there is a backlog of submissions. Not all make the cut, so make sure yours is funny/interesting/quirky. And please make sure the shot is of good quality, as the ones that are not do not go up.
Cheers
Japancamerahunter