A buyers guide to e-Bay by Dan K
Dan is back, and this time he chips in on the eBay debate. As many of you may know I am not a big fan of the site, but it has its uses. Dan outlines the typical challenges and pitfalls, and how you can avoid them.

O e-bay Why eBay?
I am an avid collector of cameras and lenses. As I am fairly experienced in testing cameras and I research what to look out for in some models, I always prefer to buy in person, either from a friend, or from a trusted store.
The main reason I use eBay is the joy of window shopping in idle moments. It's fun to browse through such a huge array of photography gear looking for undiscovered gems. That's the main strength of eBay; it brings together people of all walks of life and from all over the planet. eBay gives Buyers the opportunity to find rare cameras and maybe get a bargain price. However, it's getting rarer these days to find well known, high-value cameras at a knocked-down price. Indeed, there are some specialist high-end Sellers that go about all the camera fairs and auctions, hoovering up all the legends. They resell them on eBay at vastly inflated "Buy-It-Now" prices and the auctions are rolled over month after month until they sell to a desperate, or uninformed Buyer. Who else would be willing to pay $7,500 for a Noct-Nikkor? But at least they can be found!
Finding Cameras
One way to find excellent deals on eBay is to hang out in forums and on Twitter and from time to time people will mention great deals that they offer, or have seen but don't have the money to buy. Obviously you have to know what you should be willing to pay for such an item, but that goes for all eBay bidding. Looking back, I overpaid for most of my early auction wins. I just didn't know how much to pay. Remember that it's not really 'winning' if you overpay.
Personally, when I search eBay I do two kinds of searches. One way is to search for specific cameras. Often I will search for a very specific item. I will use very specific syntax using brackets and commas to include alternate names and the minus symbol to exclude unwanted items that are often caught by the search. For example:
Ricoh (elle, R10) -(protector, caplio, memory, battery, case, remote, digital, SD, display, db70, R8, cx3, cd, mirror, gx200)
in Cameras and Photo
under $405
Auctions and BIN
Another way is to make a much broader search and visually match for cameras that I'd be interested in by scanning my eyes down the page. For example:
black paint
in Cameras and Photo
under $1007
Auctions and BIN
By the way, notice how I pitch the price just over round numbers? I do that when I bid as well. That way I don't lose an auction to another guy that bids $1,000.
Recently, eBay has brought in My Feed to the front page after you log in. This feeds 'Discoveries' from your Saved Searches as pictures for you to see. It's worth scrolling down. You can improve this search by including and excluding Saved Searches from your My Feed.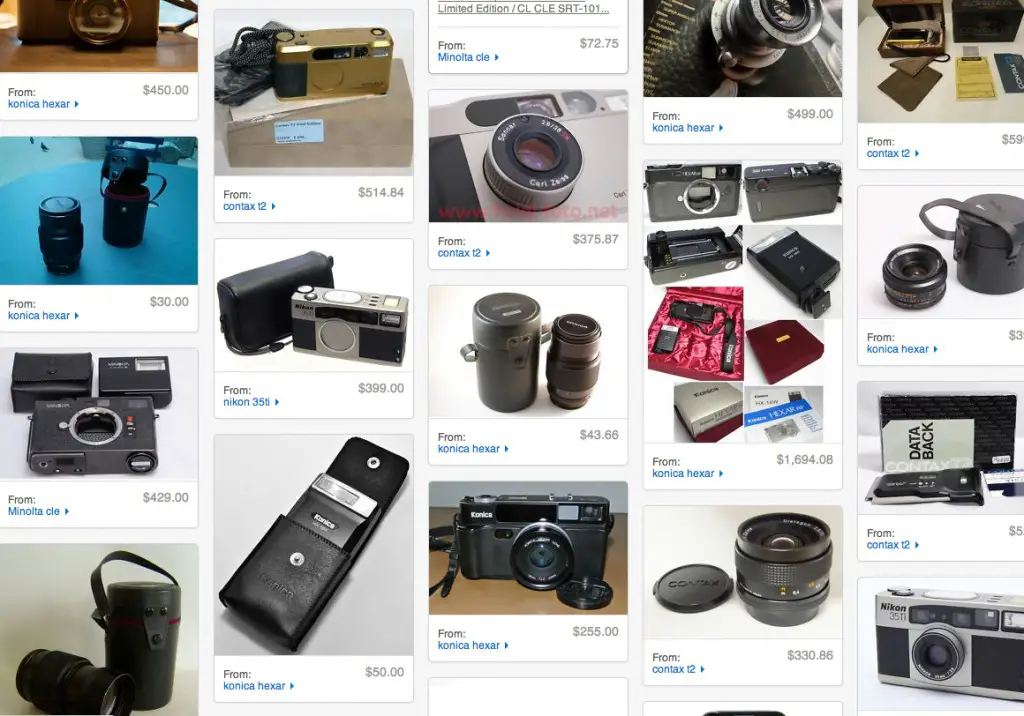 Typical eBay Challenges
It's not all a bed of Roses, though. The biggest problem for me is shipping.  Shipping to Hong Kong from some countries, for example as Canada, Germany and Australia can be prohibitively expensive. If you have a lot of Sellers in your country, then that's great, but not many people in Hong Kong sell on eBay, so it's almost always shipped from Europe or the USA. That's if they are willing to deal with me at all, as I don't live in the USA. If you are reading this from the continental US, then these concerns probably don't apply to you so much.
Getting a Good Deal
I always price a Bid, BIN or Offer net of shipping charges. Sadly, after calculating shipping, I'd usually get a better deal buying locally, especially on low-value items. As the high value items are generally sold at highly inflated prices and low value items are expensive to ship, that means I almost always buy cameras and lenses priced at between $30 and $500. I get some good deals, but only because play the game very carefully. I know my cameras and their value, I read and examine the auction listing and Seller carefully and I use eSnipe.com to place my bid two seconds before the auction closes. Using eSnipe avoids my getting nibbled up by curious but insincere bidders and I don't make any legal commitment to buy until the very last second. Clicking Buy-It-Now or bidding in an auction through eBay does involve a commitment and you are likely to get your account suspended if you do not pay up. There can be legal implications from breach of contract as well.
Outright Scams
From time to time, maybe once in every 20 transactions, I get scammed by a seller, or have an experience that puts me off eBay for six months to a year. Scams abound on eBay, and high value items like cameras and lenses are especially susceptible.
Usually, it's a camera that's not as described, be it cosmetically, or mechanically. If the Seller does not offer a proper description or clear photos, or says something along the lines of "not tested", "I am not an expert" or "I have no batteries to test", then I generally walk away.
Buying lenses is a bad joke, because a Seller's subjective opinion of a lens quality is usually biased and it can be hard for a Seller or complaining Buyer to photograph the condition of scratches, polishing marks, fungus, bubbles and separation. It's a risk and the buyer's reputation is critically important. You can't always tell from feedback either, but if someone I know like agfcamera are selling a marked-down lens, I will actually call the bricks-and-mortar store and ask the seller's honest opinion. I always ask if my friends and favourite stores have eBay stores and then I save them in my Favorite Seller list and check to see if they have anything interesting from time to time. It beats travelling across town.
I've been ripped off by a seller that didn't ship at all. He had excellent feedback upto that point, but then 'went bad'. I was the first to get hit and then he had half a dozen negative feedbacks. Who knows what went wrong? The same thing can happen on internet forums. If it sounds too good to be true, walk away. Even if the item has freight tracking, you may not get what you paid for. The Buy-And-Switch fraud (also known as the "Box-O-Rocks" fraud) entails the Seller sending the Buyer a box loaded down with junk, or an empty box, or incomplete contents. Buyers need to photograph the condition of the box before opening and video the act of opening. Who really does that? Be paranoid.
Buyers that live outside the locations that shipping can be calculated for, shouldn't bid unless they have contacted the Seller and received a quotation. It's very common for a Seller to overcharge for shipping. Sometimes, they send a small camera in a big well-padded flat-rate box. Sometimes, they just overcharge.
Sometimes, it's just a matter of misunderstanding, rather than fraud, but the outcome can be similar. I once bought a toy camera from the USA, stipulated tracked airmail service and was charged a hefty premium over the actual USPS Priority Mail cost. Two weeks later, it hadn't arrived in Hong Kong but the Seller insisted his wife shipped it. When the 45 day deadline to initiate a complaint arrived, I did so, as I had been burned before for doing so. I received threatening and aggressive emails from the seller, some accusing me of scamming him. He was unable to provide proof of shipping, a tracking number, insurance, or anything and had his account suspended by eBay. Prior to that, he'd had hundreds or thousands of successful transactions. The twist is that more than two months after I had paid, a box shows up with my camera in it. It had been shipped by surface mail without tracking. It seems his wife had sent it by sea. The post mark was not long after I had paid. I set things straight with eBay, but left Neutral feedback, describing the problem. He left a particularly nasty comment in response.
If you think Buyers have it bad, spare a thought for Sellers. They are getting ripped off all the time and eBay does have a system for recording potentially dodgy Buyers (no negative Seller feedback) so it can be hard to differentiate between a good Buyer and a fraudster. This often makes them very edgy and suspicious and understandably so.
One such thing is the Package-Not-Received fraud. Buyers get their camera but deny receiving it and demand a refund. Sellers now often require Buyers to pay for tracking as a result, but some Buyers may claim the signature was fraudulent and it's really hard to claim on shipping insurance in that case. Delivery-people have been known to leave a tracked package on the porch without obtaining the delivery signature. Some Buyers will take advantage of that situation. They complain to eBay and may even file a police complaint for mail fraud or send legit-looking legal letters.
The Damaged-In-Transit fraud seems to be popular now. A fraudulent Buyer will claim that the package was damaged in transit, the item broken, not as described, not in the package or something like that. If the item is declared broken, often they will send a demand for a partial refund or a bill for repairs, asking the Seller to pay a prohibitive return cost. If the Seller demands the product is returned, he/she may become a victim of a Box-O-Rocks fraud and the Buyer may even deliberately damage the item. Sadly, it seems some of these frauds are being reported as originating in Hong Kong. Even with an honest return, Buyer and/or Seller can lose out. When you deduct the cost of packaging and shipping, eBay and PayPal fees, etc. in some cases, the Seller might receive less than half of what the buyer pays for the camera. Fees may be refunded if initiated in time, but return shipping is usually paid by the Buyer. Some things aren't worth returning.
Another scam involves having an item shipped to a mail forwarder, or a false address. That's another reason why Sellers don't allow foreign-registered buyers to bid, even if they have a domestic address.
In summary, there are a lot of good people and there is a lot of good gear on eBay, but there are also a lot of scumbags and rubbish. Sometimes you win, sometimes you lose; sometimes you don't even get to play.
A good article about protecting yourself from many of the common scams is here http://ebay.about.com/od/mistakestoavoid/a/Win-The-Buyer-Protection-Battle.htm
Alternatives
Obviously there are other auction sites, but the same caveats apply and the other auction sites may lack the same buyer protections that eBay has put in place. I still prefer eBay.
Internet forums also lack controls, but I take comfort that if someone has made thousands of posts on a forum, they may be reluctant to throw away the reputation that they have earned on one bad trade.
There is also Craigslist. This doesn't work well for me, as I live in Asia. I also don't like the idea of being robbed or murdered. YMMV.
I also like shopping at the many bricks-and-mortar second hand camera dealerships in Hong Kong. Even amongst the major cities of the world Hong Kong and Tokyo are rich hunting grounds and it's worth shopping if you go there. Bellamy and I have published buying guides for these cities.
https://japancamerahunter.com/2013/05/the-complete-tokyo-camera-shopping-guide/
https://japancamerahunter.com/2012/04/camera-shopping-in-tokyo-pt-1-shinjuku/
https://japancamerahunter.com/2012/04/camera-shopping-in-tokyo-pt-2-ginza/
https://japancamerahunter.com/2012/04/camera-shopping-in-tokyo-pt-3-northern-tokyo/
https://japancamerahunter.com/2012/06/hong-kong-camera-hunter-pt-1-film-in-hk/
https://japancamerahunter.com/2012/07/hong-kong-camera-hunter-pt-2-shamshuipo-mongkok/
https://japancamerahunter.com/2012/07/hong-kong-camera-hunter-pt-3-the-last-day/
The main differences between Hong Kong and Tokyo is Tokyo has quality, condition and collectibles, but you'll pay for it. Some great deals can be found in Hong Kong, particularly on lower-priced cameras and ones that are in less than prime cosmetic condition. If you really want pristine cameras, or Japanese cameras and lenses that are hard to find outside of Japan, then you really have to travel to Tokyo. Of course that's not always practical; and that's where Japan Camera Hunter comes in.
Japan Camera Hunter's Service
Bellamy's not just a reputable western bloke in Japan. He doesn't just go shopping and kick the tyres. If that were so, you could just find a reputable store's website or eBay store and plunder direct from the seller.
First, Bellamy is an expert. He knows his stuff. He's the guy who'll say, "Nah, for what you want to do you're better off with a late model 8-blade". Stores may or may not give good advice. Very few stores carry every model ever made. They will sell you what they have, or what's been sitting on the shelf for too long, or the consignment item that has a fat commission on it. Bellamy doesn't carry stock, so you'll get unbiased expert advice.
Secondly, Bellamy knows every reputable source in Tokyo. He can find the really obscure cameras, even things that nobody's seen. Don't waste his time or your money on cheap, common cameras, the kind of thing that eBay is awash with, for example a Canonet 28 or a FM10. He's not Japan Dumpster Diver. He's the go-to guy for 60mm Hexanons, KE7A, stuff like that. He's the advanced collector's dream. 90% of what I ask him to find just can't be found. It's the kind of thing you don't specify a price range for; "Just find me one".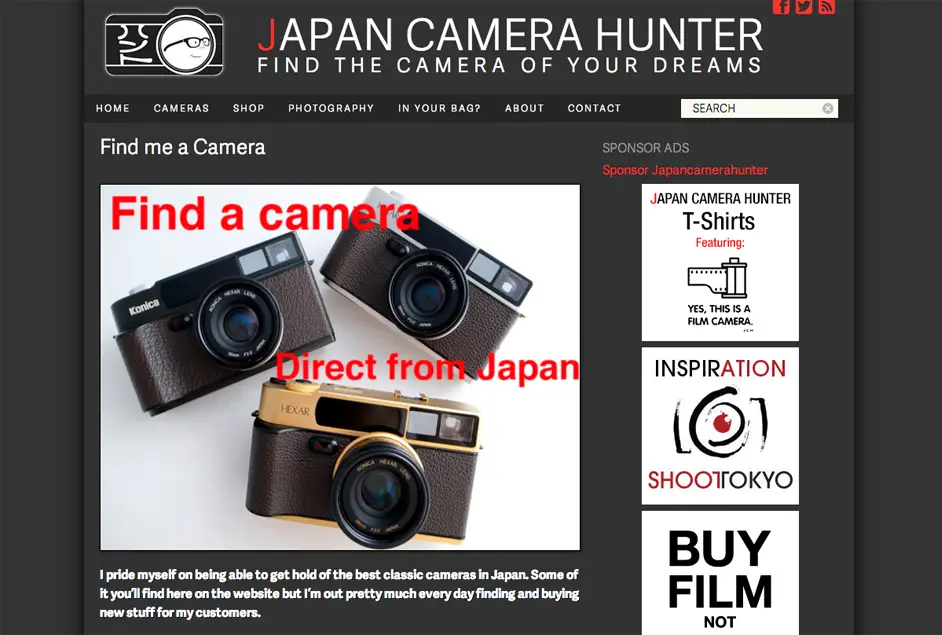 Thirdly, Bellamy knows what gets broke on what camera or lens. He doesn't just run through the shutter speeds, check the meter moves and the lens isn't mouldy. He knows stuff like Contarexs' helicoid oil goes bad and that can lead to friction welded focus mechanisms. Buy cameras and lenses from him that really need an expert to check and are valuable enough that it matters.
Fourthly, he knows how to get gear fixed, tuned and customised. His M6 is so slick it's stuck in my mind. I don't even like the M6! Go to him if you don't just want a run of the mill camera. Specify and pay for customisation. Want a really good repaint? Get him to find a donor and have it done right.
Finally, he's a good bloke. There's no such thing as a warranty in this business and after sales follow up can be important. If you're buying a special gift and worry if it'll subsequently go wrong, it's worth spending a bit more.
Unlike most sellers, Bellamy is very open about what he charges for his service:
https://japancamerahunter.com/2012/09/find-me-a-camera-mr-camerahunter/
If you are looking for a high-priced item, or a cheap item that is almost impossible to find outside of Tokyo, then he is pretty reasonable. His service starts from JPY5,000 (currently around $50) and I think that's pretty reasonable considering that he's travelling around an expensive city and applying local knowledge, business connections and professional expertise to help you get the right camera or lens in good condition. Heck, I often pay more than that on shipping eBay stuff from the USA, so this is a reasonable commission in my book.
So, in conclusion, Bellamy's not the right buyer for every camera or camera buyer, but for some special purchases, he is a godsend. If you're in doubt, why not ask him if the thing you're looking for is worthwhile buying in Japan?
You can follow Dan on his social networks. He always has something interesting to say about photography and cameras.
Tumblr
Twitter
He was also on 'In your bag'
text © Dan K. All rights reserved.