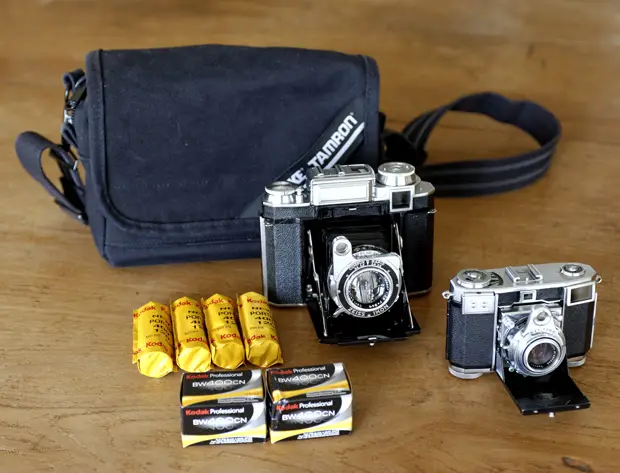 In your bag 456, Floyd Takeuchi
Floyd has been on JCH before, and now he is back, with another delightful classic bag. Let's have a look and see what they are shooting nowadays in Hawaii.

I am a professional photographer-writer who is based in Honolulu, Hawaii.  I do nearly all of my work with a digital kit, and use my  film cameras/lenses for personal shooting. You were kind enough to feature my Zeiss Ikon Contax IIa kit earlier (https://japancamerahunter.com/2012/11/in-your-bag-no-341-floyd-takeuchi/).
But every so often, I'll try to incorporate a film camera into the assignment mix, if it is a good fit for the subject and if I have the time in the field. Almost all of my photography is for documentary projects, where speed is sometimes a requirement.
On a recent photography project on the island of Pohnpei in the Federated States of Micronesia, I had arranged to photograph two indigenous dance troupes.  I knew I'd have the time — they were going to perform just for me in a private setting — so I decided to bring along my Zeiss Ikon Super Ikonta, a medium format folder. It is one of the older models, a BX but likely from the early 1950s.  I planned to use it to shoot portraits of the dancers, mostly in small groups.  I used my Nikon D700 to meter the shots.
I have included a photograph taken during that assignment for your information.
This particular kit features:
1. A Zeiss Ikon Super Ikonta with a Compur Rapid shutter and a Zeiss 80mm f/2.8 Tessar.
2. While I didn't take it on the most recent assignment, I often pair the Super Ikonta with its little brother, the Zeiss Ikon Contessa 35, a circa 1955 model with a Zeiss 45mm f/2.8 Tessar. This lens is very sharp and contrasty, particularly given its age. I've used it quite successfully for street shooting in Tokyo!
3. The Super Ikonta is usually loaded with 120-format Kodak Porta 400.  The Contessa 35 almost always has 35mm-format  Kodak BW400CN, of which I still have a stock carefully tucked away in cold storage.
4. The bag is a Domke-Tamron F-5XB.  It fits the Super Ikonta, a hood and film without a problem. It is a bit snug if I include the Contessa 35 and a couple of rolls of 35m film. My only complaint about this camera bag is its "man purse" looks, but it is functional in the field.
Thanks for featuring this bag and its cameras.
Thanks for sharing your awesome bag with us Floyd. I love the Domke/Tamron special edition bag too.
Check out Floyd's links and make sure you come and comment.
Keep them coming folks, we need more submissions, so get your bag on Japancamerahunter.com. Send me a hi resolution image of the bag (please make sure it is horizontal) and its contents, with some details about yourself and what you shoot. Oh and don't forget your contact details (twitter, flickr, tumbler et al). Send the bag shots here.
Cheers
Japancamerahunter