In your bag 353, Griffin Simm
Ooooh, now this is nice. An original Crumpler bag to share with you. The original ones are wonderfully made and look awesome. Griffin has a cool set up to keep in his Crumpler. Check it out.

Hello there JCH!
My name is Griffin Simm. I live in Melbourne, Australia. I have taught myself over a period of a year & a half, during this time I have grown a appreciation for street & Portraiture. I enjoy exploring Melbourne and it's surroundings a lot and I shoot for no one else's enjoyment but my own. I have used many digital cameras, but find film is far more alluring and fun! Now onto my Bag.
– An Original Crumpler Complete Seed Bag
This has been in my family for quite some time, carrying the family video camera and the likes. It carries all I could ever need and more.
– 1960's Tripod with Leather Case
This tripod belonged to my step-grandfather. I found it along with a Broken Ricoh 300 RF. (Not pictured)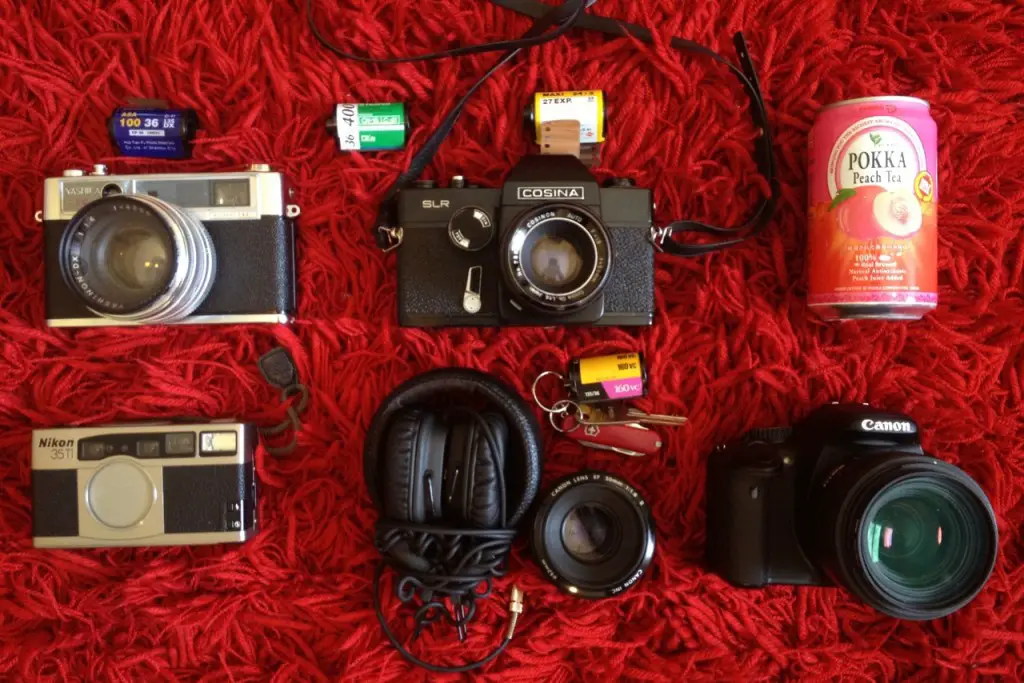 – Yashica 1C Lynx 14E Rangefinder
I bought this beautiful camera for $90 from a very dodgy shop in inner city Melbourne. I love the way the 45mm f/1.4 renders even the most simplest of scenes. Unfortunately the meter on this camera is not functioning, thus I must use my iPhone.
– Cosina Hi-Lite w/ Cosinon 50mm f/.18
Another camera I found in the closet that belonged to my step-grandfather. I love this camera for it's mechanical operation, no batteries needed!
– Nikon 35Ti
Yet another inherited camera. This point and shoot produces some incredibly sharp images and is a joy to use. The dials on this thing are unlike anything I've ever seen.
– Canon 550D w/ Sigma 30mm f/1.4 & Canon 50mm f/1.8
I use this camera for the Majority of photos (Processing film as a student is expensive!) However I am considering selling it for a Fuji X100.
– iPhone 4S (Not pictured)
I am a massive Hipstamatic and VSCO cam fan.
– Film
I like to try something different each time. I am currently infatuated with the likes of Ektar & Portra film stocks.
– Marshall Major Headphones
Great quality small headphones.
– Pokka Peach Tea
I usually raid an Asian Supermarket before setting out.
– Keys
Key, Swiss Army Knife, and Portra 160vc Key Ring.
I post my work daily on http://japanesecityphotos.tumblr.com/
Thank you!
Griffin Simm.
Thanks for sharing the bag with us. Love all the inherited cameras and the bag is awesome. I have a weakness for classic Crumpler bags and have a couple myself.
Check out the links and make sure you come and comment.
Keep them coming folks, we need more submissions, so get your bag on Japancamerahunter.com. Send me a hi resolution image of the bag (please make sure it is horizontal) and its contents, with some details about yourself and what you shoot. Oh and don't forget your contact details (twitter, flickr, tumbler et al). Send the bag shots here.
Cheers
Japancamerahunter