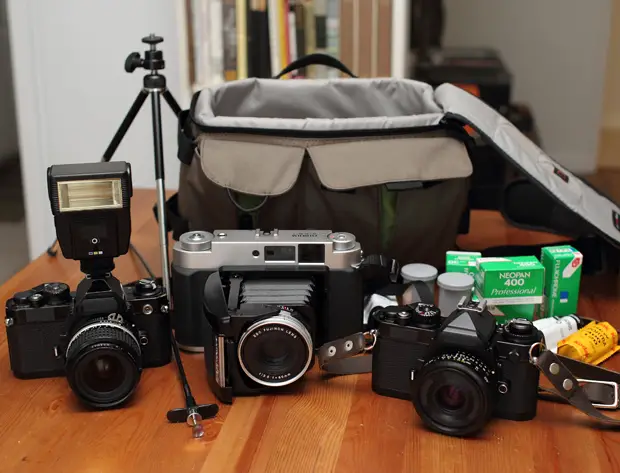 In your bag No: 612, Adam Burns
Adam is relatively new to the film game, in a sense. He is a returnee, like so many of us he had a little dalliance with digital but when back to film. Come and check out his bag.

My name is Adam Burns, I'm 32 years old, and I'm from San Diego, California.
I've been involved with photography since I took a class during my senior year of high-school in 1998. Shot with a trusty Nikon FM10 from then until about a year ago when I dove headfirst into Canon DSLR gear. Bought a 60D, a used 1DmkIII & a handful of lenses. Shooting digital was really cool, and since I bought a good variety of lenses, I was able to get shots that were not previously attainable with the crappy kit lens on my Nikon.
I immersed myself into photography like never before, and spent lots of time on photo forums/blogs studying and learning. But I was still interested in going back and shooting film now that I had learned so much. My old high-school FM10 broke and I purchased a very worn old Nikon FM2n body from my local camera store's rental department. As I shot more and more film, I started to despise the whole process of digital capture. I loved just pressing the shutter and moving on to the next thing, without zooming in on a little screen after every shot. I loved all of the different types of film that I was trying and their unique characteristics (I had never shot slide before, such wonderful stuff). I loved thinking carefully before each shot, using my brain to change the settings and focus on my camera instead of an onboard computer doing it for me. I soon found that my Canon 1D was spending lots of time in the bag, while I was flying through rolls on the old FM2n.
The situation in film's favor changed for the better with my purchase of the wonderful Fuji GF670 medium format folder. So, in a bold decision, the Canon 1DmkIII got sold. I kept the 60D and lenses because I use it often for video work (and "In Your Bag" photos, ha). Some of the money was used for the acquisition of a minty Nikon FM3a and a Nikkor 24mm f2 AI. The other lens I use for my Nikons is a Voigtlander/Cosina Ultron 40mm f2. The black tape over all the logos? I just want the camera to go less noticed, not be a conversation starter. The white logos on black bodies are too flashy for me, and possibly for thieves.
I shoot lots of different films; my photos can be seen at fotoburns.com. Japan looks unreal, I'd love to go someday and maybe I'll bump into you.
-Adam
PS. all that crap actually does fit into that little Lowepro bag, haha….
Thanks for sharing your bag with us Adam. Nice to hear your story of your return to film.
Check out the links and make sure you come and comment.
Keep them coming folks, we need more submissions, so get your bag on Japancamerahunter.com. Send me a hi resolution image of the bag (please make sure it is horizontal) and its contents, with some details about yourself and what you shoot. Oh and don't forget your contact details (twitter, flickr, tumbler et al). Send the bag shots here. Please understand that there is a long wait now as there is a backlog of submissions. Not all make the cut, so make sure yours is funny/interesting/quirky. And please make sure the shot is of good quality, as the ones that are not do not go up.
Cheers
Japancamerahunter