Kyoto film photography workshop – Postscript
The Kyoto film photography workshop with Eric Kim was a Great Success! (Borat intonation), so I thought I would share with you some of my thoughts and the work of the the students from the course. Ahhhh, Kyoto…

Kyoto is a magical place, the seat of power in Japan for 1000 years and what many consider to be the true heart of Japan. It has more world heritage sites than you can see in one day, really.
It is a mesmerizing city that lives in movies and storybooks, except for the fact that many of the old customs are still there. You can walk through Gion and see Geisha on their way to entertain their clientele, you can see delightful old tea shops and restaurants that cost the earth.
And what better time to go to Kyoto than during 紅葉 koyou season (autumn leaves). This is a magical time when the leaves of the Japanese maple trees run through the golden ochres to the crimson reds, setting a scene amidst the temples that is timeless and breathtaking.
Eric Kim and I were fortunate enough to be able to have a workshop with Sean Lotman and Junku Nishimura during this time and it was honestly one of the best weekends I have had in Japan. Not just for the photography, but for the experience too.
Photo by Eric Kim
Sean Lives in Kyoto and photographs a great deal there and was able to give us all a really good experience on where the best places for light and colour were. Sean shoots with vivid colours in a style he calls 'surreal humanism', bringing an otherworldly colour to his images. Sean personality really comes through his images, complex and thoughtful. It was a real pleasure to learn more about how he thinks about photography and the way it connects and portrays life. He was kind enough to share his house with us and let us conduct our workshop in the beautiful home he shares with his wife Ariko Inaoka, who's work is also inspiringly beautiful.
Junku is not a Kyoto native, living in Nagoya, but he spent several years living in Kyoto, and knows the place well (mainly the best bars in town). He was able to share with us not only his wonderful sense of humour, but his charming style and and thoughtful photographic skill. Shooting with both Sean and junku was a treat that I will remember forever. I really hope that we are able to work together again, as I have not felt that energized about shooting for a long time.
The students joined us on the friday night for a quick introduction and portfolio check before we went for a delightful meal in one of the local restaurants. For us it was not just about photography, but about bonding, making friends and having a great time in a city that that is more than capable of showing you a great time.
On the Saturday we had the teachers share their work with the students, and talk about their thoughts on photography. Because this was a small intimate group we were able to really communicate well and share ideas, it was a time for all of us to learn. And I came away from it with a lot to think about.
Unfortunately the weather on Saturday was more than inclement, it was positively dire. Rain was falling and there was basically no possibility of seeing all of the sights that Kyoto hat to offer. It was a real shame, but we soldiered on. The students were gung-ho despite the godawful weather. We had to improvise and hit the malls and covered markets. The style of shooting was a lot different to what many were used to and we has to shoot in close quarters in crowded covered streets. It was an interesting experience for all and some Cracking shots came from it. Have a look:

Many of the students were either first time film shooters, or returning after a lengthy period of absence, and it was really nice to see them so happy to push themselves. Even with the crappy weather they still wanted to go out and learn something new. I had so much fun talking to everyone and watching my fellow instructors in action.
After we had got soaked to the bone and the light was failing we returned to Sean's place for a quick lesson in developing film by Junku, which was great. It is not as hard as people think, and Junku's easygoing style make it a breeze to get through and remember.
After the workshop we went for another slap up meal, and everyone came. It was great to have everyone in the same room sharing stories and having a good time. It really felt less like a workshop and more like a group vacation. After dinner we hit some local bars before being treated to a rare glimpse…party animal Eric (da Wrekka) Kim's pop, lock and drop. What an end to the night.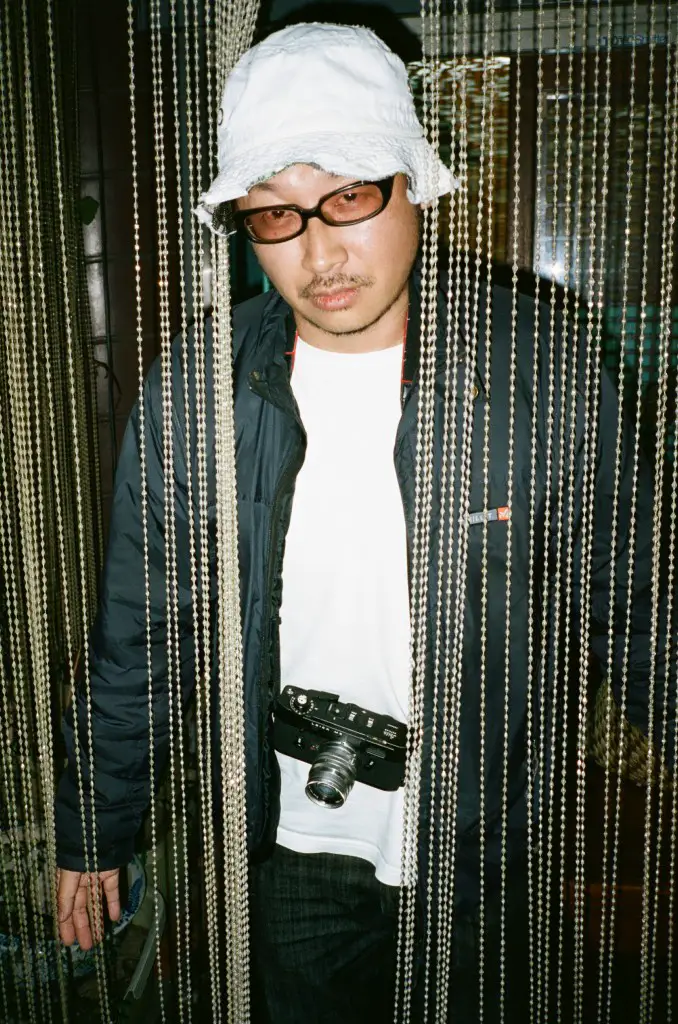 On the Sunday we were really fortunate to be able to Kyoto in all of its glory. The weather cleared up and the light was fantastic. We managed to walk along the river and get to some of the more famous tourist spots and temples. There were loads of people around and a few events on, so there were a lot of opportunities to see some interesting scenes. And of course the leaves were fantastic too.
The students got to shoot a lot more colour on the Sunday and I hope to be able to see their shots from this soon. When they have them hopefuly I will be able to share them.
When the light started to fail we went back to Sean's place again and took a load off. I think everyone was pretty exhausted. We selected the best images from the previous days shooting and went through our favourites. It was nice to have Sean, Junku, Eric and myself on hand for the critique as there were many different views and types of feedback which I think was invaluable for the students. Ariko was kind enough to join us too and chip in, which was really nice to hear as she has such a thoughtful and philosophical point of view.
Once we had shared everyones work and thoughts it was time for us to head to dinner again. And have the final dinner of the weekend. Sadly some had to leave early, so it was not a complete table this time, but that meant there was more food for the rest of us. Tears were shed and beers were quaffed and everyone had a wonderful time.
It was a fantastic weekend and the students really felt a push in the way that they shoot. Hopefully they all came away with not just a new skill and desire to shoot, but some treasured memories and happy times. I hope that we will be able to do another one soon. I really enjoy working with Sean and Junku so I would be more than happy to do something with them again anytime.
I hope that I will have more work to share with you soon. The stuff I saw was brilliant and I am really happy to be able to have had the honour of teaching and working with such a lovely bunch of people. I hope you enjoy it too, and I hope you can all come next year (although Sean may need a bigger place).
Thanks
Japancamerahunter