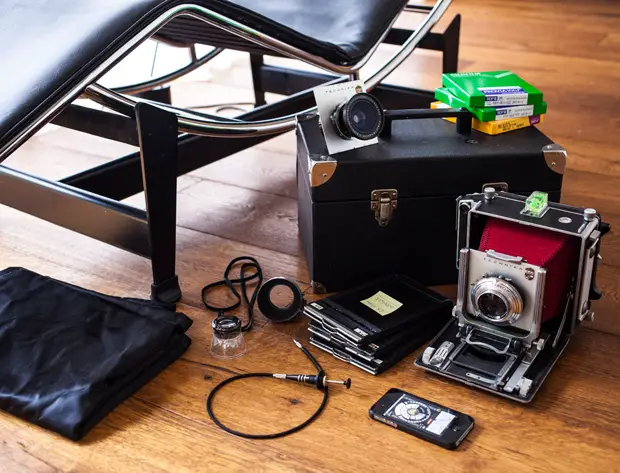 In your bag 334, Jesse Kraal
Jesse has been on the site before, and now he is back with a change in his bag. It has become a lot more focussed on the large format, and this is a stunner of a bag shot.
Hi Bellamy,
A while ago, you featured my personal bag on your website (https://japancamerahunter.com/2012/08/in-your-bag-252-jesse-kraal/) and I then already gave you a preview of my Linhof Technika i bought togehter with a classmate. Well, here it is as a bagshot.
It's a Linhof Technika III v5 (we call him Evert, after the old photog we bought him from), which is the first Technika to use the standard Graflok-back. It uses other lensplates then later models and is not as easy to adjust, but it is also not as expensive. After some training, we are able to set up the camera in just a few seconds. It was in quite bad shape when we bought it, so i replaced the bellows, painted the leather and the chrome and now it looks quite good. It's not as new but it is a working horse, not a parade one. Oh, and I uncoupled the rangefinder. We never use it and it is way easier to fold the camera now te 'knifes' of the rangefinder are not obstructing.
We have two lenses that we use, a Linhof/Schneider-Kreuznach Xenar 150/4,5 and a Schneider-Kreuznach Super-Angulon 90/8. We bought the camera with the 150 and a Schneider 90/6.8, but that 90mm doesn't allow a lot of movement.
Other things you see are of course film holders (we have more but they are at the development lab), a dark cloth (which made me to use a sowing machine for the first time in my life), a focussing loupe (we are looking for a better one), lens hood for the 150 (we do have three original colourfilters for b/w-use), a cable release and of course film. What you don't see is the changing bag, a manfrotto-tripod and a polaroid back. The last one we borrow from school, but we are now looking to buy one.
We use an iPhone 4S with Fotometer Pro for measurements.
So, what are we doing with all this stuff? We're in our last year of our 4-year photography study and we're making a documentary about a small Belgium village. There used to be a cycling race through a bar, but the bar unfortunately burned down in 2002. It was on dutch television in 2001 and i remembered seeing it as a 13yo kid. It made us curious how things are in the village right now. We've been there for three times now and we meet interesting people every time. Someone with 400 old bicycles or with 25 vintage tractors for intstance. A lot of stories in a very small vilage, so at the end of this school year we hope to have a great series about Baardegem. We invite everyone to like our facebookpage so you will stay updated on our progress: www.facebook.com/evert4x5
I have included one picture we made with the camera, more will appear on our timeline soon.
Thank you!
Jesse Kraal and Nienke Laan
Thanks for sharing your bag with us Jesse, it is great to see how it has developed over time.
Check out the links and make sure you come and comment.
Keep them coming folks, we need more submissions, so get your bag on Japancamerahunter.com. Send me a hi resolution image of the bag (please make sure it is horizontal) and its contents, with some details about yourself and what you shoot. Oh and don't forget your contact details (twitter, flickr, tumbler et al). Send the bag shots here.
Cheers
Japancamerahunter