In your bag 327, Jim Clinefelter
My mate Jim has been on this site before, but not with a bag shot. So I am very happy to be able to share his bag with you all. And what a bag it is. Just look at all of the classic gear. Come and have a look.

Hello all, my name is Jim Clinefelter and I live in Portland, Oregon. I have been an artist/photographer/magazine publisher for 30 years; my current day job is running the Used Camera Department at a local camera store. When I'm not at work, I'm either out taking photos or working on an a publication (such as my photo magazine, "Littlefields", which Bellamy kindly reviewed the other day). I also try to visit my favorite city on the planet- Tokyo- at least once a year.
I have a lot of camera bags, but recently I've been doing more large format work, which is why I've been using this 1940s Graflex case. It's a handy catch-all for some of the other gear that I like to take with me.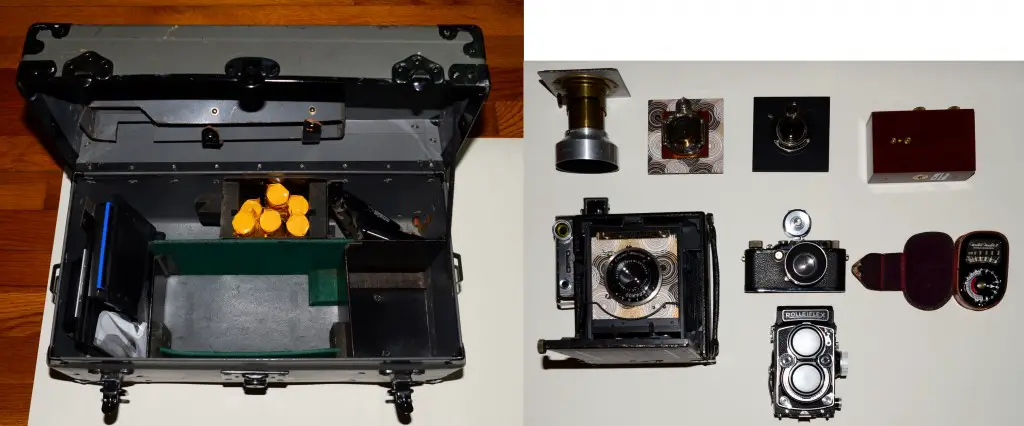 At left is a shot of the case, containing film, a Toyo loupe, a Graflex 23 (6×9) 120 back, a Polaroid 405 back (for Fuji Instant film), marker pen and labels, and a Pentax flashlight (the sole piece of equipment here that takes batteries!)
At right are the usual contents of this case:
A 1939 Graflex Pre-Anniversary Speed Graphic 4×5 with a Carl Zeiss 135mm f/4.5 Tessar lens. Speed Graphics are great fun to use and light enough to use hand held. Because they have a focal-plane shutter in them, you can use a lot of different lenses. The three above the camera are:
a late 1860s Darlot 178mm f/5.6 Rapid Rectilinear (I usually use it with a home-made waterhouse stop, which provides an aperture of f/29)
an 1890s Rochester Camera Co. 150mm f/8 Symmetrical lens in a Bausch & Lomb Unicum shutter
a 1910s Bausch & Lomb Rapid Rectilinear 150mm f/8 lens in an Eastman Kodak shutter.
All of these lenses work perfectly well with B&W and color films…don't let the "experts" discourage you from exploring older lenses.
In the Middle:
I couldn't resist including one of Bellamy's favorite cameras- my 1934 black Leica III with its
50mm f/2 Summar lens and Imarect viewfinder. This is my favorite Leica of all time…it works beautifully.
Next is a recent acquisition- a 1955 Rolleiflex 2.8D with an 80mm 2.8 Xenotar. This camera came out of an estate inherited by one of my customers. It is the cleanest Rollei I have ever seen in all my years of selling cameras. If you ever have the chance to buy one of these, do so. The quality is incredible (Examples? Do a Google Search on Shinya Arimoto….his work is fabulous).
Lastly, there is a Zero Image 6×6 pinhole camera (handy for shooting with while cleaning dust out of the 4×5 or re-loading a film back), and a late 1940s Weston Master II light meter (tested frequently against new Sekonics at work…and spot-on, every time).
Happy shooting, everyone :)
http://www.flickr.com/photos/jim_clinefelter/
Thanks for sharing your awesome back and incredible lenses with us Jim. You are right, the oldies are just as valid and you shouldn't let people tell you different.
Check out Jim's pictures and the article I wrote about his lovely mini magazines.
Keep them coming folks, we need more submissions, so get your bag on Japancamerahunter.com. Send me a hi resolution image of the bag (please make sure it is horizontal) and its contents, with some details about yourself and what you shoot. Oh and don't forget your contact details (twitter, flickr, tumbler et al). Send the bag shots here.
Cheers
Japancamerahunter