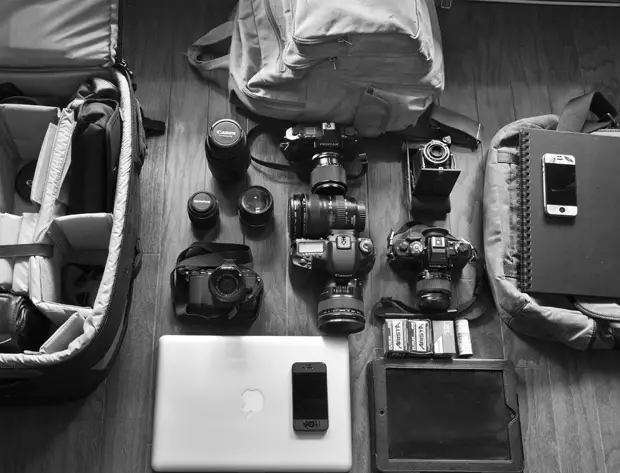 In your bag 324, Ian and Leena Bethune
Todays bag is epic, massive and…a brother and sister combo bag. Yes, that is right a shared bag. This is not the first one, but it is certainly the biggest one. Come and have a look at this fantastic bag.

Hi we're Ian and Leena Bethune, a brother and sister from Toronto, Canada. We stumbled across this site recently and loved it so we hope to share our bags with you.
Ian: These days I work as a freelance photographer and editor after recently finishing university. I started photography from a really young age, when I was given a old Polaroid camera, but it only remained a hobby until my second year of high school where I took my first darkroom course. The passion has only grown since then. I started out with film, Polaroid and a Pentax SLR, with my first digital camera being a simple point and shoot, but when Canon released the first Rebel, I saved up to buy it. I now use a Canon 7D as my main camera.
Leena: I am a few years younger than my brother, enough for him to have had a large influence on me. This essentially means, that whatever he decides to do, I'm the one he experiments on. From a young age I've seen him shoot photos, and that began to interest me. Every step of the way, I normally end up with his old gear. With his original Rebel, I bought it from him for a good price once he had upgraded, though I don't normally end up carrying it around with me anymore. I really enjoy digital photography, but most of what's in my bag, in contrast to my brother, is film related.
Ian's Gear
Canon 7D with Canon 24mm 1.4 II Lens: This is my workhorse combo. The lens gives me a standard view after the lens crop and serves me well in a variety of situations. Live view also allows me to shoot a lot more discreetly than ever before.
Contax Zeiss 50mm 1.4 Lens with Canon Adaptor: I absolutely love this lens; the way it renders colours and shapes blows me away. If I could only take one lens somewhere it would be this one.
Canon 24-105mm 4 IS Lens: Sometimes I need one lens that can do everything (portrait and landscape) and those times I choose this lens. But that very rarely happens.
Canon 100mm 2.8 Macro: I use this lens a lot when I want to produce a unique look. Usually it's used for capturing small, hidden details.
Pentax P5 with Vivitar 35-70mm 2.8 Macro Lens: This was my film combination for a number of years when I was in high school. It doesn't see much use these days but I loved it once upon a time.
I have a number of bags. A large bag from Lowepro that normally stores all my gear and a number of smaller, non-photo bags that serve as day carrying bags. The one featured in the image is from Australia.
Also featured is my smart phone for information gathering along with my laptop for photo editing on the go and various other items, such as flashes, filters, sync cords, and basically everything I need for my daily work.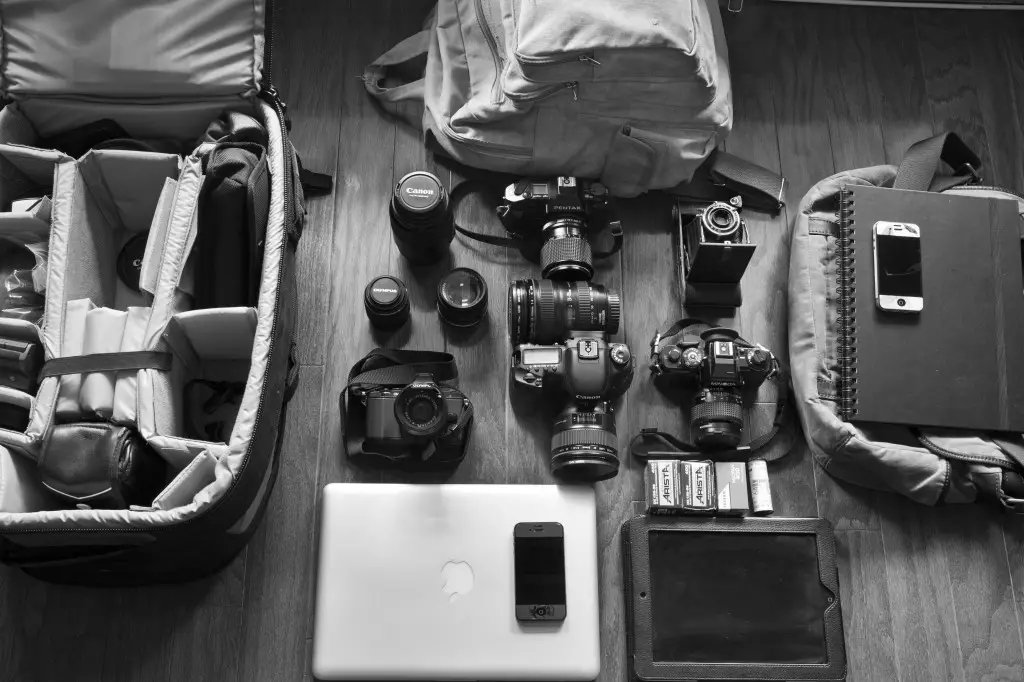 Shared Gear
Our shared gear situation is a bit weird, the Olympus OM-D was paid for by both of us, and both of us use it to a lesser or greater extent. The Leica lens attached to it we both share as well.
Leena's Gear
The bag I currently use is a Fossil shoulder bag; it has space inside for my sketchbook and iPad. It's a bag that can really go through a lot. I find with a little creativity in regards to padding, the bag can very comfortably fit the Minolta and Agfa with enough rolls of film. On occasion it can also hold my laptop, but that's not something I normally carry around.
Agfa bellows camera (120mm): I found this at a used camera show and it just looked so cool. It's really old, and it doesn't even close anymore, but this camera is a great thing to experiment with. You can't focus it because there's no viewfinder, instead there is an outside mirror that inverts the image. It only has 4 shutter speeds and 4 aperture settings, but it's really light.
Minolta 35mm with a macro lens: this is what I use most often. It's a great camera for a variety of things, from studio shoots, to street photography. I almost always have it with me to shoot.
Several rolls of 35mm and 120mm film.
iPhone: I take several preliminary shots if I have time, so as to get a feeling of what the image will look like on film. It also serves primarily as a light meter for my Agfa, which doesn't have one built in.
iPad: Pretty much just an electronic portfolio.
Sketchbook: I put all my test strips into it, and sketches of possible ideas for future shoots that I plan out (this is actually rare, but I do try).
Neither of us has a website (yet) so we're a bit lacking in website links but we can both be found on Tumblr.
Ian: ianphoto.tumblr.com
Leena: leenabethune.tumblr.com
Thanks for sharing your super bag guys. It is great to see a brother and sister combo, certainly a first for JCH.
Check out the links and make sure you come and comment.
Keep them coming folks, we need more submissions, so get your bag on Japancamerahunter.com. Send me a hi resolution image of the bag (please make sure it is horizontal) and its contents, with some details about yourself and what you shoot. Oh and don't forget your contact details (twitter, flickr, tumbler et al). Send the bag shots here.
Cheers
Japancamerahunter