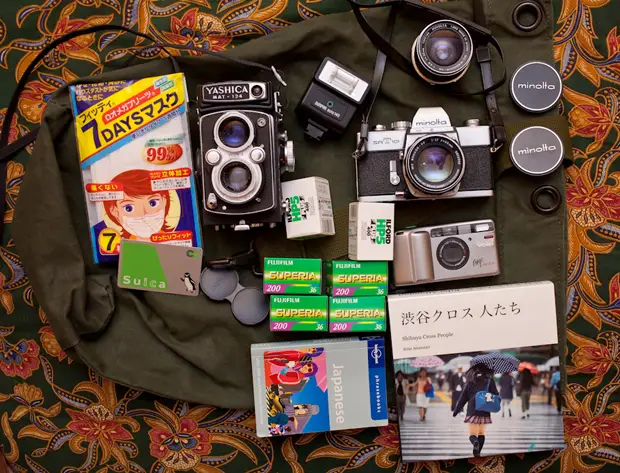 In your bag 315, Riffat Attamimi
Today we have a bag that shows defiance to the likes on Nikon, with their absurd 'no film photos' rule in their latest contest. Listen up Nikon, people like Riffat here still shoot film, a lot of film and it is still valid. Check out Riffat's awesome bag.

Haiii JCH!my name is Rifat Attamimi I Live in indonesia to be exact the south corner of sumatera island,a city called Bandar Lampung,This october I will visit japan for the 2nd time and This might be the Important stuff that will always in my bag for this Japan trip.
-simple army sack bag bought from the army-ish shop at flea market Ueno Park I don`t like use many
-Minolta srt101 with rokkor 50mm 1.7 and 35mm 2.8
-Yashica Mat-124
-Rollei Prego Micron a rebranded germany version of Ricoh R1s
-Sunpak 140 flash
-my fav BW film HP5 and the cheap but good Superia
-Masker
-Suica at last I will use this card again! :)
-English Japan Lonely planet Phrases book
-My 1st Street Photography:"Shibuya Cross Hitotachi" is about a candid shoot that I took in Shibuya Cross from my last time,book i will give this to someone in japan
http://www.flickr.com/photos/rifatattamimi/
http://twitter.com/pantatbuduk
http://www.facebook.com/rifatattamimi
http://rifatattamimi.wordpress.com/
Thanks for having me! :)
Thanks for sharing your lovely bag with us Riffat. That is a really superb selection of film cameras you have there. Have a great stay in Japan.
Check out Riffat's links and make sure you come and comment.
Keep them coming folks, we need more submissions, so get your bag on Japancamerahunter.com. Send me a hi resolution image of the bag (please make sure it is horizontal) and its contents, with some details about yourself and what you shoot. Oh and don't forget your contact details (twitter, flickr, tumbler et al). Send the bag shots here.
Cheers
Japancamerahunter