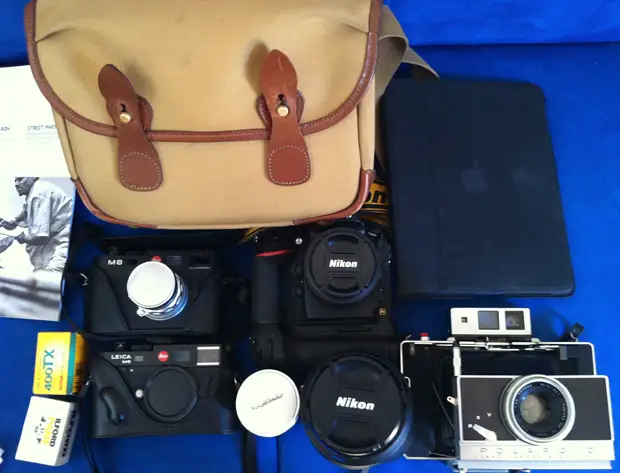 In your bag 285, Andrea Pirisi
A lovely bag for you from Italy. This bag has a whole range of gear inside, including a lovely and desirable Polaroid land camera. Come and have a look see.

Hello, my name is Andrea Pirisi and I am an architect-photographer. My favorite genres are architecture and street photography. For work I photograph what ask to me: events, parties, etc..
II live in Italy, Modena, I would do just the photographer, but unfortunately I have to do other things (to live :-))
In my bag (a Billingham or Tenba) can be found:
Cameras:
Leica M8 black
Leica M6TTL black
Nikon D800
Polaroid 180
Lens:
Summicron 50, 1963
Voigtlander Ultron 28 9.1
Nikon 28-300 VR
Nikon 50 1.8 G
Flash
Nikon SB600
Leica SF20
Films
Kodak Tri-X 400
Ilford Panf 50 Plus
Accesories
iPad
iPhone
My dream is a Leica M9-P and Summilux 50 (if someone wants to give me a gift :-))
Contact:
LeicaLab Portfolio: http://www.lab.leica-camera.it/lab/portfolio/2117
Facebook: http://www.facebook.com/andrea.pirisi.9
Flickr: http://www.flickr.com/photos/andrearch/
Thanks for sharing your bag with us Andrea, great to see someone shooting the Polaroid 180, it is a fantastic camera.
Check out the links and make sure you come and comment.
Keep them coming folks, we need more submissions, so get your bag on Japancamerahunter.com. Send me a hi resolution image of the bag (please make sure it is horizontal) and its contents, with some details about yourself and what you shoot. Oh and don't forget your contact details (twitter, flickr, tumbler et al). Send the bag shots here.
Cheers
Japancamerahunter