In your bag number 214, Patrick Domingo
We have a lovely bag for you from Vienna today. There are actually two bags in this feature, so lets see what this photojournalist carries around with him

My name is Patrick Domingo. I'm a photojournalist based in vienna, austria.I am specified in reportage, assignment and documentary photography.
I have two bag setups for my everyday use. Here are two shots of my "daily " bags.
Here is the first Setup: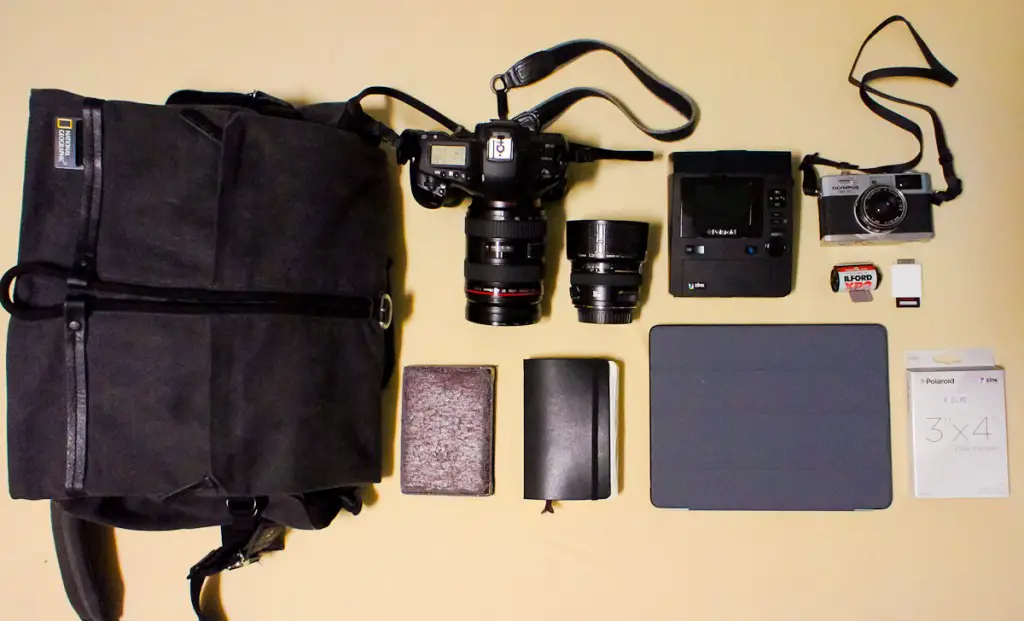 Canon 1D mark III
Canon 24-70 2.8 L
Canon 50mm 1.4
Polaroid Digital Z340 ( i love that one )
Olympus 35RC rangefinder
Ipad 2 / 32gb 3G
And some small stuffs like the camera connection kit for the ipad, passport, extra paper for the polaroid and my moleskine but i use it as
a photoalbum where i put the polaroid digital prints :).
The bag is from national geographic. I love this bag.. it's simple, lightweight and it can fit a lot of gear for that size.
I bring my good old 1D mark III with a 24-70 2.8 L lens always with me together with the standard 50mm 1.4. I really randomly use
a flash. But if I'm doing press assignments i bring a flash and sometimes also a telephoto lens along.
The Polaroid Z340 is a really cool gadget. It is a digitalcamera with a build in printer! I use them when I do street portraits, so i can give
them "instantly" a print. People are always suprised when they see the polaroid because most of them never saw a digital version before :)
The olympus 35RC is a small rangefinder with a fixed 42mm 2.8 Lens. Great image quality and extremly lightweight. I usually use them
only for documentary " timeless" images :)
This is my second (small camera) bag setup: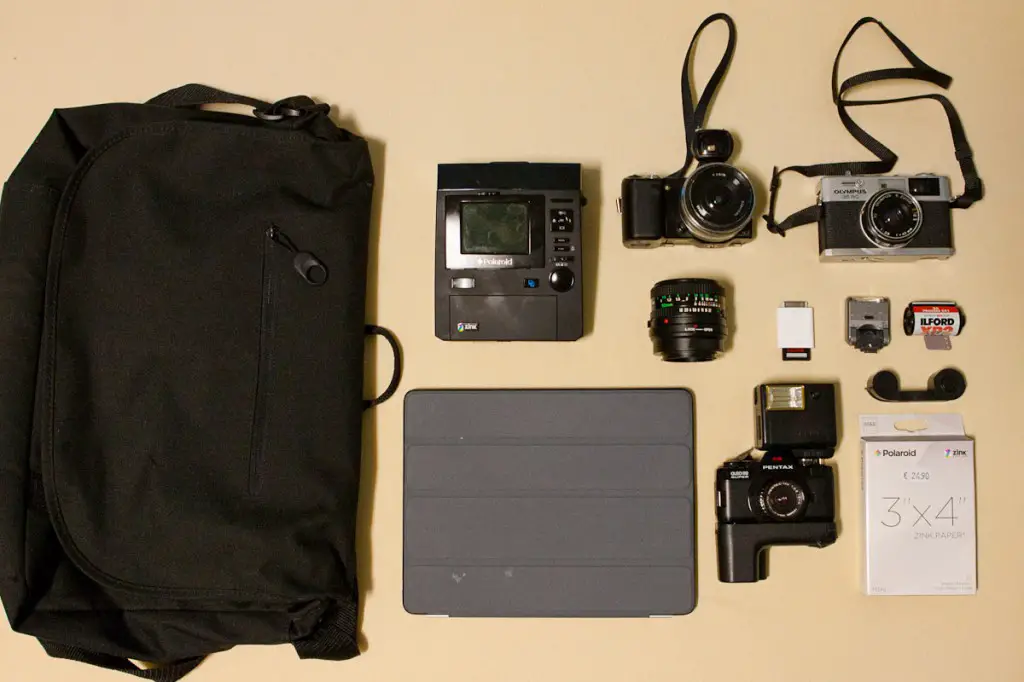 Puma Messenger notebook bag.
Polaroid Digital Z340
Sony Nex 5 with 16mm 2.8 and a 24mm optical viewfinder.
Canon 50mm 1.8 FD with sony Nex Adapter
Olympus 35 RC
Pentax 110 Super with 18mm 2.8 Lens attached with booster and flash :)
Ipad 2 / 32GB 3G
And the small stuffs like camera connection kit, sony nex flash, Ilford XP2 Film, polaroid instant paper and 110 Films ( now available from lomography store!)
I shoot a lot with the sony nex 5. Its so uncomplicated to use. Great point and shoot camera with Dslr quality.
The pentax 110 is actually a really cool camera.
My father which was also a photographer gave me his beloved "pocket slr" as he always called it.
I have a complete set with 3 lenses, flash, booster and a bunch of closeup lenses. Its a great " always bring a film camera ".
You can check my work at my blogsite:
I hope you like my setup.
Thanks for sharing this bag with us Patrick, I love seeing a Pentax 110 in someones bag. This is a nice blend of digital and film.
Check out Patrick's links and make sure you come and comment.
Keep them coming folks, we need more submissions, so get your bag on Japancamerahunter.com. Send me a hi resolution image of the bag (please make sure it is horizontal) and its contents, with some details about yourself and what you shoot. Oh and don't forget your contact details (twitter, flickr, tumbler et al). Send the bag shots here.
Cheers
Japancamerahunter