Featured photographer, Newghost
Newghost is a photographer who's work I got to know through Twocutedogs. I checked him out and he has been a permanent feature on my flickr stream ever since. Well, not I have got an interview with the man which I am very happy to share with you.

Hi, thanks for being on JCH. Could you tell the readers a little bit about yourself.
First of all, thanks for having me! My name is Ed and I'm from Singapore. It was back in year 2002 when I picked up my first serious camera, a Canon EOS 66 film SLR. It accompanied me on numerous overseas trips but that was that, I was working too hard to seek out a career in the finance industry then and sad to say, I didn't have much time for shooting and photography had to eventually take on a back seat. I relocated to Tokyo in 2005 and spent a good 2 years there. Film camera heaven you say? It just didn't happen! Well, I was happily snapping away with my digital compact, a casio exilim! Perhaps, this would have been a different story had I met Jon or JCH there! LOL!!! Nevertheless, a certain Mr Kirk was a colleague in the bank then and that sort of played an influence later on.
I moved back to Singapore in 2007 when I had my first kid and in my attempt to document the growing up years, I picked up a Canon SLR again, but this time, digital. It wasn't too long before I tried my hands at RF and I just got totally hooked! Like they say, it's a steep and slippery slope thereafter and there's just no looking "up"! To be honest, I'm very much a gearhead when I'm not out shooting, but isn't that all part of the fun of photography too?
To find me, I go by the nick newghost (that's the mirror image of my daughter's name Gwen + Soh in case you're wondering…) on the local forum Clubsnap as well as on flickr, just don't mention to me about having a one lens combo! J
How would you describe your style of photography?
I'm mostly a black & white 35mm shooter on film M. I try not to shoot the homeless and apart from that, its really anything random that catches my attention. I wouldn't say it's a style but I like pictures with a funny story to share, perhaps even better when it's a bit inconclusive, like with question marks hanging all over??!!
Sometimes its clichés, though I don't specifically go out just for that. When you're looking at the real world through the viewfinder and to be able to visualize how it would look like when captured in 2 dimensional perspective, that to me, is one of the greatest joy of photography!


Do you have a process when you shoot? Or do you prefer to be more spontaneous?
I shoot manual on focus and exposure, and its usually spontaneous. I always pre-focus, and when I'm walking about, especially from a shaded to an open area or vice versa, I will just do a quick check to know I'm exposure ready. Sometimes if the location background is of particular interest, I will wait to see if someone or something equally interesting comes along, otherwise, its just walk and shoot.


If your photography had a voice what do you think it would be saying?
Black humour maybe?


Where would you like to see your photography develop in the future?
To be honest, I didn't give it much thoughts. I have a day job and its tough enough as it is balancing work and family commitments. I love and enjoy photography, snapping shots of my 2 kids in Polaroids is in itself a pleasure. On the whole, photography is a hobby that I maintain, whereas street shooting is a passion that I aim and hope to sustain.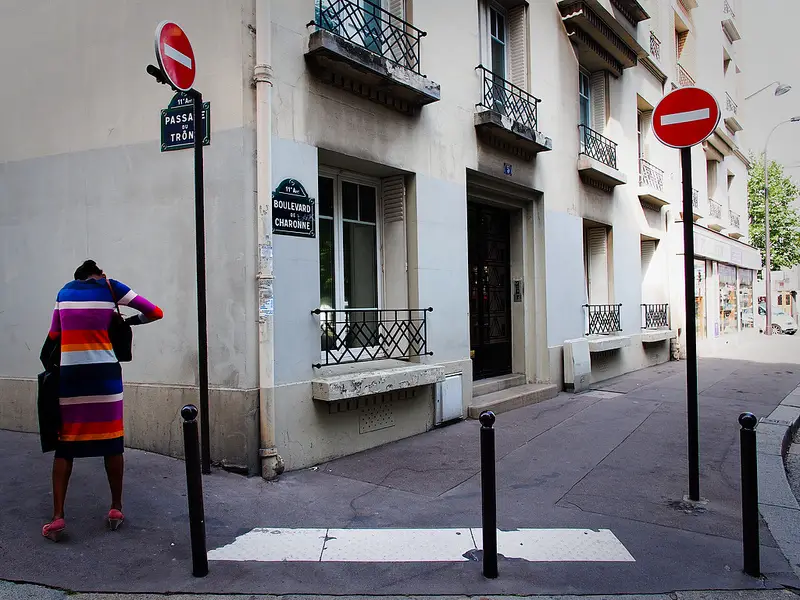 Do you have any upcoming projects that you would like to share with the readers of JCH?
I'm still a long way from a decent portfolio so its really early days yet to talk about projects right now. To answer your question, not at the moment I guess.


Could you tell our readers what photographers inspire you?
I mentioned about his influence earlier and that was even before I started out SP. It was one fine day when I was looking at pictures by two cute dogs on flickr. Controversial but damn solid good images! You could say I got the first spark there!
I've since tried to study some of the work by HCB, Elliott Erwitt and Richard Kalvar, and of course, I'm in full envy! I also like the way Alex Webb layers his shots, the paradoxical juxtaposition and all these, captured in brilliant colors. It's a great pity they don't do kodachrome any more!


Do you have any advice for people who are starting out or are struggling for inspiration?
I wouldn't call it advice, I'm far from qualified, perhaps just sharing my own humble experience. Firstly, to incorporate shooting as part of your daily, if not weekly schedule, that will help to a certain extend. Also, you're find there's an amazing bunch of street photographers sharing their work on flickr. Following a community project like the ongoing Street Photography Now (SPN) will help too. Lastly, look at the work from magnum masters, that's inspiration at its finest!


Any messages for the readers of JCH?
Trust me on this, a black paint MP will surely make you a better photographer! Oh well, just enjoy, have fun and shoot more! J
Flickr Link
http://www.flickr.com/photos/starpucks/
Thanks for sharing your work with all of us Ed, I really enjoy the humor aspect of your pieces. You have a clear style that some people struggle to get for many years. I am looking forward to seeing more of your work in the future.
Check out Newghost's flickr page and be sure to comment on this great work.
Please remember that the images are reproduced with the kind permission of Newghost and may not be used or reproduced without permission.