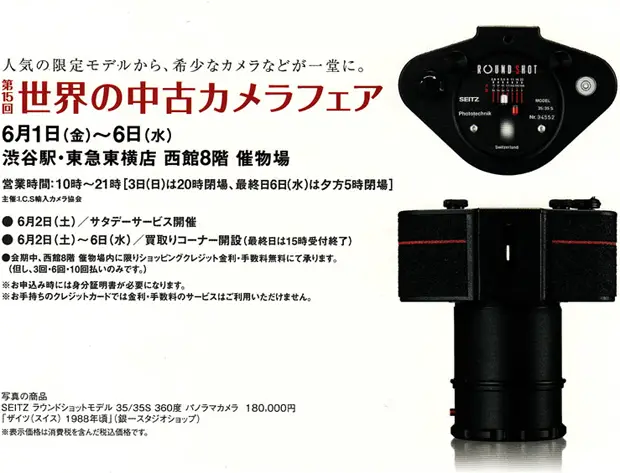 The used camera fair is coming to Tokyo
Yes, thats right, the camera fair is coming to Shibuya again. And this year there are some amazing items on display. I hope to see you there.

Every year the I.C.S camera show comes to town and brings with it the very best that classic camera retailers have to offer. And this year is certainly no exception, with some astounding items available for the right customers. Dealers, buyers, collectors and passionate camera people come from all over the world to see this show, and I am going to be there too.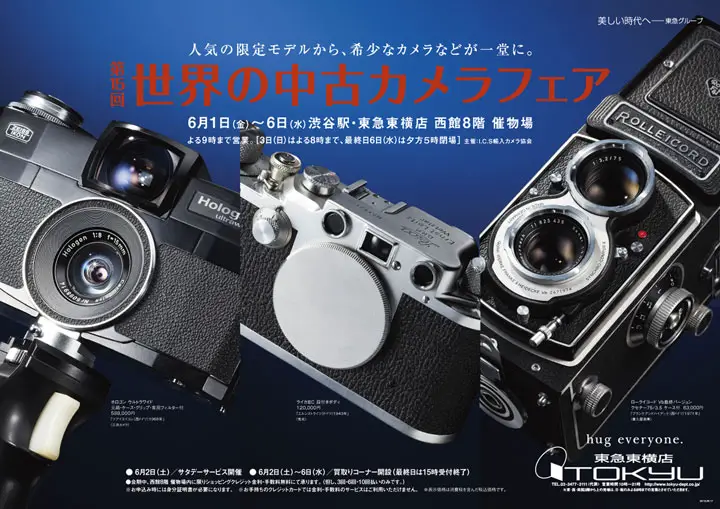 The flyer for these events is always a delight, and this year it has an added entry….Hug Everyone…I am not sure I would want to hug the majority of the people that turn up to these shows, but the sentiment is nice.
The camera show is going to be held in the Tokyu Department store in Shibuya, which is actually a part of the station.The opening day is the 1st of June at 10 am and it will be held on the 8th floor. Expect there to be a queue stretching around the building, just like there was last year. The first moments will be a complete mad dash as the buyers run to get the best items. I will be there in the morning, and I have learnt my lesson from last year, so I will be wearing elbow pads.
The big news is that there is going to be a 6mm Nikon on display. You remember? The one that went mental all over the internet last month? Well, there is another. But you had better make sure you have sold your family to slavery, because it is going to be expensive.


There is going to be a huge range of items available and it is not all catering to the super rich, there will be small cameras, accessories, bags and all bits in between.
The show will be on until the 6th of June, so if you are in Tokyo make sure you come along and see what all the fuss is about. I will be there on most of the days. If you see me, say hi.
If you are not going to be there but you want me to look for something for you then mail me and we can see about finding something for you.
Cheers
Japancamerahunter