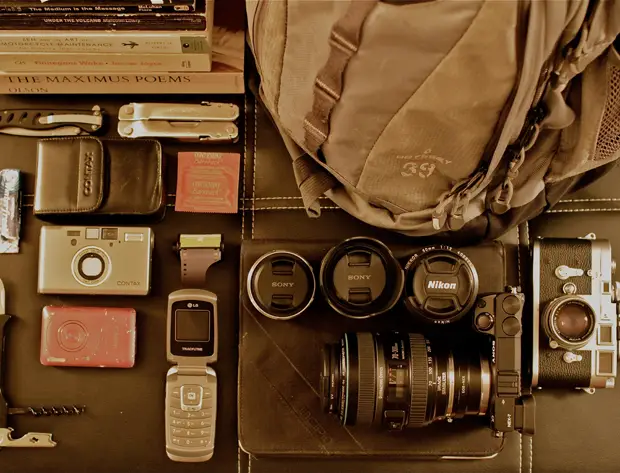 In your bag number 145, Chilton Nix
Today we have a bag featuring knives, poetry, cameras and the oldest mobile phone that is still working….

Well, today we have a bit of an enigma. Chilton has kindly sent in his bag, and it is a pretty damned cool bag setup. Who could pssibly need that many knives? The MacGyver of street photography? Who knows? I have scant details, but I have a cracking bag. So lets see what is inside.


clockwise (roughly)
The Maximus Poems by Charles Olson
Finnegan's Wake by James Joyce
Zen and the Art of Motorcycle Maintenance by Robert M. Persig
Under the Volcano by Malcom Lowry
The Medium is the Massage by Marshall Mcluhan
JansSport Backpack
Leica M3 w/50mm 2.0 Summicron & Leicameter MR
Sony Nex-7 w/Canon 70-300mm 4.5-5.6 & EOS Adapter
Nikkor 50mm 1.2 & Nikon Adapter
Sony E-mount 18-55 3.5-5.6
Sony E-mount 16mm 2.8
Ipad
Flip Phone (old school…)
Canon PowerShot SD780 IS
Classic Waiter Corkscrew Wine Opener
Ilford PANF Plus 50 (i think Bellamy gave me this one)
Contax T3
Contax T3 Case
Gum
?
Gerber Pocket Knife
Leatherman Supertool 300
My camera bag varies daily. I shoot mostly 35mm film, Nikon F, Canon F1, Nikon F3 and I have four Leicas; 2 M3s & 2 M6s, along with a Mamiya 7. My digital cameras are a Canon 5D & 7D along with the new Sony NEX-7. I shoot street in and around Los Angeles California. Rather than post a link to my flickr page (tristambeow on flickr), here's a link to Charles Olson reciting from "The Maximus Poems,"Enjoy!
Chilton Nix
What a brilliantly eccentric bag. The range of different cameras, the corkscrew, the poetry books. I am in love with this bag. Thanks for sharing it with us Chilton.
Keep them coming folks, we need more submissions, so get your bag on Japancamerahunter.com. Send me a hi resolution image of the bag (please make sure it is horizontal) and its contents, with some details about yourself and what you shoot. Oh and don't forget your contact details (twitter, flickr, tumbler et al). Send the bag shots here.
Cheers
Japancamerahunter