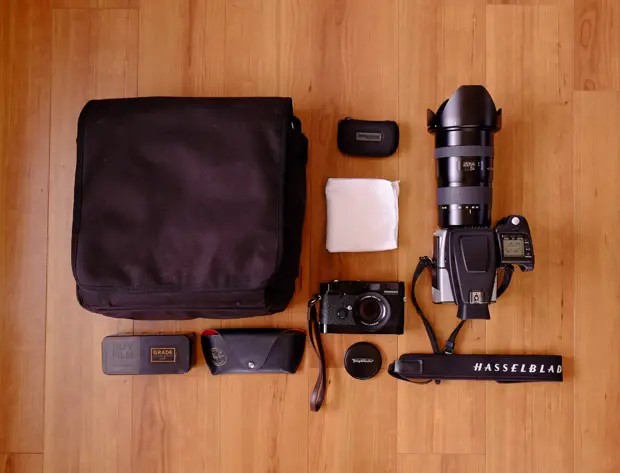 In your bag No: 609, JapanCameraHunter
Now this bag look mighty familiar….Wait, that is because it is my bag. Yesterday I had what I would consider a very different bag setup, so I thought it might be nice to share it with you, considering how many of you have been asking me to share one.

Hello, my name is Bellamy Hunt, Aka: JapanCameraHunter. When I am not finding cameras for people I like to spend as much time as I can taking pictures. Which is actualy quite hard as the site takes up a significant portion of my time nowadays.
I like long walks on the beach, candlelight dinners and cheese on toast…wait, erm.
I usually shoot a very spartan bag nowadays, as I became tired of lugging all sorts of stuff around that I just don't use. That being said, this last week I was very lucky be able to able to play with a camera that I would never normally use. And seeing as it was in my bag I thought it might be fun to share.
My Bag: (L to R)
– ThinkTank Retrospective 20 Black Shoulder Bag
I really like this bag. I have had it for a while and have not used it for some time, but when I borrowed the camera I had no other bag that would fit. So out came the Thinktank. This bag is tough, has a million pockets, has a rain cover and looks inconspicuous. It was the ideal bag for the camera.
Thinktank website
– Westone UM-1 headphones
When I am out hunting I like to listen to music on the way to wherever I am going, so I always have a pair of headphones. I have been through loads to find the right ones. Sony, Shure, Audio-Technica all fell by the wayside, but these have really impressed me. I like a pretty eclectic range of music and these have been able to handle all of the ranges without sounding stressed. I also like that they have a nifty little pouch so they don't get twisted up by the cable pixies.
– Mobile Cloth
A year down the line and these are still going strong. I have out them through the wash a couple of times and they are just as good as before. Really excellent cloths with no smear, which is vital for me as I am a glasses wearer.
Mobile Cloth website
– Leica MP-6 with Leicavit and Voigtlander 50mm Nokton f/1.5 ASPH.
This is my daily camera and has been for a while now. I have had over 100 rolls through it and it is running like a dream. Starting to show signs of brassing too, which is nice. I will have the camera forever as far asa I am concerned. You will have to bury me with it.
I don't usually shoot 50mm, but I wanted to try this lens, so I got one when they came out. I should have got the chrome version, as it is made of brass, but the black one looks pretty swish. I have really been very impressed by this lens. It is sharp in all the right places, has a very smooth bokeh when needed. It is not too big and the focus is smooth and qucik. This is now my go-to 50mm lens. The only thing I don't like about the lens is that the lens cap only fits the hood, and the not lens. So if you are not wanting to use the hood, you have no lens cap. No biggie, you can buy one, but you should get one in my opinion.
– RayBan Aviator shades
Classic aviators, you cannot really go wrong. But, when I am wearing them I can effective see bugger all. So I only wear them when I am relaxing or have no real need to take particular interest in my surroundings. I hate being shortsighted.
– JCH film case
Always have one in the bag. This is the very first one that was made. The prototype model. I have some of the awesome GradeSelect stickers on there too. Filled with Neopan 400 and a couple of rare films that I was given. Get yours here.
– Hasselblad H5D-40 with HCD 4.0/5.6 – 35-90mm ASPH lens.
So this is why I had the bag. This immense beast of a camera. Now before you all shout "heeeeyyy, that has megaflipflops", yes it does. But I was very kindly given the opportunity to use the camera for a few days by the lovely people at Hasselblad Japan.
This is an absolutely incredible camera. And it should be for the price. It was rather nerve wracking to know that I was carrying around close to $30K, but it was a lot of fun to use and gave some great results. I shall have a little piece up about the camera soon.
Definitely not what I would normally carry around, this camera is extremely heavy and makes you stand out like a raver at a monastery. I don't think I could carry one on a regular basis, that is for sure. Still a lot of fun.
So that is it. I don't really have any links to my work, because I don't really show it. Only occasionally. But I shall have some of the pictures from the H5D up soon, so that should be something different.
See, look at that, film and digital co-existing in perfect harmony.
Cheers
JCH
Keep them coming folks, we need more submissions, so get your bag on Japancamerahunter.com. Send me a hi resolution image of the bag (please make sure it is horizontal) and its contents, with some details about yourself and what you shoot. Oh and don't forget your contact details (twitter, flickr, tumbler et al). Send the bag shots here.
Cheers
Japancamerahunter