In your bag number 144, John Orcullo
Well, despite the big news from Leica today, there are still bags to be featured. And what a lovely bag we have for you today. Come and see what John has inside his bag…

My name is John Orcullo. I'm a 19 year-old photographer from Winnipeg, Canada. I took a photography course for 3 years and graduated high school in June 2011. I'm now a university student majoring in East Asian Culture Studies and I also volunteer at the University helping foreigners practice english through conversation.
I started off with 35mm for my first year of school (because that's what I was taught), went digital for the next two years and that's when I first bought my Canon XSi. I first began street photography when I first visited Vancouver. All I used was my telephoto lens. Came back home, bought a 200mm f/2.8 and used that for my street work. My perspective on street photography slowly changed as I looked at various street photographers work. I came from a 200mm, to 85mm, and then a huge step going into film with my Canonet. I usually develop and print my own film at my high school (I'm glad they still let me!) or send them to a lab if I don't have time. I love both digital and film. They both have different roles in my work.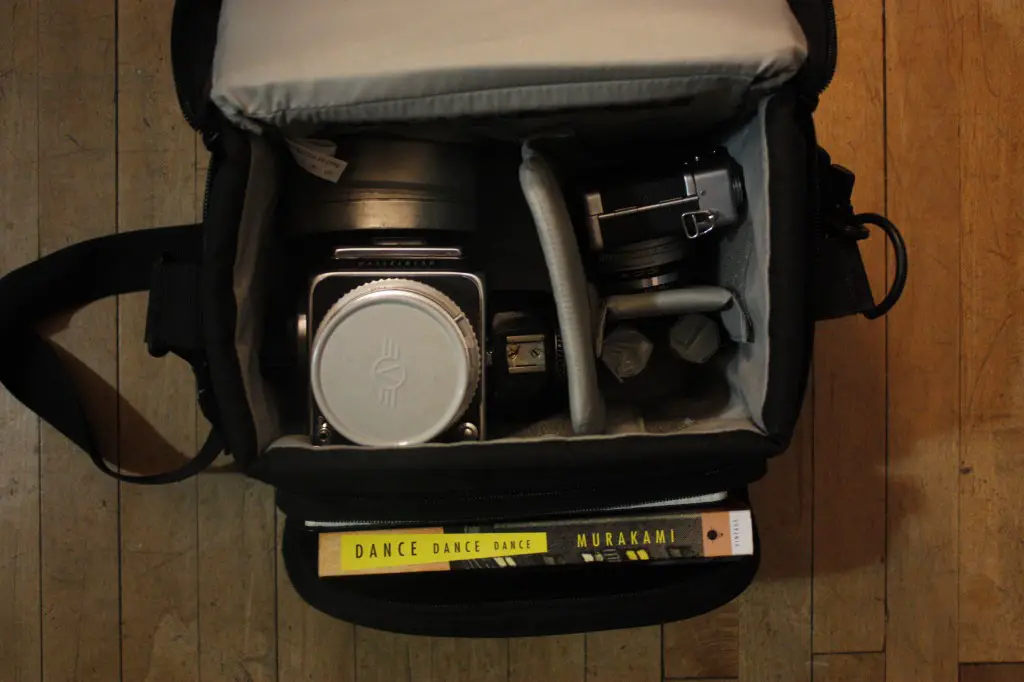 The Kit:
1. Canon Lowerpro – This came as a gift because I won the Photography award for 2011 during high school (Woo!)
2. Canon QL17 G-III – My main street camera. Purchased it last year through ebay. Never really used it until the start of 2012 and now I carry it with me all the time.
3. Hasselblad 500C/M w/ Carl Zeiss 80mm f/2.8 (Temporary) – I'm actually borrowing this from a friend for a while. I don't really own any solid medium format cameras (I own a Holga and a Lubitel II. I don't even know if it works.) I'll be using it for my portraits and maybe some street stuff.
4. Black Moleskine – $11 from Walmart. Just random camera settings, hiragana (I'm studying Japanese) and doodles.
5. Kodak Tin – I have a lot of different 35mm film in here such as Ilford Delta 100, Fujicolor Superia and Kodak Golds. I usually shoot with Neopan ACROS 100. My 120 films are TMAX 100-400.
6. Book – Dance, Dance, Dance by Haruki Murakami. I love his work. You should check it out.
7. Sony Walkman MP3 – My jams!
8. Wallet – Holds my money, cards, IDs, business cards, a origami crane from a friend back in Japan and 30yen coin from another friend.
9. Nixon Watch
–
For my digital work, I shoot with a Canon XSi w/ 85mm f/1.8, kit lens, and 200mm f/2.8. This camera has been with my since the beginning and is slowly, but surely, dying.
Flickr: http://flickr.com/photos/johnorcullo
Tumblr: http://johnorcullo.tumblr.com
Twitter: jcullo
Thanks!
Thanks for sharing your bag with us John, very cool to see the Hassy in there. Check out John's links and make sure you comment.
Keep them coming folks, we need more submissions, so get your bag on Japancamerahunter.com. Send me a hi resolution image of the bag (please make sure it is horizontal) and its contents, with some details about yourself and what you shoot. Oh and don't forget your contact details (twitter, flickr, tumbler et al). Send the bag shots here.
Cheers
Japancamerahunter