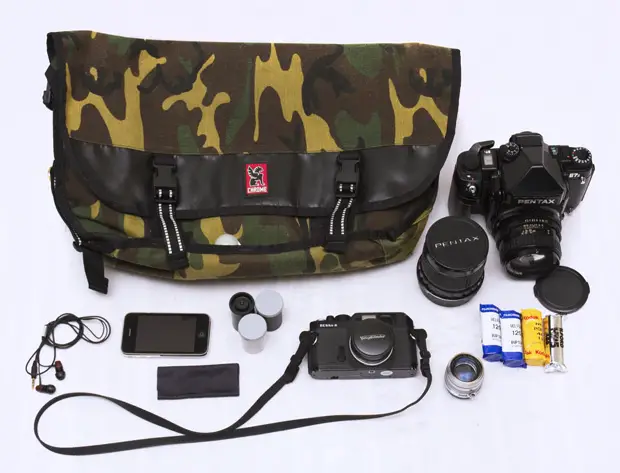 In your bag number 105, John Berner
A bit of an epic bag post today. What we have he is not one, not two, but three bags for you! Yes, three bags. John has a lot of different gear and he wants to share it with us. This really raises the bar, who will out do this?

My name is John Berner, I'm a devoted amateur photographer out of Seattle. If I needed to describe my style it would be eclectic, I'm always playing around with different ways of shooting which I think would be evident after seeing the three bags I have here for you.


First off is my regular bag. Its what I take when I'm out shooting street or going on quick trips around town to shoot. Packed inside a Chrome Citizen bag is usually a:
Pentax 67ii with 105mm f/2.4 and 55mm f/4.
A Voigtlander Bessa R with Voigtlander Color Skopar P 35mm f/2.5 and Canon Serenar 50mm f/1.8.
A couple spare rolls of film, usually some 100 speed chrome, 400 and 1600 speed color neg and bulk Neopan 400 for B&W.
A 3GS with some Thinksound Rain headphones (amazing headphones for the cost), and a microfiber cloth for lenses and phone.
This one can change around a lot depending on how long I plan on being out or just the mood I'm in, swapping out the 67ii for a Yashica 124G or the Bessa for any number of things like a Yashica FX-D or Olympus XA.


The second bag is my skate photography kit. Inside this Lowepro two compartment backpack (can't remember the series or anything, I've had it for a while) is a:
Canon EOS 3 and PBE2 power booster with 50mm EF f/1.4, Yashica ML 28mm f/2.8 with C/Y to EOS adapter, and Kalimar Auto 18-28mm MC f4/4.5 with C/Y to EOS adapter.
A pair of Lowell light stands with cold shoe adapters.
A set of Cowboy Studio 4 channel wireless transmitters and receivers.
A Canon Speedlite 550EX, Vivitar DF400MZ, and Achiver 260T both of which should soon be replaced with two more 550EXs.
With this I'll bring several rolls of Tri-X and Portra 400.
If the spot I'm shooting it has AC I'll swap out the flashes and throw up some Lowel Omnis or Totas


The last one is my 4×5 kit which is for larger excursions into the wild. In this Tamrac 5606 System 6 shoulder bag I pack:
A Graflex Speed Graphic with Ilex wide field Caltar 90mm f/8, Zeiss Jena 135mm f/4.5, and Schneider Symmar 210mm f/5.6 convertible.
Two Grafmatic film holders each with six sheets of TXP 320.
A Polaroid 550 holder usually loaded with FP-100C45.
A couple assorted Fidelity twin sheet holders usually with Provia 100f or Velvia 50.
A Gitzo Safari Studex with a Manfrotto 128LP head.
A Minolta Auto Meter IV F.
A couple odds and ends like a cable release a loupe, cleaning stuff, assorted black and white filters, and a dark cloth.
Then I also pack an Olympus XA with a roll or two of bulk Neopan 400.
Sometimes this kit will change a bit if I'm going out shooting more street style stuff handheld, usually down to one lens and the Grafmatics then adding a flash.
If anyone wanted to see any of the shots from this gear they could check out either www.jberner.com or www.flickr.com/photos/macberns. Thanks for checking out my bag(s)!
Wow! That is absolutely amazing. How many of you can say that you have a bag for every occasion? This really has got all of the bases covered. Thanks for sharing all of your bags John.
Keep them coming folks, we need more submissions, so get your bag on Japancamerahunter.com. Send me a hi resolution image of the bag (please make sure it is horizontal) and its contents, with some details about yourself and what you shoot. Oh and don't forget your contact details (twitter, flickr, tumbler et al). Send the bag shots here.
Cheers
Japancamerahunter