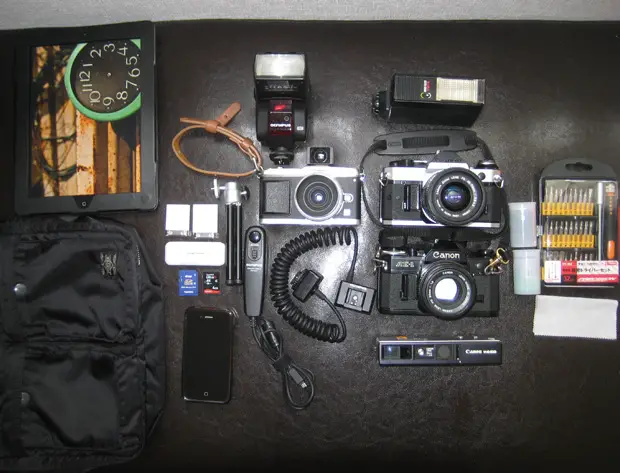 In your bag number 89, Helgen X
Hello there bag lovers. Todays bag comes all the way from….Japan! Actually the owner is Helgen from the USA, but he is in Japan now. So come and see what is in todays bag…

I'm Helgen X from New York City, now living in Fukuoka, Japan. I am relatively new to doing my own photography, but I have always loved it and have looked at many photography books and studied a bit as well, but I just started seriously (so I say) shooting for about 3 years and a half.
I think a book that really inspired me was Back in the Days and A Time Before Crack by Jamel Shabazz, because the images in his book remind of me the hood I grew up in back then and the different styles and types of people in it, and I felt like I wanted to start doing photography myself, buying one of the same cameras he used: The Canon AE-1.
My first major camera and favorite is the Olympus E-P1 which I bought around the time it first came out. I also love using the Canon FD 50mm 1.8 lens on it with a Canon FD adapter.
Bag contents:
Bag: Porter travellers purse (unisex.)
Camera 1: Olympus E-P1 with VF-1 Viewfinder, M.Zuiko 17mm F2.8, metal lens hood from Adorama, and custom made leather hand strap.
Camera 2: Canon AE-1 with Canon FD 35-70mm F3.5-4.5 Macro Lens, modified strap.
Camera 3: Canon AE-1 full manual (older) with Canon FD 50mm F1.8
Camera 4: Canon 110ED (I have a hard time finding film for this since it's been discontinued, and it's quite expensive when I do.)
Flash 1: Olympus FL-36R
Flash 2: Kako Auto-3000
Digital Storage: iPad 2 64gb with Camera Connection Kit, iPhone 4 32gb, two 4GB SDHC cards class 2 and 4
Other Accessories: Olympus RM-UC1 Remote Cable, Olympus FL-CB05 Remote Flash Cable, hyakuen shop mini tripod and SD card reader, mini tool set for repairs or maintanence.
You can see more of my photos as well as more information about me at my website NYNippon, and my blog as well (which is connected to my site) www.nynippon.blogspot.com. Thanks for looking, and have a great day. Keep shooting! (Cameras!)
Thanks for sharing your bag and your thoughts Helgen. It is cool to see another photographers bag that is based in Japan.
Keep them coming folks, we need more submissions, so get your bag on Japancamerahunter.com. Send me a hi resolution image of the bag (please make sure it is horizontal) and its contents, with some details about yourself and what you shoot. Oh and don't forget your contact details (twitter, flickr, tumbler et al). Send the bag shots here.
Cheers
Japancamerahunter