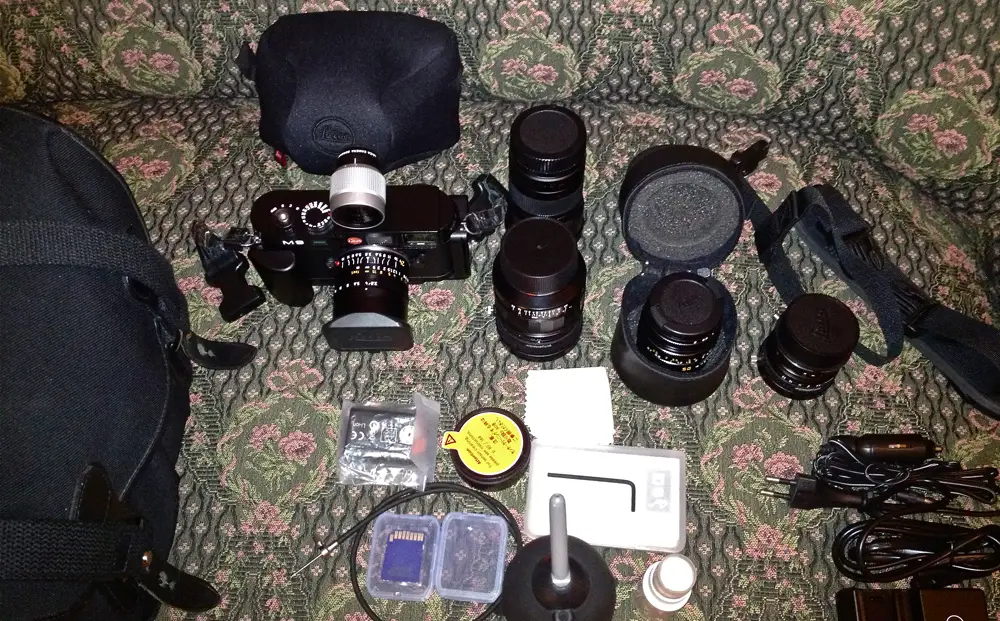 In your bag number 53, Christoph Hammann
Despite me being on holiday I still manage to put up a bag shot for you all, that is how much I love you (and I found a wifi hotspot). So, here it is, take it away Christoph:

Hi there!
Here's the contents of my bag.
It's a black Billingham bag (forgot the model no., medium sized, I don't like to cram my gear in so tightly) and it contains:
In the back pocket: neoprene ever"ready" case for when I carry only the camera in inclement weather.
In the main compartment:
Leica M9 with a Really Right Stuff L-plate with handgrip and the lens I'm about to use. In this photo it's the Elmar f/3.4 24mm and so I've mounted the Zoom finder. Upstrap adapter straplets are mounted to the L-plate.
In their own compartment within the main compartment: Summarit f/2.5 75 mm stacked over the pouch for the Zoom finder. Summicron f/2.0 50 mm in it's pouch stacked over Voigtländer Nokton f/1.2 35 mm.
In the shallow side pockets: Voigtländer Ultra-Wide Heliar f/5.6 12 mm and on the other side Upstrap strap with wide shoulder pad and an Upstrap wrist loop.
In the left front pocket the Leica battery charger and cables. This is taken out wherever I stay and replaced with a half liter bottle of water for fieldwork.
In the right front pocket cleaning utensils such as a small Rocket Blower, Microfiber cloth and lens cleaning fluid, extra battery (vital!), extra SD-card, cable release.
When I do landscape photography with the Leica, I carry a tripod with RSS ballhead and clamp over the shoulder or strap it under the top flap.
Oh, and about me, my name is Christoph Hammann and I live in Waltershausen, Thuringia, Germany. I'm an ophthalmologist by profession and an avid photographer since youth. The genres I'm pursuing in my photography used to be nature and landscape mostly, but that is changing lately. Now I'm more interested in portraits and street photography.
As the links above have already hinted at, I keep a photography blog at mostlyblackandwhite and people can follow me on Twitter (mixed english and german language posts) or on Google+ (ditto, with a lot of guitar stuff sprinkled in, my other passion).
So, this is it. Now on to the next glimpse into another photographer's bag on your site!
Enjoying your site,
Christoph Hammann
Thanks Christoph for the lovely bag and for telling us about yourself. I really like that pert of this blog, the fact that we can all get to know another photographer from somewhere out there.
Keep them coming folks, we need more submissions, so get your bag on Japancamerahunter.com. Send me a hi resolution image of the bag (please make sure it is horizontal) and its contents, with some details about yourself and what you shoot. Oh and don't forget your contact details (twitter, flickr, tumbler et al). Send the bag shots here Send the bag shots here.
Cheers
Japancamerahunter