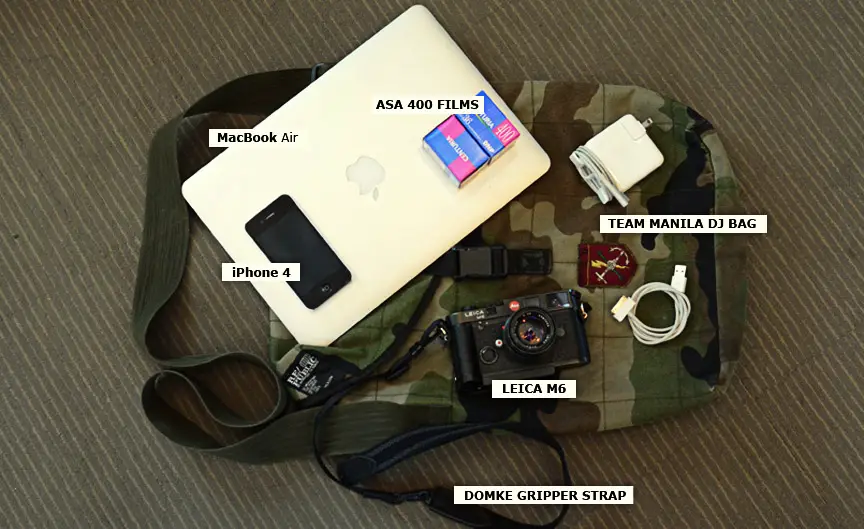 In your bag number 52, Steve Sia
Morning all, how are my bag lovers today? I have another bag for you, this time with very few details about the owner. I do know this, it comes from Steve who lives in the Philippines: I guess I had just let him give you some more details:

Steve Sia-b. 1977-Naga City, Philippines
Wedding Photographer / Optometrist
www.stevesia.com
www.sundaylovestudio.com
I am using a discontinued RE/PUBLIC brand DJ bag from Team Manila (http://reinventthepublic.com/) with my circa 1995 DLSU ROTC-Team RCU fatigues uniform patch.
Inside the bag contains my sixth Apple portable – 2011 13″ MacBook Air i5 + 4GB RAM + 256GB SSD
(which is the best Mac Laptop I owned aside from the 12″ PowerBook-Thresher)
MBA Power Brick
iPhone 4 + USB Cable Charger
Leica M6 with black Domke Gripper Lug-Mount Swivel Type Strap
Leica 50 Summicron + ASA 400 negative films
Thank you for featuring me on your site JapanCameraHunter and more power!
I do wish that I had more details about everything, but then that is the essence of this feature…everyone is different. Thanks for showing us your bag Steve.
I am off on holiday for a couple of days now, so I will post more bags when I get back. Happy holidays to you all.
Keep them coming folks, we need more submissions, so get your bag on Japancamerahunter.com. Send me a hi resolution image of the bag (please make sure it is horizontal) and its contents, with some details about yourself and what you shoot. Oh and don't forget your contact details (twitter, flickr, tumbler et al). Send the bag shots here Send the bag shots here.
Cheers
Japancamerahunter