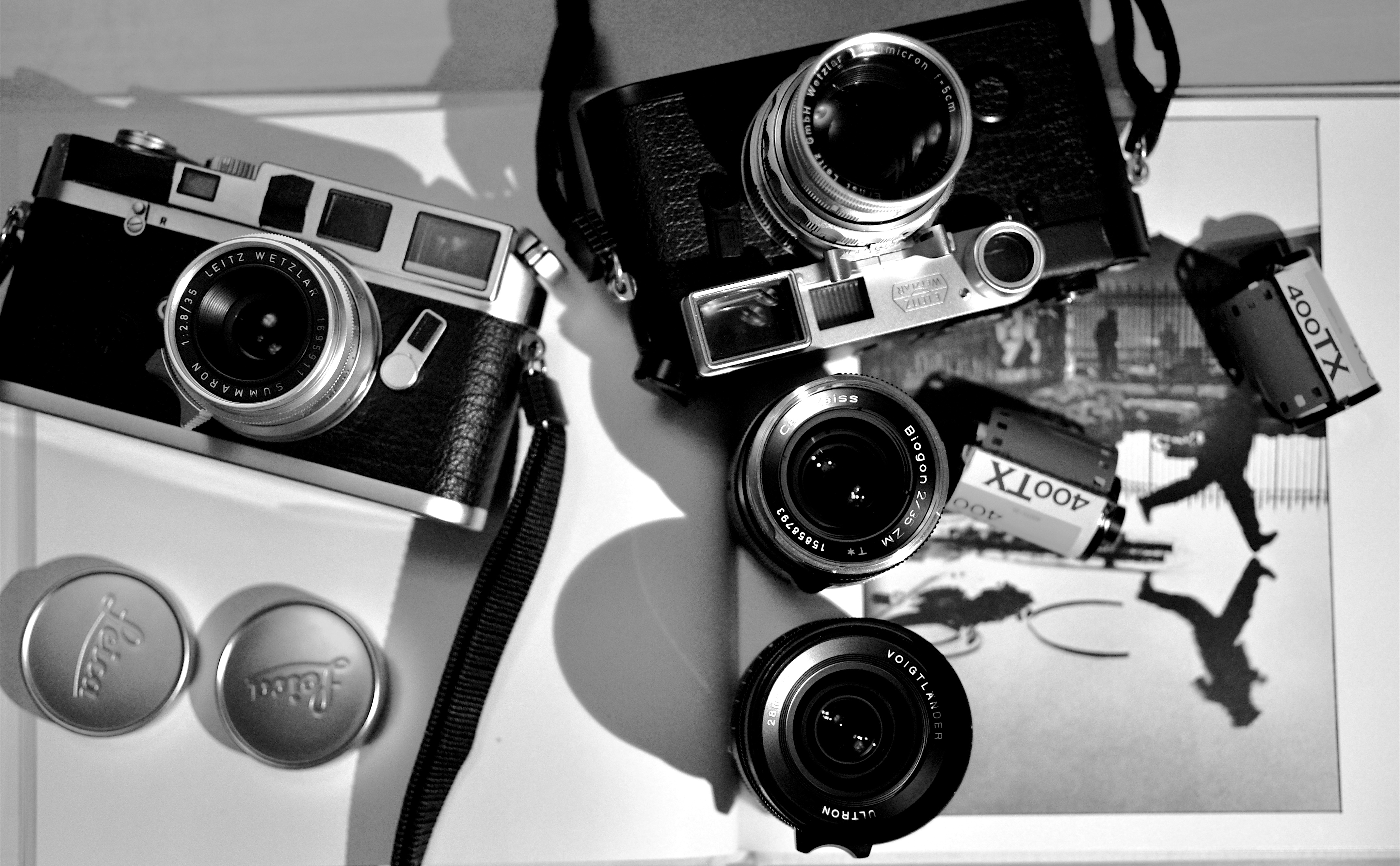 In your bag number 46, Rashomon
Hey folks, another bagshot for you, except this one is rather unusual in that it doesn't have a bag in the picture! Still, it has some interesting bits in the shot and the guy behind it, Rashomon, is a guy with a lot to say. So over you Rashomon:
Items are:
M6 Chrome with 38 2.8 Summaron
M6 Black with 50 Summicron Dual Range with glasses
Carl Zeiss 35 Biogon 2.0
Voigtlander 28 2.0 Ultron
Book is Henri Cartier-Bresson published by Aperture
I stuff all this into a ThinkTank Retrospective 5, without the book of course ;-)
Here is an article I submitted for BlogTo.com when they did a feature on me. It can be found here : http://www.blogto.com/people/2011/08/toronto_through_the_lens_of_rashomon/
The full unedited submission is here:
When I was in grade ten I haggled my mom to buy me a camera for a photography class. Because you know, chicks dig photographers! It was a FM2. I used to use it a lot until I got a rangefinder a few months ago. I switched systems after reading Chris Weeks's article "Street Photography for the Purist" and watched his video "Documenting the Human Condition". Chris Weeks's inspiration was a major turning point for me as I began to take photography seriously. I re-read or rewatch his work very very often, almost every other week. His stuff is almost like a bible to me.
I really enjoy taking street PICTURES because it allows me to honestly and sincerely express myself. It is reality, here and now, unscripted. Once the moment is gone, it is gone forever. I emphasized the word picture because I am at a level where I take snap shots and pictures. It takes a lot to MAKE a PHOTOGRAPH and I hope very soon I will be making photographs.
There is so much to learn and I find photography very fun. Right now I am training myself to be a walking tape measure so I can master the distance scale on my lenses and be a human light meter. It's very tough but I know it will be very rewarding and I will be able to make real photographs. Technical mastery of the camera is one thing, artistic vision and creativity is another. I don't know if I will ever have any of those. Perhaps I should get drunk or get high before I head out … have you seen Thom Yorke perform? Johnny Depp, Jack Nicholson in their various roles? They must be high to pull it off …
Nikon/Canon, Leica/Zeiss. Can you really tell the difference? You probably can if you take boring ass pictures of a brick wall and analyze it to death, fondling it, stroking it and reading about it on Ken Rockwell until you orgasm. What is important to me is usage and the ability to shoot wide open and at very slow shutter speeds. I can shoot 1/8 of second hand held at night with a RF, can't say the same for a SLR.
A lot of people are preoccupied with gear. For the majority of us, our equipment is way more advanced then our skill level and spend a lot of money on the latest, the greatest and fastest lens we can find. If you look at the works of the great masters, they shot with gear that a novice today would turn their nose up at. All you really need is a simple camera that can take abuse, has some knobs and dials and some fine ass glass. White balance, 3D Matrix Metering, 7 frames per second, blah blah blah …. that's too complicated for me. I use my film RF about 85% of the time. The other 15% is split between the X100 or LX5.
Fortunately I have not had too many bad experiences. In fact, my experiences have been very positive even when I am caught taking a picture of someone. For the most part people enjoy having their picture taken because it is flattering. Just compliment them, like the clothes they are wearing, their hair style, say they look really cool. When I sense hostility I pretend to be taking pictures of the surroundings, the streets, pretend to be a tourist, pretend I don't speak the language. I never have eye contact, except in the viewfinder. Plus, when they see my old film camera they don't give a damn.
One time I was at a public park, where people were playing chess. I was there with my big black DSLR with a big black zoom lens. The people there were not pleased at all. In fact, many people asked me to leave. Lesson learned: Be discrete! Street is done with an unassuming camera, a short lens, nothing over 50mm. I have learned to visualize the shot in my head, set the aperture, set the shutter speed, prefocus, go in, take one shot and leave.
As mentioned earlier, Chris Weeks's works to me is like a bible. I read/watch his work every other week. In fact, I am going to watch "Documenting the Human Condition" again after this … The man is simply amazing. It sounds like his paycheck comes from Solms. But once you try what he teaches you, you will instantly fall in love with his teachings. His friend Severin Koller is also an exceptional street photographer. Other people I look to for inspiration includes Thorsten Overgaard, Daniel Milnor, Yamauchi Michio, Junku Nishimura and of course the legendary HCD, Doisneau and Winogrand. Wong Kar Wai/Christopher Doyle are also a source of inspiration. In fact, I will be taking more pictures of "loneliness, love and identity".
I sent Chris Weeks a note on Flickr and he replied me. I guess it was like a kid playing A ball and writing and receiving a reply from Derek Jeter. There are also numerous talented photographers on Flickr that inspire me. I try to study their work, read the EXIF file if they are shooting digital and see how it is done. If they are shooting film I ask them how the photograph was made. I always approach photography with an empty tea cup. I go to art galleries to learn composition and why it works.
tumblr :http://rashomon1415.tumblr.com/
Flickr :http://www.flickr.com/photos/rashomon1415
500px:http://500px.com/Rashomon
Cheers,
Rashomon
Brilliant. Cheers for sharing that Rashomon.
Keep them coming folks, we need more submissions, so get your bag on Japancamerahunter.com. Send me a hi resolution image of the bag (please make sure it is horizontal) and its contents, with some details about yourself and what you shoot. Oh and don't forget your contact details (twitter, flickr, tumbler et al). Send the bag shots here Send the bag shots here.
Cheers
Japancamerahunter