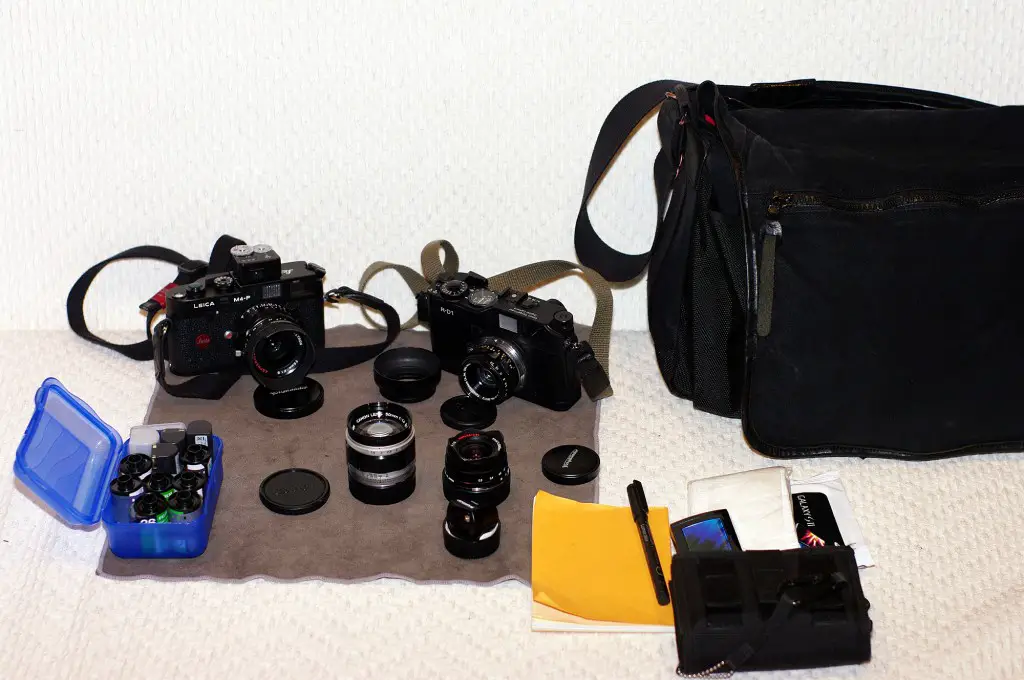 In your bag number 35, Robert Eckelmann from Germany/Tokyo
Hello there lovely bag loving people, another bag for you. And it is another bag from a German guy living in Tokyo. This time it is from Rob Eckelmann. Rob is a really nice guy and complete camera geek. I had the pleasure of meeting him recently, as was very impressed at his lovely collection of cameras. So impressed that I asked him to come and show them to you. Over to you Rob:
My name is Rob and this is my bag shot.
Bag is a A&A ACM-7100, love this bag since I got it in July.
This is my basic setup:
Epson R-D1 with Canon LTM 35/2 (the Japanese Summicron) with a 40-40.5mm stepupring and a no-name 40.5mm hood
Leica M4-P with a CV Ultron 28mm /1.9
Canon 50mm/1,4 LTM with CV 50mm LTM-to-M adapter
CV Heliar 15mm/4.5 with 15mm Finder (still have to find the 15mm D finder for the R-D1)
Blue Box with film (Acros 100, Neopan 400, Neopan 1600 and some color-film), batteries and SD-cards for the RD-1
Notebook and fineliner for taking notes, wirting down ideas and marking the films
dry and wet tissues, portable ashtray, wallet
As the Bag has space for three cameras, I often add the Fuji GS645s wide 60, Yashica Mat 124G or my 35mm Pentax KM SLR, depending on my mood. Somtimes I just add a book or my asus eee transformer tablet.
Rob on deviant art
Rob on twitter
Rob on tumblr
Rob on G+
Thanks for sharing you bag and taking the time to lay it out so beautifully. I really appreciate it. I hope that you all enjoy this bag as much as I do.
Keep them coming folks, we need more submissions, so get your bag on Japancamerahunter.com. Send me a hi resolution image of the bag (please make sure it is horizontal) and its contents, with some details about yourself and what you shoot. Oh and don't forget your contact details (twitter, flickr, tumbler et al). Send the bag shots here Send the bag shots here..
Cheers
Japancamerahunter