ED TEMPLETON: BLOOD, HELL, & WIRES CROSSED
Interview by Jesse Hayes
Growing up in Orange County, CA during the late 1980s, summers held a magical charm for me. At night I could see Disneyland's firework display illuminate the sky from my bedroom window. Sun-soaked days provided boundless stretches of pavement and curbs, the perfect canvas for honing my budding skateboarding skills.
As I got older and the vibrant '80s transition to the '90s it brought about a shift in my summer adventures. Friends and I would pack into cars, excited for the Highway 39 Drive-In movie theater in Westminster, the last bastion of such nostalgia in Orange County. The route to the drive-In was a passage along Beach Boulevard, leading from Westminster to Huntington Beach.
Along this path of pavement, you would find record stores such as Vinyl Solution and Tower Records, which served as sanctuaries for young people seeking to explore new music and expand their record collections. Most weeks, the Huntington Beach Library would host five-dollar punk hardcore shows, encapsulating the raw energy of mid '90s.
Sun-drenched
Amidst these sun-drenched landscapes and pulsating beats, Ed Templeton was traversing his own metamorphosis. As the streets of Huntington Beach, CA bore witness, he evolved from a young skater with a challenging upbringing to a bona fide pro skateboarder at the age of 18 in 1990, riding for New Deal Skateboards. It was this driven spirit that spurred him to launch his own company Toy Machine Skateboards in 1993, leaving an indelible imprint on skateboarding culture.
Ed Templeton's art is multifaceted – photographer, painter, illustrator, designer, and founder of Toy Machine Skateboards. His journey of self-expression was borne from the crucible of skateboarding; a camera in hand, he embarked on a quest to capture all forms of life unfolding around him.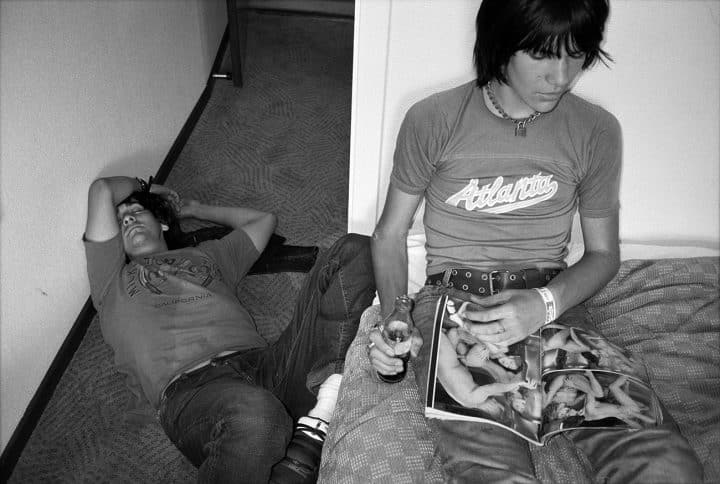 BEGINNING
Jesse: What made you decide to pick up a camera and start taking photos?
Ed: I think many things were percolating at the same time. I had been shooting photos a bit as a tourist since I was getting to travel a lot as a pro skater, and I was surrounded by working photographers whose job it was to document me skating and cover the lifestyle for the magazines they worked for. So, the language of film and cameras was part of the lexicon in the circles I was running in.
The fetishization of getting a good photo, both capturing something incredible happening and also the composition and lighting that goes into making a photo great was something talked about on a daily basis. As the subject for them, I was a collaborator in this endeavor to make a great photo. Skate photographers were pushing limits and working in tough circumstances. Shooting high speed skateboarding with flashes in the middle of the night using an analog Hasselblad was testing the limits at the time. And they were doing that under generator lights after jumping locked fences to access the spot.
So, I was immersed in a world of photographers and artists. (I had started showing my paintings in galleries in 1993.) In 1994 I started being exposed to photo books from some really great artists that deeply inspired me. I think all these things were pushing me towards the idea that I should be shooting in a more serious way, I just wish I had realized it four years earlier! So, what pushed me over the edge was the realization that the people I was surrounded by were incredible subjects, and so I cooked up the not-so-original idea that somewhere down the line I'd like to make a photo book about this incredible group of people. And it took me nearly 30 years to both create the body of work and organize it and finally shepherd it into book form.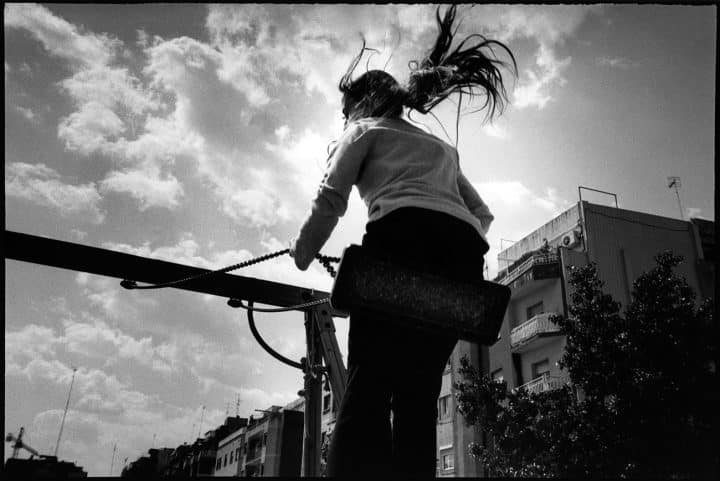 Jesse: Did you have any early photographic influences?
Ed: I remembered loving Nan Goldin and her use of tungsten light so effectively. The darkness of her natural environment and the indoor light casting a yellow over many of her photos, but conversely the deep blues. I recall her photo "Ryan in the tub" having such a great blue shade. And there's a photo of her's "Geno in the lake, Bavaria" where a woman in shot from behind as she is about to dip into the water, and I remember being struck by the light in that photo, and that perhaps the light was what struck Nan to take the photo.
Alex Webb's use of light and shadow was something I geeked out on early on. But if you are asking is there is a photographer who has served as my "North Star," I would say Robert Frank and Jim Goldberg have been two people I have always come back to as the gold standard for me. The spirit and approach of Frank, the spirit, creativity, presentation and bookmaking of Goldberg. It's no secret that Goldberg was very influenced by Frank, so the lineage is clear.
BALANCE
Jesse: How do you balance your painting/drawing with your photography? Do you go through periods where you are only doing one or the other?
Ed: It's all practical for me. Seeking balance is a fools' errand in my life. I just do what needs to be done at any given moment. If I have agreed to make a book and there's a deadline, then I scramble to get done what needs to be done. If I have an exhibition scheduled, then my focus will be on that.
Same for my skateboard company Toy Machine. I have a series of graphics I need to do each year with periodic deadlines, so in many ways those come first. Then after that, I have lots of free time to work on other projects. When things are mellow, I paint. I take photo walks around my hometown. Even when we go on "holiday" walking and shooting photos all day is what we enjoy doing.
Some people like laying on a beach reading, but Deanna and I love walking across a city shooting photos of people. We spend part of the day eating or doing holiday type stuff, and the rest walking and shooting. And even when we do go to a beach in Italy to relax, I'm shooting photos while we are laying there under an umbrella.
I spent decades working on Wires Crossed, but it got serious in 2022. In 2020 and 2021 I was painting most of the year and not shooting at all because of the pandemic. I did an exhibition of that work in LA in early 2022. After that it was 100% making the Wires Crossed book the rest of the year.
CAMERAS & FILM
Jesse: Do you remember your first camera?
Ed: Not exactly. I know I had some chunky plastic Canon point-and-shoot camera very early on. But I don't remember buying it. It may have been a hand-me-down from my grandfather. I think I had a thrift store Olympus half-frame camera in my early days. Skate photographer Miki Vuckovich gave me a super simple boxy Russian twin lens reflex camera that I tried to use. But the first camera I remember buying and thinking about as my new "artistic tool" was a Canon AE-1 Program camera. It had a 50mm lens, and I think I got a 35mm one too.
I used that for years until I got a Leica CL. I was probably inspired by Henri Cartier- Bresson and other Magnum guys who I read all used Leicas. The CL was a spare and cheaper version of the famed Leica rangefinder made by Minolta, right? (?) It had a 40mm lens, which I still have. I lent that camera to Thomas Campbell, and he broke it. And finally, I got the Leica M6 and never looked back.
Jesse: Most of the time it seems like your Leica is paired with a 50mm Summilux. Is 50mm your preferred focal length? Do you shoot any other M mount lenses?
Ed: Yeah, I use a Leica M6 with a 50mm Summilux 90% of the time. But I also have a 35mm Summicron lens that I carry with me a lot of the time, and switch to in certain cases. I have a 28mm Voightlander lens with the hot shoe viewfinder adapter that I have used a few times, but mostly sits on a shelf. Deanna has a 90mm lens that I borrow here and there. But mostly the 50 and the 35.
I don't know exactly why the 50mm became the gold standard for me. So many people seem to prefer the 35mm, but maybe that's one reason I prefer the 50. I dislike background distractions, and don't think a Redbull billboard is going to age like a fine wine. So, the 50mm lets me cut out things that don't matter in a photo and get closer to what exactly I am shooting. I see a lot of 35mm work where the intended subject is lost in a sea of extraneous background extras. I don't want the viewer of a photo of mine to have to "Where's Waldo" what I was shooting. Ideally it should be apparent. The 50mm I think helps in that.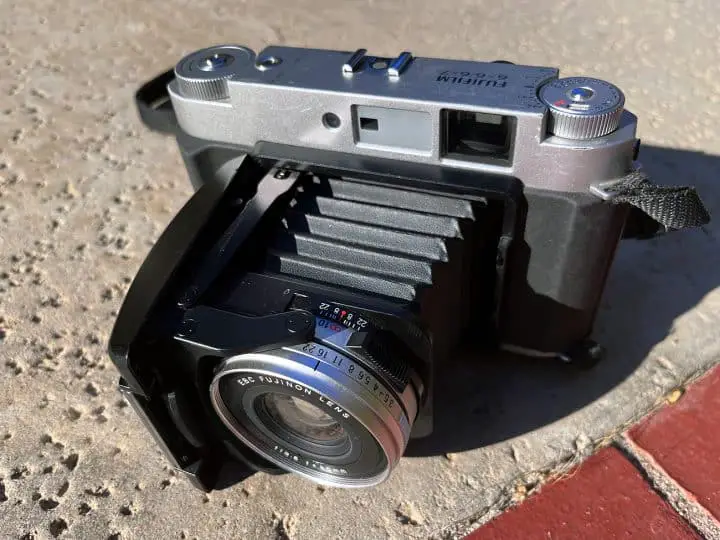 Jesse: Other than the Leica M6 what cameras do you use?
Ed: My second camera is a Fuji GF670. It's a medium format rangefinder and can be switched between 6×6 or 6×7 format. I use it a lot on the rare commercial jobs I take because you get a huge juicy negative which scans for that print nice. But I walk around and shoot street photos with it too. I brought it with me on my recent trip to Europe but sadly only shot about 5 rolls with it. In retrospect I probably would have preferred not having that extra weight in my backpack.
Some work from that camera is present in my book Tangentially Parenthetical. I use a Polaroid Land Camera for my pack film. All the pack film stuff in Wires Crossed was shot with that. I use long discontinued Polaroid 665 film with the peel apart positive/negative, or whatever color pack film, I think it might be mostly Fuji actually. Most are scanned as physical objects, but there's one 665 neg that was drum scanned. The square Polaroids were shot with multiple old regular Polaroid cameras. Those plastic numbers came and went through my life.
I have a ton of other random cameras that I use sporadically. I have an Olympus stylus epic point and shoot camera and a Ricoh GR1. I use and Olympus XA sometimes. A Konica Big Mini, a Nikons V for underwater, An Olympus Pen F. There are other cameras laying around too that I at one point intended to use, but mostly they just exist. Like a Mamiya C33, a Contax G1, and old Canon T90.
Jesse: Is there a film stock that you prefer?
Ed: I have primarily been a Kodak Tri-X man, but was never hardcore about it. When I would be in Europe, and they only had Ilford HP5+ I would gladly buy that. Recently, with Kodak costing an arm and a leg, I have actually been buying only HP5+. If I shoot color, then I get Portra. In the new Wires Crossed book, there's all sorts of film stock. In my early days I used anything laying around and often bought slide film for no particular reason. Velvia, Kodachrome, Ektachrome. Sadly, I shot a bunch of rolls on that B&W C41 stuff Kodak made. 99% of what I shoot is on HP5+ or Tri-X.
Jesse: For me printing photos in the darkroom can be as rewarding as shooting them. Do you still have a darkroom and print at home? Do you enjoy printing?
Ed: Yes, I do have a darkroom in my garage. I mostly use it when I need something. Prints for a show, etc. I wish I just went in there once a week to print for the fun of it, but I mostly only use it out of necessity.
I printed a ton for my Wires Crossed book and exhibition. I love printing. I think the physical print is the final product of photography, the thing I will pay to see in a museum. The thing I hope collectors are interested in buying. Just like seeing a painting by an artist – as you look at it you know they actually touched this object and created this work of art. Ideally the print fills that role in photography. You see a print and know that it was made by the artist. I say "Ideally" because that is the best-case scenario, but it's not the norm in photography anymore. (If it ever was! Cartier-Bresson famously hated printing and had others do it for him, as did many famous photographers.) Many photographers have never been in a darkroom. There's nothing wrong with that at all. (Even some painters barely touch their own work, letting assistants do the heavy lifting!) But a hand-made print made by the photographer, in my opinion, should be the primary goal. That's just my preference.
I would rather see a Danny Lyon show with vintage prints he made personally than one made up of modern prints from scans. The show would be equally great visually, because the content of the photographs is great, but would be inferior physically. I geek out on vintage prints made by hand, especially with writing or art on them. Again, that is just my personal preference. But having said that, although I printed a lot for the Wires Crossed show, I also had the lab make a lot of prints. I can only print up to 20×24 at home, but rarely do that even. I tend to make 16×20's or smaller in there. So, any bigger prints need to be made at the lab.
Practically and monetarily it's not so easy to darkroom print everything for a show these days. And for many photographers, they don't have access to a darkroom, or the resources to make one, if they even shoot film at all. It just makes too much sense to use the inkjet printer. I just turned 51, and I'm officially in my old fuddy-duddy phase so I will try to keep using film and printing on fiber paper as long as I can. I made my first inkjet/pigment prints for my "Injury Cluster" as part of the Wires Crossed show, and I think they look great, and in fact will last longer than a C-Print/RC would.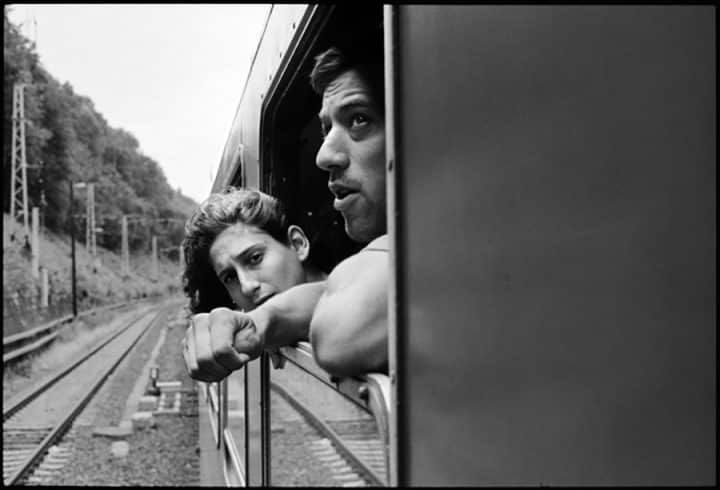 Jesse: What keeps you shooting film as opposed to digital?
Ed: "I can afford it" is probably the truthful answer. But mostly I prefer the look of film. There's less information packed in there. It's simplified, and there's room for fun anomalies and mistakes. There's a tradition and a process to it that I think is worth continuing, even when in comparison to digital it makes no sense. In that light I am shooting myself in the foot by choosing to spend extra thousands of my dollars on film, storage and scanning. But I can handle the expense, so I'm going to follow in the footsteps of my forefathers, even if many of them would have jumped to digital happily had they had the choice!
One part of it may be that since I'm an "archive builder" type of photographer, when I do a project, I may be drawing from my early work and mixing it with more current work. I fear that mixing old film work with new digital work might be jarring. But that's probably an unfounded fear. I doubt anyone would care aside from myself. Plus, I work mostly in B&W, so I love the idea that all these photographs are exposed onto a piece of film chemically and truly monotone.
WIRES CROSSED
Jesse: You have previously released numerous art and photography books. What was the catalyst for your book, Wires Crossed?
Ed: I think I spoke to this a bit in your first question. Wires Crossed is the reason I picked up a camera and has been my one major project that I have been working on from the beginning. I had always known it would be a book, but I had no idea it would be an Aperture book!
Years ago, I mentioned the work to Lesley Martin from Aperture when we met at a photo fair, and she was interested in seeing it. She saw it in such a raw form that I'm surprised she was able to see the possibilities in it. It's a testament to how good she is at helping artists make books that she could see the photos, without any text, and most of them were super lo-res scans off a proof sheet that look blurry and shitty and realize that there was a book there. I knew there was something there, and I think she believed in me.
So, the catalyst that made this a book in reality as opposed to only in my mind was Lesley Martin championing me and going to bat for this work. If Aperture didn't do it, I'm sure I would have found another publisher, but that publisher might not have helped shape it like Lesley did. Aperture/Lesley were not interested in sanitizing the work at all. They demanded no cuts or edits to the work to make it "safer." We only made cuts to make the book the right size and price, not because of censorship. (Although I did leave photos out, out of kindness and consideration to subjects due to the passage of time and changing circumstances.) She did insist on the modern-day interviews at the end, which I resisted at first. But in retrospect she was totally right, this work needed to be placed in context for the modern times we live in.
Every artist needs a champion, someone to support them, and Lesley was that for Wires Crossed.
Jesse: Wires Crossed has many anecdotes that go along with the photos. Some of them are funny, some personal, and some painful at times. How does it feel to open yourself up in this way?
Ed: This book is a "warts and all" look at what it was like to be a pro skater during the years between 1995 and 2012, so I tried to use whatever I could to help tell the story and add nuance. I hadn't intended on using that much text, but as I started looking back through my journals, I realized there were some good descriptions of what life on the road was like for us back then, there were some good stories of the shenanigans we got into and the stupid and sometimes embarrassing stuff we did.
So, I started scanning stuff directly out of my journals and using it. I feel like if the subjects in my photos granted me their trust in shooting them, they are the ones taking the risk and having their lives exposed, then the least I could do was also expose myself through the text and by using other photographers' photos of me in the book too. My life has been an open book in interviews and skateboard magazines since I was 18 years old, so I guess I'm used to putting my head on the chopping block and letting people take their hacks.
Jesse: One set of photos in Wires Crossed I found particularly powerful were of you laying in a hospital bed, your wife Deanna looking towards the camera, her expression conveying to the viewer the profound emotions of that moment.
Ed: Yes, I kind of forgot about those photos, and I still am not 100% sure what hospital they were taken in. It makes me sad looking at them, because it puts it in stark reality how the loved ones in your life are affected when you are injured. As skaters we go around tempting fate every day and looking back, I feel lucky to be here after all the concussions and other hits to head I have taken in my life. I'm glad I'm here to tell the tale, many of my friends are not.
Jesse: Since Wires Crossed was edited down from 5000 images, will we see a part 2 to the book?
Ed: Ha! I don't think it would be a "Part 2" but rather a new book drawing from the same well. Ideally with no overlap and a completely different approach. There's definitely enough work left on the cutting room floor that should have been in the book to warrant another volume. Wires Crossed is already pretty thick, about as thick as I'd ever like to go. I hate books that are too fat.
I think we got the story across in WC and I don't think it's missing anything. But there are the people, me included, that love to see the B-sides and the out-takes, and more ephemera. I absolutely love the new "Making of" Carnival Strippers book by Susan Meiselas. It's so rad seeing the proof sheets and out takes and her notes, and stuff. The Robert Frank book called "Looking In" on his famous Americans book is incredible too. I wouldn't be making a book like that, but in that spirit maybe, showing proof sheets, and printing most of it by hand, etc. A more scrapbook-esque version using completely never seen before work that didn't make it into WC. I think both skaters and photography fans alike would be into that.
Jesse: Being an avid photography book collector, what book from your collection would you recommend?
Ed: Well, there's hard to find books that recommending them seems kinda lame. I think more people should be looking into the work of Boris Mikhailov and Jim Goldberg. If you can find a copy of Raised By Wolves, get it! If you get a chance to look at Mikhailov's Case History, or At Dusk/From the Ground, you should take it.
I recommend the new Masahisa Fukase book "Private Scenes" published by Atelier EXB. The new Henry Horenstein book "Speedway 1972." Frank Horvat "50-65" Those are some recently published books that you can start collecting. "Okinawan Portraits 2010-2012" by Ryuichi Ishikawa is great weird book. Do young people know the work of Shomei Tomatsu or Rene Burri? They should! Get that "Carnival Strippers / Making Of" book by Susan Meiselas. Anything by Mary Ellen Mark. Collect "Bus Odyssey" or "All Zones Off Peak" by Tom Wood if you can. Heck, any Tom Wood book! "Into the Fire" by Matt Stuart. Greg Girard is an amazing photographer. Get his books, look at his Insta! One of my favorite small books is "My Amsterdam" by Ed Van der Elsken.
Jesse: Along those lines, what photographers have inspired you?
Ed: Well, I have mentioned already Robert Frank, Jim Goldberg, Nan Goldin, Henri Cartier-Bresson, Tom Wood, and Boris Mikhailov. I could add Larry Clark, David Hockney, Bruce Gilden, Mark Cohen, Winogrand, Freidlander, Araki, Steinmetz, Eugene Richards, Alex Webb, Bruce Davidson. They are an inspiration and a marker of where to go next, what the next step to take is. Ideally you don't step in the same footprint but build on their example and add to the conversation instead of parroting.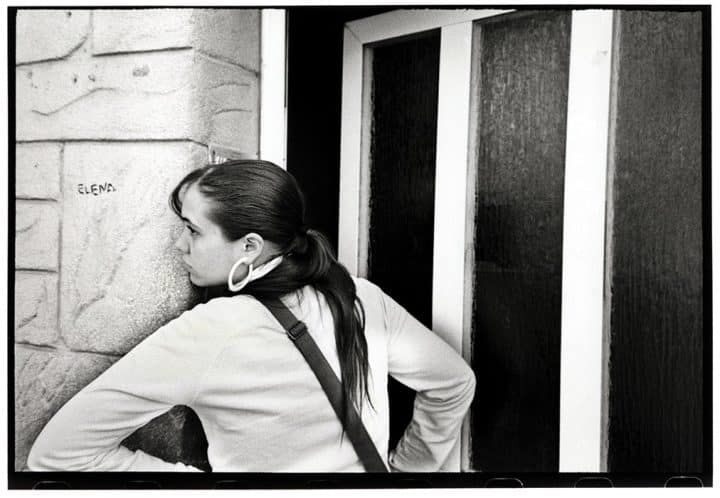 BEACH BLVD
Jesse: Having lived in Huntington Beach CA for most of your life, do you still find things to photograph locally?
Ed: Yes! As long as people keep being people, there's always something weird happening to shoot. We both took a break over the pandemic and stopped doing daily pier walks. I was busy painting, and politically this place turned into a toxic stew. But we are slowly going back down there and shooting – but we also started going to new places nearby to shoot, like the city of Santa Ana, or going to LA to shoot. But HB is the same as ever, if not more messed up. Within two minutes down there I want to go on a murder spree. A toxic stew may not be a place you want to spend time in, but it makes for good photos. If I wanna swim in the ocean, I got to Laguna Beach.
Jesse: Your wife Deanna is also a photographer. How has this influenced your work?
Ed: She influences me every day. To be more selective, to slow down, and be more compassionate. We help each other in looking at work and editing, discussing images. It can be tough sometimes, but there's more positives than negatives!
Jesse: Since retiring from skateboarding, do you feel your photography has changed?
Ed: I like to think I keep evolving and getting incrementally better as I become more in tune with my camera. But it really goes in waves, and sometimes you suck for a few months or a year, but then you come back a bit better when you get on top of the wave again. It really does take practice. I think that break I took during the pandemic set me back a bit. I'm just now getting back into a groove I think. Having said that, I don't think there was any connection between me being a pro skater and photography other than the environments I was a part of and able to shoot. So of course, I shoot way less skaters than I did then, but I don't think my approach has changed, only evolved for the better, I hope!
"Kareem Campbell cradles my head after another concussion" (Ed, Paris 2002) photo by Patrick O'dell
I want to say a huge thank you Ed for taking time to share some insight into his life and work. A huge inspiration of mine in more ways than I can name. – Jesse
Please take a look at Ed's website https://ed-templeton.com
His Instagram https://www.instagram.com/ed.templeton and Toy Machine Skateboards https://toymachine.com
Photographs used with the kind permission of Ed Templeton. Not to be reproduced without permission.
A huge thank you to Jesse Hayes and Ed Templeton. I never thought in a million years that the great Ed Templeton would be on my website. He has been an inspiration for me for many years. I used to ride Toy Machine boards and wish I could do what Ed did. Thank you to Jesse for this great piece of work.
JCH