IN YOUR BAG 1746: Kryštof Korč
For this week's installment of "In Your Bag" we have Kryštof! This will be his fourth "In Your Bag" err "In Your Studio" he has shared over the last ten years! Here is his first, second, third. See the fourth below:
Hello, I am Kryštof Korč. I was just tidying up my studio and when the heap of cameras materialized on one table, I just had to arrange them a bit and take a pic before putting them back where they belong :) So yes, it is basically "what's in my studio", but I swear I put every camera in a pocket, bag or backpack from time to time to take them out!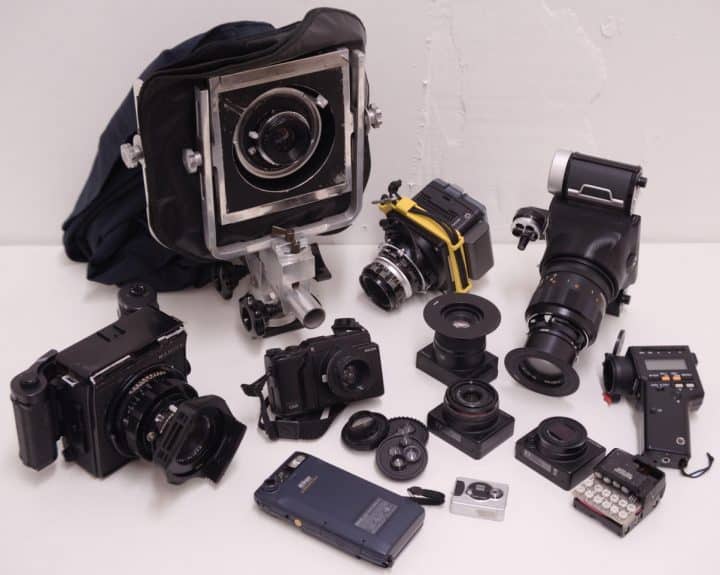 Starting from the small ones, I use Coolpix 300 and some no-name webcam-like cameras since I just love low-res digital. Still looking for some really low resolution cameras. Each and every one of these has its own unique style of picture processing. And I love each of them.
Ricoh GXR – the hell, best camera ever! Never got it why it didn't survive, yet there is nothing alike. One of the modules rebuilt for IR photography, with DIY IR flash. I use my own multi-lens optics for the APS-c Leica mount module. Doing triple exposures in just one snap recently. Otherwise it is just a platform for constructing a new lens that does whatever my feverish dreams generate.
Mamiya 23, cause I love large format, but hate to pay for developing  cause I shoot color almost only. Had to saw off the rangefinder though, didn't need it. Then got a handmade view camera for Mamiya press backs and lenses, instant love for the same reasons. I use colour filters to do three consecutive exposures on one frame through various colours, resulting in some trippy stuff. Currently in development.
And last but not least is a contemporary project of Leaf Aptus 65II with makeshift Copal 1 attachment. Currently a Nikkor H 50mm sitting atop of it to find a proper focus, then it will transform into a bizarro freakout purely abstract camera.
Hope you won't hate it.
Just for the record – I don't do drugs, it's just my head :)
Instagram: @krystofkorc
––––––––––––––––––––––––––––––––––––
Send me a high resolution image of the bag. Optimum size is 1500px across. Please ensure there is a bag in the shot, unless you don't use one. The more you can write about yourself the better, make it appealing and tell us a story. Snapshots of your gear with a camera phone and no words will not be featured.
Oh and don't forget your contact details (Instagram, Twitter, Flickr, Grainery et al). Send the bag shots here. Not all make the cut, so make sure yours is funny/interesting/quirky. And please make sure the shot is of good quality, you are a photographer after all. 
Cheers
-JF