IN YOUR BAG: 1745 – Jeff Mein Smith
For this week's installment of "In Your Bag" we have Jeff! Very simple, very clean.
Check it out!
I adore beautifully made things, so I couldn't go past a Billingham Hadley Large bag (I also have a much smaller Billingham Digital if I'm just carrying one of the bodies), a Nikon F2 with DE-1 finder, and an OM System OM-1 for the convenience of digital.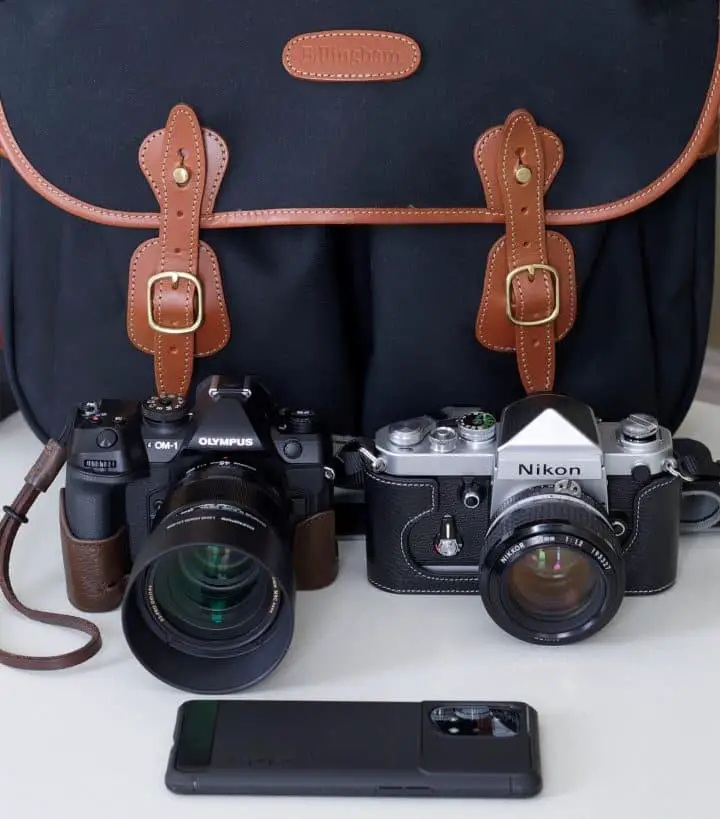 The OM-1 is small, ergonomic, and rugged. It's fitted with an M.Zuiko 45 1.2 for street shots and portraits. Street photography is my passion.
The Oppo Find X5's camera has a Hasselblad X Pan setting and a metering app for use with the F2.
The Billingham doesn't scream 'camera gear', useful around town, and the closure system is silent when discretion is called for.
Jeff Mein Smith
@jeffmeinsmith
––––––––––––––––––––––––––––––––––––
Send me a high resolution image of the bag. Optimum size is 1500px across. Please ensure there is a bag in the shot, unless you don't use one. The more you can write about yourself the better, make it appealing and tell us a story. Snapshots of your gear with a camera phone and no words will not be featured.
Oh and don't forget your contact details (Instagram, Twitter, Flickr, Grainery et al). Send the bag shots here. Not all make the cut, so make sure yours is funny/interesting/quirky. And please make sure the shot is of good quality, you are a photographer after all. 
Cheers
-JF