JESSE'S BOOK REVIEW – ⒸTOKYO Please close gently and softly by Okada Kisara
Michael brought in to the office Okada Kisara latest book, 'Ⓒ TOKYO Please close gently and softly'. As a previous visual interviewee, I was interested in writing about one of her books and ….here we are! The images for 'Ⓒ TOKYO Please close gently and softly' were taken between 2018 and summer 2019. The then released in 2020 in time for what was suppose to be the 2020 Tokyo Olympics.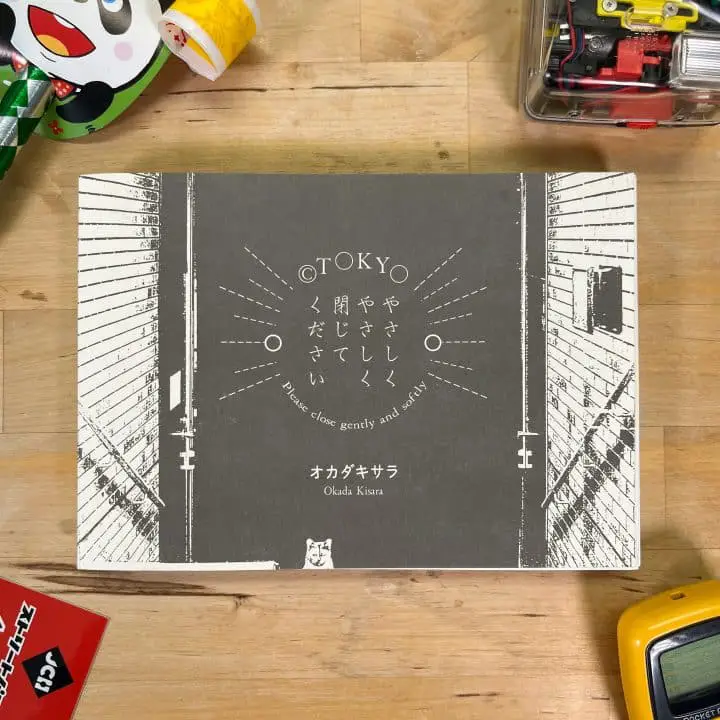 2020 Tokyo Olympics
The title refers to the lead up to the Olympics and the hope the games would create for more optimism around the city, as trepidation and fatigue set in to the final build up. In some ways her camera's eye leads us more to this latter sentiment…certainly foreboding of what became of the Olympics.
Style
Immediately noticeable about her work is just how much fun it is, but more importantly the sense that she is having a lot of fun doing it in simply exploring Tokyo with a camera. I mentioned in the visual interview she is a bit further from her subjects, so she isn't intruding to the effect that her presence creates these moments. The result is just a lot of coincidental moments in freer compositions that feel impossibly innate.
Composition
Her 'decisive moments' due to the distance she shoots from often allows for a lot of compositional play. Featuring a center perspective, she instantly layers her subjects usually among a center line created by bathroom entrances, trees, windows, etc. To top it off, the fact that her images are in color heightens her rigid lines in which the fluidity of her subjects makes it all absurd. From there comes the humor that characterizes her work…all of which can only be captured in Tokyo.
Repetition
Another theme central to her work entails visual repetition. This occurs in several of her images that in turn lend themselves to not only her compositional strength but her humor. Simply enough an example can be seen in the image below with the repeating baseball player paintings on the wall.
Others include seemingly Magritte-esque salarymen reminiscent of the anonymous man in the bowler hat. Also similar to the man in the bowler hat paintings where his face is obscured by a bird or a pear, she has several photos where faces are obscured by shoes, traffic cones, window reflections, etc. So really absurd yet informed humor!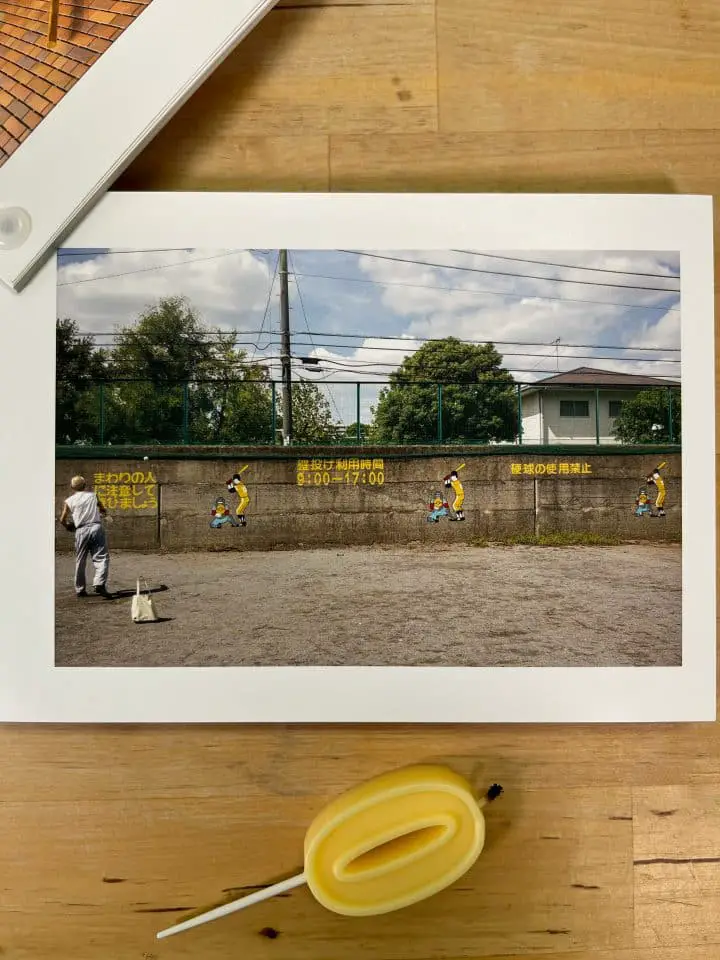 Conclusion
The book is still available! Sokyusha has it for about $35 while her earlier book, 'Ⓒ TOKYO Hanazono Burarhythm' remains sold out. At 80 pages, the book has a unique layout featuring a single photo on one side of the paper. Much cleaner you avoid the page bleeds and binding issues on photographs when they are spread over two pages. It opts for a simple single hole punch design at the top left corner that allows one to simply slide the photos up. Often when learning a language, this is used as a style of flash cards…which lends itself well to her snapshot style. Okada is one of those photographers who's work you enjoy as much as they have fun making it.
-JF
For other book reviews click here.