New Volcanic Aotearoa Film Photography Book on Kickstarter
It is not often that we share Kickstarter projects on this site. But this one I personally found to be quite beautiful and very inspiring. Stephen Milner and the Volcanic Aotearoa Project A New Zealand Landscape Photographer Story. A story about my favourite place in the whole world, Aotearoa. Stephen has shot the entire project on film and it is stunning.
Volcanic Aotearoa (New Zealand) Film Photography Book
My connection with the landscape started at an early age. When I was a young boy, my brothers and I would spend every minute we had exploring the landscape around our home. Every day, we created new ways to relive our adventures. We enjoyed exploring somewhere new and building makeshift bush huts; our adventures were creative. My creativity is a passion true to my spirit and influenced me from an early age, through my education and into my adult life. My passion for exploration is the ember burning in my heart, and I always look forward to starting a new adventure.
"My creativity is a passion that is true to my spirit and has influenced me from an early age."
In 2020, I had a life-changing back injury. Two surgeries later, I have had to walk away from my previous career as a construction project specialist. Despite the impact of this injury on my life and family, I see it as an opportunity to turn my landscape photography into my new career. You see, the thing is, the outdoors and walking is the best thing for my injury. So, this year I decided to kickstart my new career by joining a group of inspiring people called Creative Waikato on its Elevate programme. The Elevate programme gives artists like me the tools we need to build a sustainable creative career.
My Journey With Photography
My creativity turned to photography in 2012 when I picked up my first camera at a university in the UK. As a confident self-learner, I quickly found ways to improve my photography. My camera has been with me on every adventure since 2012. My photography has taken me on a creative journey. It has been a journey that has taken me on many adventures to wonderful places. Over the last ten years, I have crafted my mind's eye into something unique to me, and I feel very fortunate that I have my camera to share how I see the landscape with you.
In 2013, my family became New Zealand residents, and in 2020 we became proud citizens. New Zealand is a beautifully diverse country, and I love exploring it with my camera. When I explore the landscape, my mind's eye will abstract the landscape, and I use my camera to create a piece of art. My photography builds on your ancestral DNA connection with the landscape. My photography inspires, excites, uplifts, and calms.
I am an award-winning photographer whose goal is to become a New Zealand Photographer with a difference. Since 2012, my mind's eye has developed to create visionary photography. This is more than simply recording a landscape.
It is essentially the art of using a camera to create collections of photos with a common theme that tell a story.
"I empower my photography by using familiar forms and tones that add atmosphere to my work."
The Land of the Long White Cloud
Our beautiful Aotearoa is the land of the long white cloud. Aotearoa is New Zealand; it is the Maori name for the North Island and is now adopted as the official Maori name for the whole country. Aotearoa means long white cloud. The cloud formations from the volcanic activity in New Zealand were used to navigate to the land by early Maori settlers in about the fourteenth century.
Volcanic activity has been part of the culture of Aotearoa since its early settlers, and it continues today. Volcanic activity is known worldwide for its destructive effects on the landscape and people. However, in Aotearoa, it is part of life. Volcanic activity is part of Maori legends of love and war; and how the land country was formed. The geothermal effect of volcanic activity is used as a heating source in their villages and for cooking and bathing. These benefits became a tourism industry that started in the 1800s and still exists today.
When I arrived in Aotearoa in 2014 for the first time, I feared its volcanic activity because I did not understand it.
However, this soon became a passion after I completed the Tongariro Alpine Crossing for the first time in 2015. In 2018 I started visiting the area more often to photograph it. This fascination expanded to other volcanic locations and geothermal parks and became a project to which I dedicated myself. The explosion of White Island in 2019 reminded everyone of the powerful destructive capabilities of volcanic activity. Unfortunately, there were 22 deaths from 47 visitors that day, and the island remains closed because of ongoing activity and safety concerns.
Whilst my first fears of volcanic activity were realised in the unfortunate events of 2019, when I visit Aotearoa's volcanic landscape, I feel alive and connected to them. I enjoy exploring wide-open landscapes and connecting elements in the landscape with my photography. These locations are remarkable in many ways. I felt compelled to capture them in different ways to create a body of work with a cohesive feel that tells a story of their beauty and why they are important to New Zealand.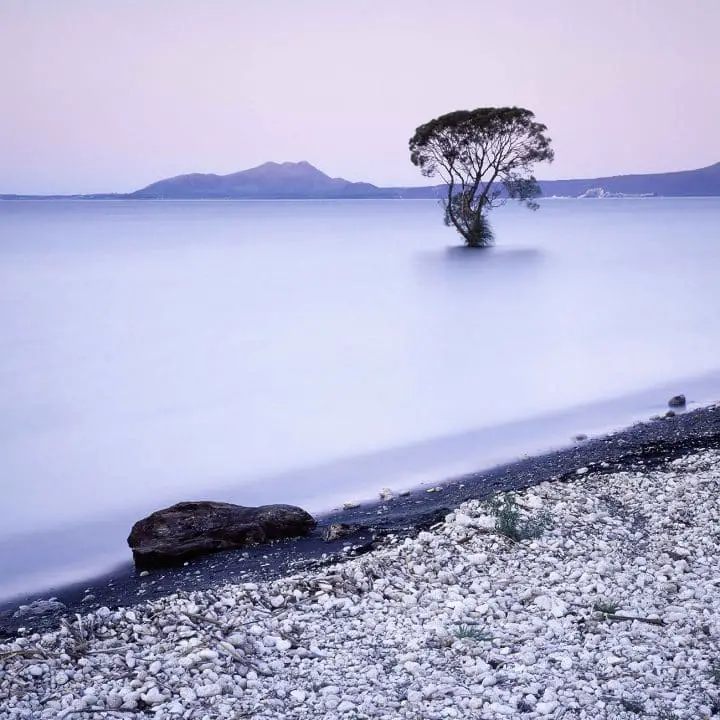 My Volcanic Aotearoa Project
Volcanic activity is known for its destructive effects on the landscape and people. Volcanic Aotearoa is a photography project that captures New Zealand's volcanic landscape's beauty, colours and organic shapes. It is a collection of photos that encapsulates a three-year study of New Zealand's volcanic and geothermal National Parks, Conservation Areas and one World Heritage Site.
The Volcanic Aotearoa collection of images has always intended to shine a light on the power and beauty of New Zealand's volcanic landscape.
The volcanic activity has been part of the culture of Aotearoa since early settlers, and it continues today. My book is not only a dedication to volcanic New Zealand, but it is also a dedication to film photography.
In 2019 I decided to start using medium format analogue film for the project. All the photos were taken with film using three different film cameras; the Mamiya 7, the Hasselblad 503CW, and the Mamiya 6. PCL Imaging in Auckland developed all the photos in my book, and I digitalised them using a flatbed scanner.
I have enjoyed using film for this project; it has taught me many things. Film photography has its ways of shining a light on my technical and creative strengths and weaknesses. I have learnt to appreciate the value of a single photo. Film photography requires patience and perseverance to create compelling imagery. It has taught me things that modern-day digital cameras automate. I am grateful that film still exists for its teachings. I find that my digital work is better because of film photography because I create more portfolio-worthy photos.
Volcanic Aotearoa is a beautifully crafted 285x285mm case-bound hardcover book with over 100 pages of photos, GeoNet information and Maori legend stories with the forward by Bruce Percy as follows:
"If I were to say the word 'volcano' to you, I am confident that you would instantly 'see' a cone shape in your mind's eye. The shape of any volcano is instantly recognisable to all of us. They have one of the most iconic shapes of our world.
In Stephen's images, he has settled upon using this iconic shape to unify his imagery. He understands that using form in this way can strengthen the work. For when we break down any image at all, they are constructed of the same basic building blocks of form and tone. Regardless of what we think we see, all photographs are representations, made up of these parts."
Support My Vision
To enable the highest quality standard at an affordable price, I am choosing to self-publish my book via a Kickstarter campaign, but I need your help. I need to raise $13,000NZD before 12th September to ensure I can get this project into people's hands.
Will you help me launch my career as a New Zealand photographer by buying my book on Kickstarter? The price for the book is $55NZD (RRP $70NZD) plus shipping. Shipping will be in December 2022, providing I meet my target (if I don't, all pledges are refunded).
Please follow this link to support my Volcanic Aotearoa book.
*UPDATE
Stephen unfortunately didn't achieve his funding goal! He has since teamed up with Peecho to manufacture and drop ship his book. The book is now for sale at a launch special price on his website here.
Thanks to Stephen for sharing his project. Please check it out and support if you feel so inclined.
JCH