Camera Geekery: The Hansa Canon
Now this is something really special. We see a lot of pretty amazing cameras come through the doors here at JCH, but this is on an entirely different level. This is a Hansa Canon. And it holds a very special place in history as it is the first commercial 35mm camera made by Canon, or Seiki Kōgaku Kenkyūjo 精機光学研究所 (Precision Optical Instruments Laboratory) as they were known back then. Making it the first commercial camera from Japan. Without resorting to hyperbole, this is one of the most important cameras in Japanese history. If not the most.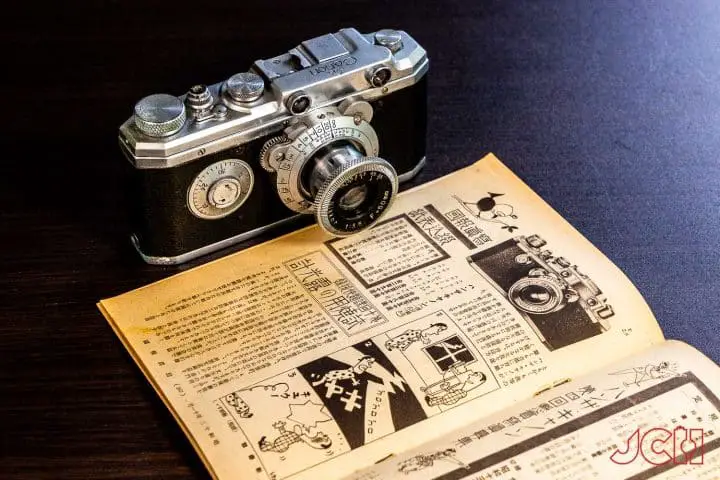 Early days
Back in 1925 Leica wowed the world by releasing the Leica I, the first commercial camera from Leica and the first 35mm to be mass produced for the general public (well sort of, they didn't make all that many). This was ground breaking and spawned many companies wanting to replicate this success. In Japan Seiki-Kogaku Kenkyusho was one of those companies. In 1934, under the leadership of Goro Yoshida the company began to develop the Kwanon cameras named after the Buddhist Goddess of Mercy, Kannon. Yoshida was a devout buddhist and his choice of name for the camera reflected his beliefs.
Supposedly 4 prototypes were made, though in Peter Dechert's book on Canon cameras, he suggests there may have only been 3 prototypes. But these were non-functional and made from wood. Goro Yoshida later said he made 10 metal cameras, but none of them have ever been seen. It is likely that none of the Kwanon cameras exist any longer. But what they did was go on to become the Hansa Canon.
The Hansa Canon
What happened to the Kwanon name? Well, Yoshida's brother-in-law and business partner, Saburo Uchida, decided to change the name to Canon in a reference to biblical laws and standards. But why Hansa Canon? The main dealer for Seiki Kogaku was Omiya Photo Supply Co. Ltd. Owned by Hikotaro Noro. He along with Uchida convinced Yoshida to drop Kwanon and add Hansa to the name. The name Hansa came from a medieval treaty amongst European regions know as the Hanseatic League. Hansa was used to denote that that camera had been sold by Omiya Photo Supply. Cameras without Hansa were being sold directly from the factory. The Hansa name was incidentally owned by Omiya Photo Supply until 2004 when they were bought out by Fujifilm. A strange twist of fate.
In 1935 Seiki Kogaku announced the Hansa Canon, and began work on the cameras using parts derived from the original Kwanon designs. The workshop was based in the Roppongi area and was tiny, with a very low production rate. But this was the beginning of something very big. World changing in fact.
Unfortunately the original workshop had limitations as the staff were still learning the difficult art of assembling cameras. In the summer of 1936 the workshop was moved to a larger space in Meguro so that cameras could be produced on a larger scale and with more precision. During this time the name of the company was also changed to Japan Precision Optical Instruments Laboratory. Despite this production was slow with as little as one camera a week being made.
It was decided in 1937 to incorporate the company to beat what was a difficult financial situation. This is considered by Canon to be the founding year of the company. With a more stable factory and financial situation Seiki Kogaku eventually went on to produce 1100 cameras with either Hansa or Canon on the top plate. The situation was helped by Omiya Photo Supply incentivizing its staff by giving them a 5 yen bonus per sale for a standard model. This helped to build morale in the staff, aiding the business.
Design Cues
The Hansa Canon can be shown to have some of the original design ideas from the Kwanon. Including the recessed area next to the pop-up finder (or surprise box as it was known). The hot shoe has the rounded cutouts which was not seen on later models. This particular camera is an early model with a 232 body type. There is also no marking on the top plate for the rewind. This is from the very first series of the Hansa Canon cameras. By all accounts the Hansa Canon is a very simple camera, but that belies its importance. This camera helped to kickstart possibly the largest camera manufacturer in the world.
What is really interesting about this camera is that it is sporting a Nikon lens. Back in 1936, before Canon was Canon they didn't have the capability to produce lenses. But Nikon (or Nippon Kogaku as it was then) had been making lenses and optical instruments for a long time already, mainly for the military and government. They wanted to get a piece of the civilian market, so a man by the name of Toyotaro Hori was tasked with researching ways to break into this market.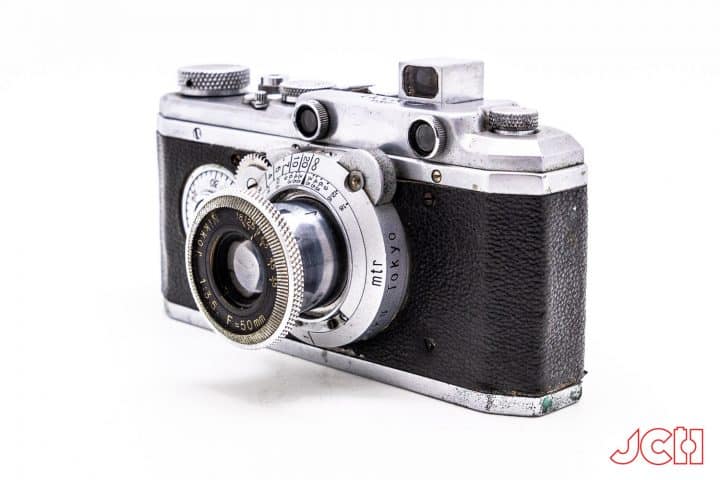 By coincidence Ryonosuke Uchida, the brother of Hansa co-founder Saburo Uchida had worked at Nikon as an auditor. Hansa Canon needed a lens and they had an opening. Development began on the Nikkor 50mm 3.5 Tessar formula lens for Hansa Canon with the full support of Nippon Kogaku. The lens uses a J-flange with a Nippon Kogaku focussing unit.
Importance
It is hard to overstate how import this camera was for Seiki Kogaku and for the Japanese photography market. This camera came out 12 years before Nikon released their own commercial camera with the Nikon I in 1948. During that time Seiki Kogaku managed to release their own 'Serenar' lens and produce new cameras.
When the Hansa canon was released it had a sale price of 275 yen with a lens. Bear in mind that the average workers salary was around 40 yen a month and skilled workers could expect 70 yen per month. This camera was an expensive proposition, yet still cheaper than the Leica offerings at 420 yen. The Japanese called these cameras takane no hana (something far beyond reach) as to own them would take many months of saving and sacrifice. Goro Yoshida aimed to change this when he started dismantling Leica cameras, with an aim to make cameras for the general public. Which I think he definitely achieved.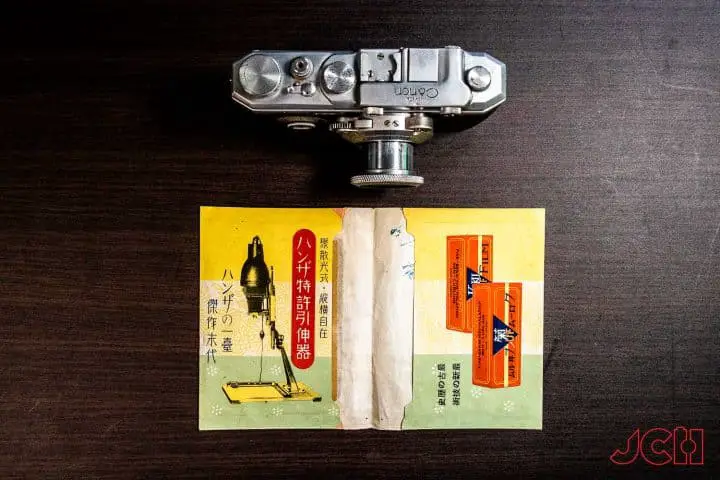 Goal
I feel extraordinarily honoured to be able to handle a camera like this. This camera is such a remarkable piece of history. This camera turned a small company interested in cameras into a massive multinational that continues to produce some of the most remarkable optical equipment in the world. I sourced this particular camera for a client and it is not for sale. What is remarkable about this particular camera is not just that it is a very early version, featuring some really important transitional design points. But also that it came with the original booklet and warranty holder. It is like a time capsule.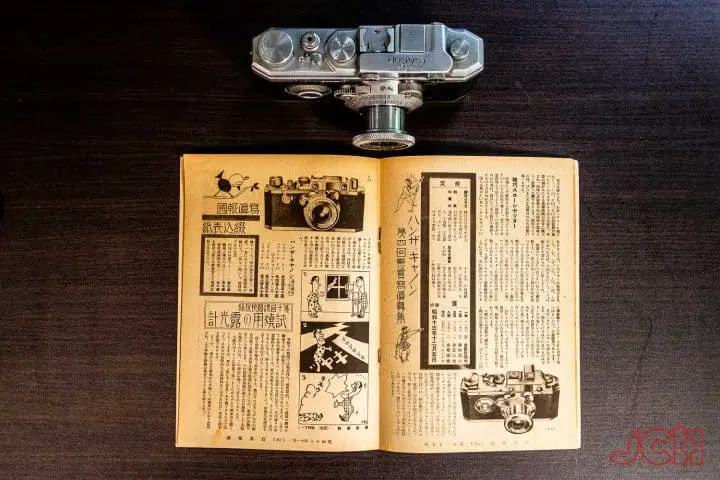 I was actually so excited about the camera that I got the JCH team together to make a video about this remarkable piece of camera historica. We hope you enjoy it.
I am pretty sure that I will never see something like this again, but then, you never know what is around the corner…
JCH