In Your Bag: 1729 – Denis Sandmann
I'm a social media manager / photographer based in Lingen, Germany. I've been running my own social media agency for ten years. Time flies!
For client work I use a Fuji X-T3 as long with several Fuji lenses, but I like to shoot my personal projects on analog cameras.
I started out with random cameras I bought at flea markets. I even bought broken ones and repaired them. Then, I decided to buy a refurbished Canonet. Shot with it for two years and got addicted. I converted my storage room / closet to a mini darkroom and started making my own prints also around this time.
Inspired by the pre 2000 photojournalists shooting the magic combo (Leica Rangefinder and TRI-X Film) I always wanted to do the experience this photographic lifestyle and even develop the film myself. So I got myself an MP and somewhat later an M6 and started shooting.
The Bag
My bag is a DOMKE F-6. I carry two Leica bodies, the MP and the M6 as well as the 35 mm Summicron and a 50 mm Summicron.
As far as accessories go I carry a Sekonic light meter, lens blower, micro-fibre cloth, one medium format spool (in case I need one when shooting pinhole or anything else medium format), spare camera batteries, a notepad with pen and a sharpie to write on film canisters. I usually note what is on each roll, and what ISO I shot. It is easier to remember how to develop a roll that way. I also don't rewind fully so I don't have to use a film retriever and without marking the rolls it can get very confusing.
I use the outer zip pocket for fresh film and one inner pocket for exposed film. In my car I have a cooling box for storing extra film I need on my trips.
I also carry 2 ziplock bags for storing photography project related items such as brochures, things I found at the place I photographed, etc.
At the moment I am digging Rollei Retro 400s. I bought a ton and just came back from shooting two weeks of road tripping in Denmark with these cameras and film. Still have to develop about 30 rolls of film waiting for me in the fridge.
So far I enjoy shooting with this.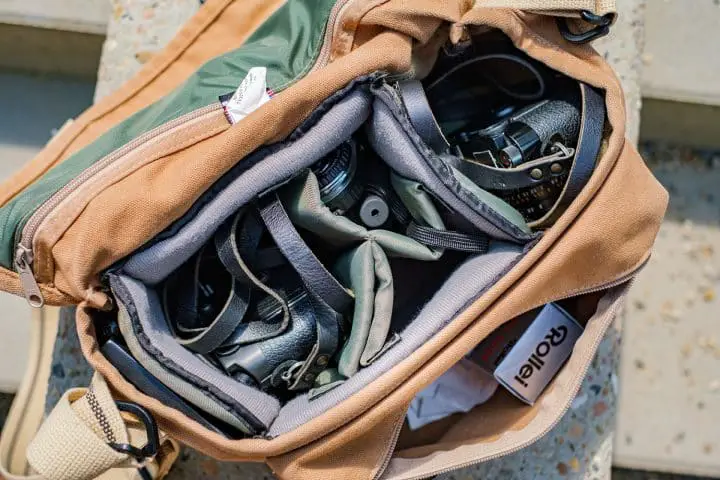 Social Media
I'm quite active on Instagram and TikTok. I post a lot of analog photography related videos. Not going anywhere without a camera ;).
TikTok: https://www.tiktok.com/@denissandmann
YouTube: https://www.youtube.com/denissandmann
Instagram: https://instagram.com/denis_sandmann
Keep them coming folks, we need more submissions, so get your bag on Japancamerahunter.com
Send me a high resolution image of the bag. Optimum size is 1500px across. Please ensure there is a bag in the shot, unless you don't use one. The more you can write about yourself the better, make it appealing and tell us a story. Snapshots of your gear with a camera phone and no words will not be featured.
Oh and don't forget your contact details (twitter, flickr, tumbler et al). Send the bag shots here. Not all make the cut, so make sure yours is funny/interesting/quirky. And please make sure the shot is of good quality, you are a photographer after all. 
Cheers
JCH