Camera Geekery: Fujifilm GA645Zi
Ah the 1990's; the decade known for pogs, Pokemon, and premium point and shoot film cameras such as the Fujifilm GA645Zi. The Fujifilm GA645Zi "Professional" was the final and most sophisticated model from Fuji's GA medium format line and introduced a few tricks up its sleeve other than that zoom lens. It also boasted an adjustable viewfinder diopter, a lens cap warning signal, a more ergonomic placement of the shutter button, a revamped top plate, and a quieter (relatively) focusing motor. It's been hailed the ultimate point and shoot in some circles, which raises an eyebrow from yours truly. Outside of a Holga or Diana, it and its cousins are the lightest medium format cameras on Earth. Now that we've had our slippery fingers on one for a weekend, let's dive into the hype.
Background History
The Fuji GA645 series is an entire family of fixed-lens autofocus cameras that's an extension of the previous GS folding-lens manual-focus cameras. It takes #not120mm roll film and the "6 x 4.5" negative is actually about 56mm by 41mm, making it small by medium format standards but still two-and-a-half times the surface area of a 35mm negative. That's definitely enough to show a quality improvement over 135 film, and makes the negatives easier to scan and more forgiving to deal with. Used properly, the 645 format gives just as much usable image as a cropped 6×6 frame, with the advantage of having a few extra exposures per roll.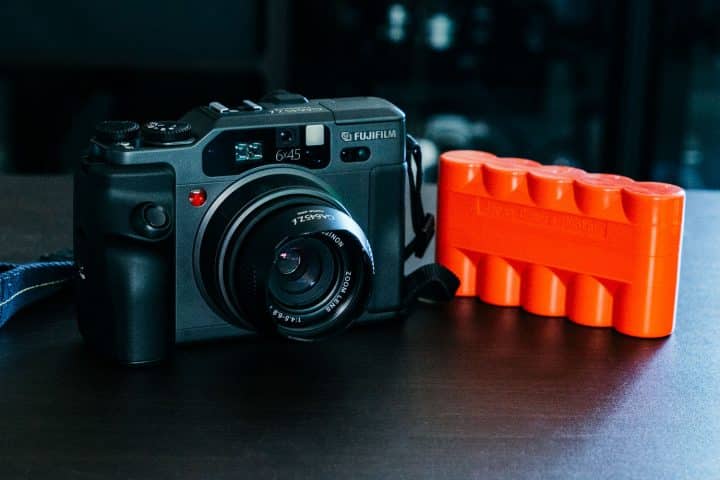 Fujifilm released the GA645Zi in 1998 in champagne and the more uncommon black version like this example was released one year later. The Fujifilm GA645Zi is the final iteration of the GA series starting with the original GA645 in 1995 and incorporates a zoom lens. The lens is a ten element in ten group design with a 1.6x zoom range of 55-90mm, F/4.5-6.9, equivalent in 135 format to approximately 34-56mm. However, there is a caveat, you only get four zoom steps or positions to choose from; 55mm, 65mm, 75mm and 90mm.
Fujifilm GA645Zi Tech Specs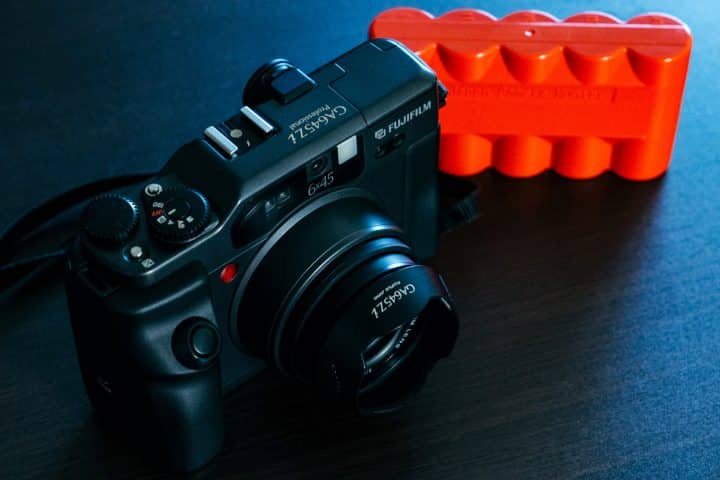 Manufactured by: Fuji Photo Film Co., LTD., Tokyo, Japan.
Made in: Japan.
Date of manufacture: 1998
Price: around $1849 USD in 1999
Weight: 880g (no batteries)
Dimensions: 165mm x 111mm x 75mm power off and no hood; depth with power on: 91mm, zoomed out to 90mm: 111mm
Focal length: 55-90mm.  65°-42° diagonal angle of view.
Aperture:  F/4.5-F/6.9 maximum, and F/22-38 minimum.  Auto or manually set in half stop increments.
ISO: 25-1600 manually set in 1/3 stop increments.
Focusing distance: 1.0m to infinity
Viewfinder: 'portrait' orientation illuminating window type bright frame finder with automatic parallax correction.  Manual states 88% coverage at infinity, 90% at 3 meters, with a magnification of 0.4-0.58x.

Light meter:

 TTF, (through the finder) center weighted light metering SPD photocell.
Lens: Fujinon Super-EBC (electron beam coating) 10 elements in 10 groups design with a 1.6x zoom range of 55-90mm, F/4.5-6.9.  Uses 52mm filters
Shutter and speed: 2 seconds up to 1/700*, plus bulb mode.
Film: standard 120 or 220 roll, with a picture area of 56mm x 41.5mm, automatic 120/220 switchover
Film Loading: Auto-loading with film sensing
Exposure compensation: +/- 2 E
Flash: built-in pop-up type, guide number of 12 at ISO 100, not user adjustable in power but it sounds like is has a crude distance integration system in 'P' mode. Fill flash only in aperture priority and manual modes.  The owner's manual suggests slow sync is available in 'As' mode
Power: two CR123a 3V lithium batteries. Fuji claims the batteries will last for 3000 shots with no flash use.
Fujifilm GA645Zi Features and Ergonomics
Viewfinder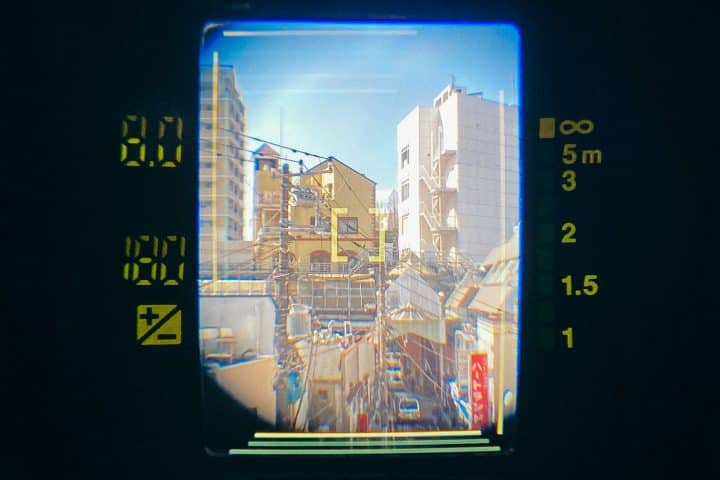 A quirky thing you will notice once you take a look through the viewfinder is the vertical orientation. This clearly plays into the strength of the camera as a portrait machine. The viewfinder itself is nice; bright, not too contrasty and parallax corrected. Vital camera settings are clearly visible on the sides when the shutter release is half-pressed, with number and font sizes just right. My only gripe is that if exposure compensation is used, only the icon appears under the shutter speed on the left side. To see how many increments you've set you'll have to stray your eyes away from the finder and check with the back LCD.
Main Control Dial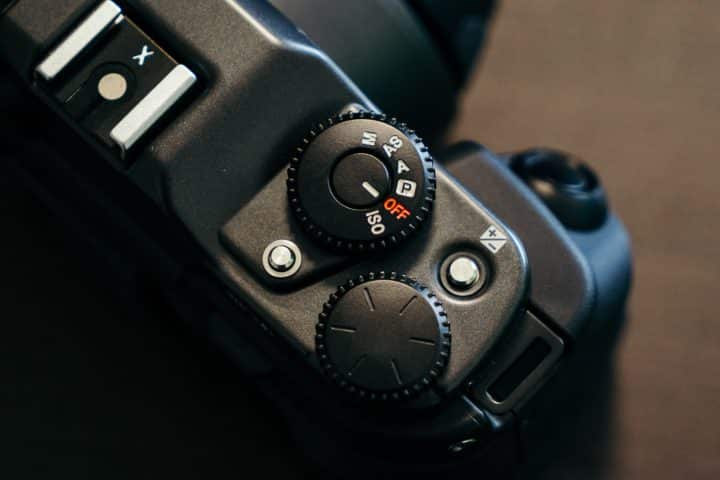 The main control dial is operated by pressing down the lock button and rotating, to select ISO, OFF, P, A, AS, and M. The mode dial is meant to embody simplicity but there is a bit of complexity to deal with. The mode dial has "A" and "AS" positions to choose from. Both are aperture-priority, and the difference only matters when using the flash. The "AS" will use the metered exposure and add the flash for fill, which is how most cameras work in aperture priority modes, while the "A" mode will force the camera to a 1/45 shutter speed. Being a leaf-shutter camera, the flash will sync all the way up to the camera's 1/400 maximum, making the little pop-up useful for catchlights and fill.
Zoom Lever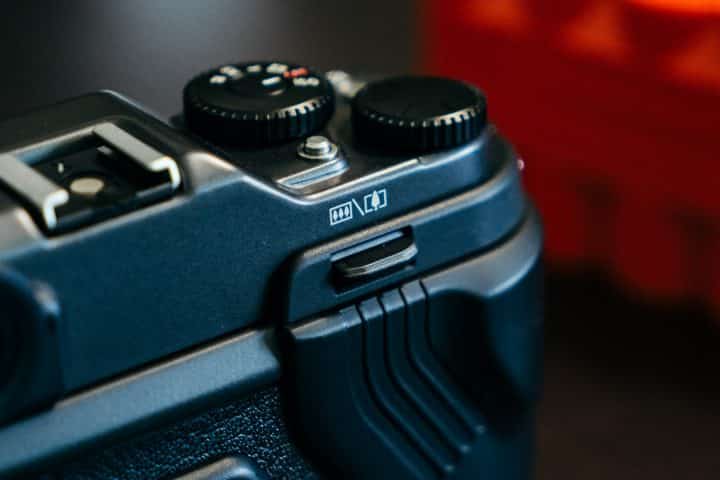 Love it or hate it, zooming is controlled by a thumb lever on the back of the camera. Design-wise, I like its size and location and it complements the grooved lines on the thumb rest nicely. I do understand people's concern with the awkwardness, but in practice I find it not to be any real issue. As mentioned before, there's only four zoom settings so precise movement is not very necessary.
Shutter Release Button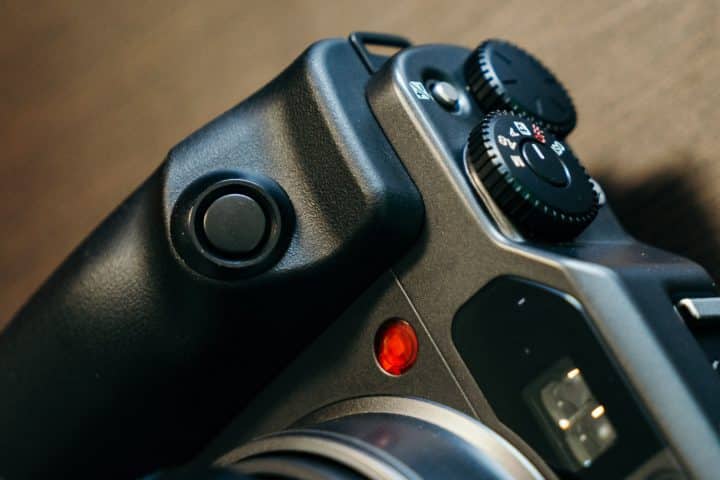 The shutter release button is often cited as a star feature of the GA645Zi and once you wrap your hands around the camera grip you will see why. It is 60mm from the back of the camera and perfectly raised 70mm from the base, which is roughly at 3/4ths the height of the camera. Combined with the 50 degree slant, it can't really feel better in the hand. Well as good as plastic can feel.
Built-in Viewfinder Diopter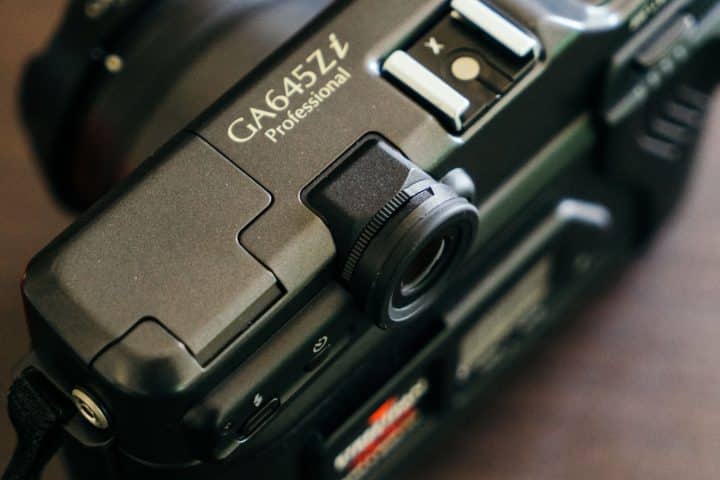 Another cool feature is the built-in diopter, a very much welcomed feature for us four eyes. There are no clear markings to indicate the degrees, but if you are far-sighted, turn the dial clockwise or if you are near-sighted, turn it counterclockwise. The diopter has an adjustable range of -3 to +1D.
Semi-Automatic Film Advance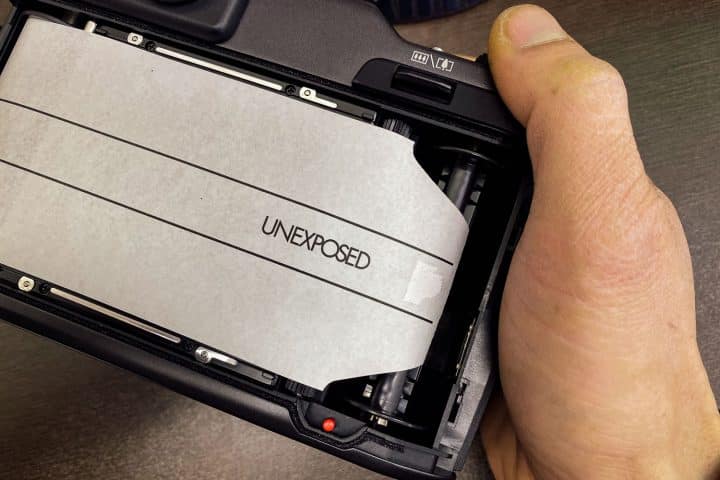 A feature aimed to simplify the loading process is the automatic film winder. One turn of the thumb dial advances the film spool in quarter-turn increments. While the feature itself works fine, I wish there was a smooth continuous spin rather than increments. More on that later.
Pop-up Flash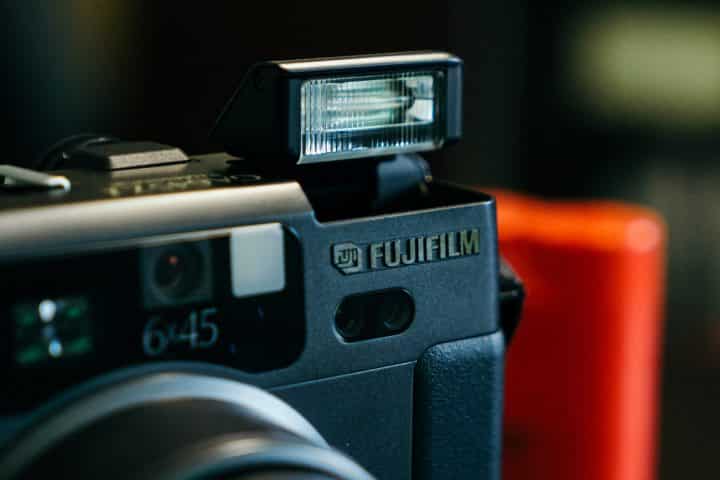 I pop-up flash is always handy to have and is a must for a point and shoot in my book. You never know when you'll need a fill flash to counteract some rough backlight. The flash has to be manually popped up, it won't do it automatically even in P mode. The guide number is 12 at ISO 100.
Rear LCD Display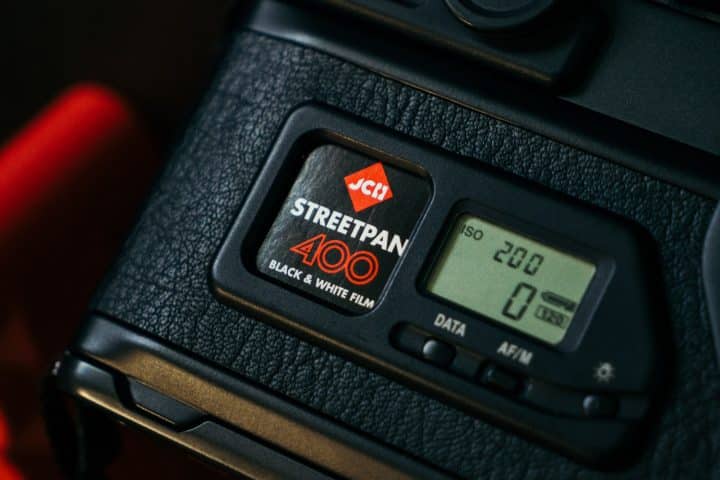 I always appreciate little details like a film reminder slot. The film back is wrapped in leatherette and has a film reminder memo holder for film box tops. Yes, SP400 is better at 200.
A nifty gimmick touted by the GA645Zi is the data imprint feature but if you are expecting the information to be on the image a la 35mm point and shoots like the Ricoh GRs, you'll be disappointed. Exposure and date time information can only be imprinted on the film outside the photo area.
Film Spool Release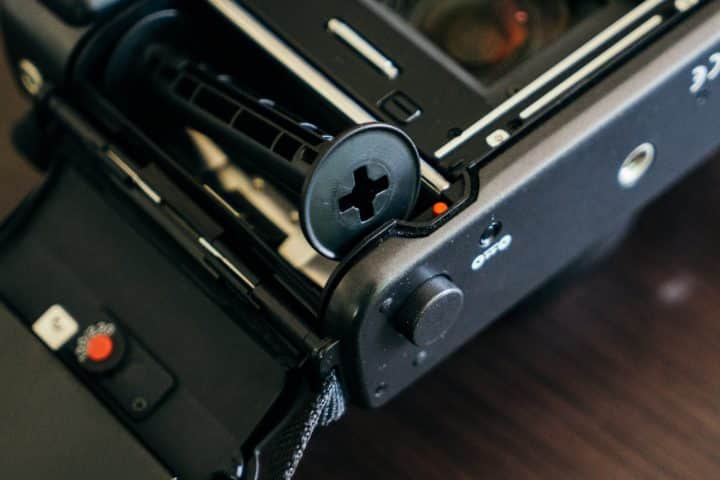 A staple of Fuji cameras that I always love is the push out pegs for film spool loading. It's elegant and works like a charm making film loading quick and secure.
Fujifilm GA645Zi Size and Weight
The following is a comparison between the Fuji GA645Zi with a couple other portable medium format legends on hand, the Plaubel Makina and Fuji GF670. Neither of which has a zoom lens or flash.
Fujifilm GA645Zi weight: 920g (w/batteries)
Plaubel Makina 67 weight: 1.27kg (w/batteries)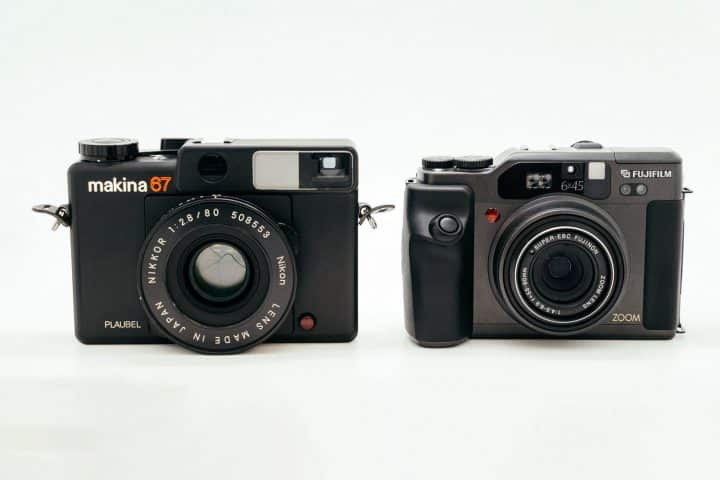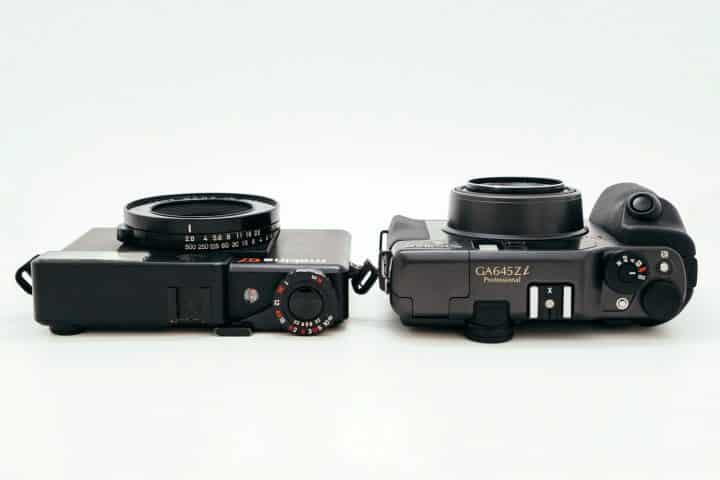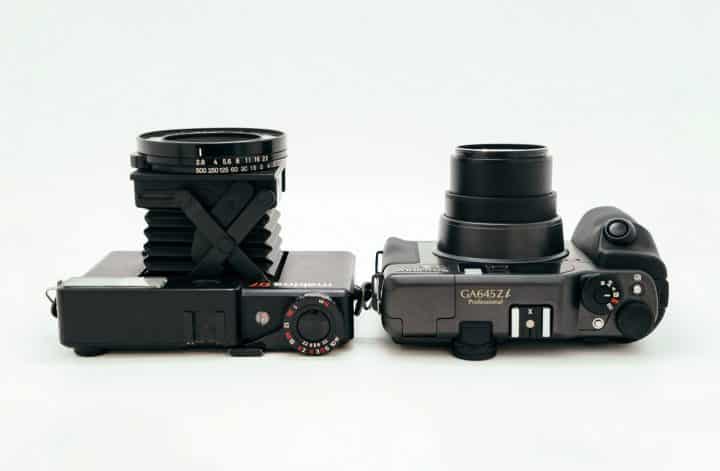 Fujifilm GA645Zi weight: 920g (w/batteries)
Fujifilm GF670 weight: 1.02kg (w/batteries)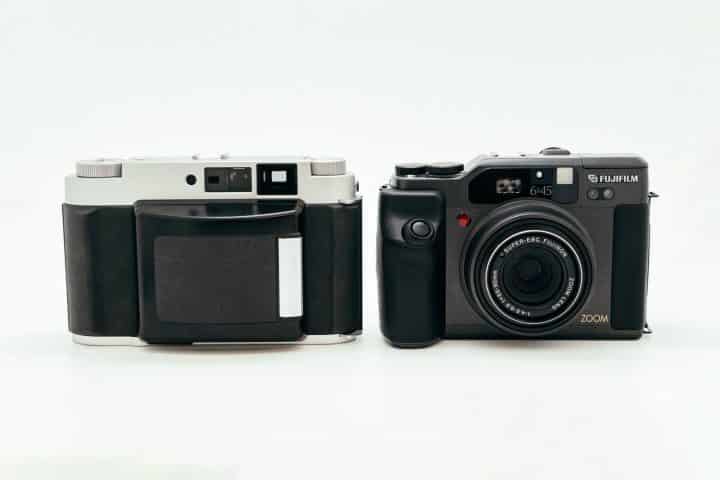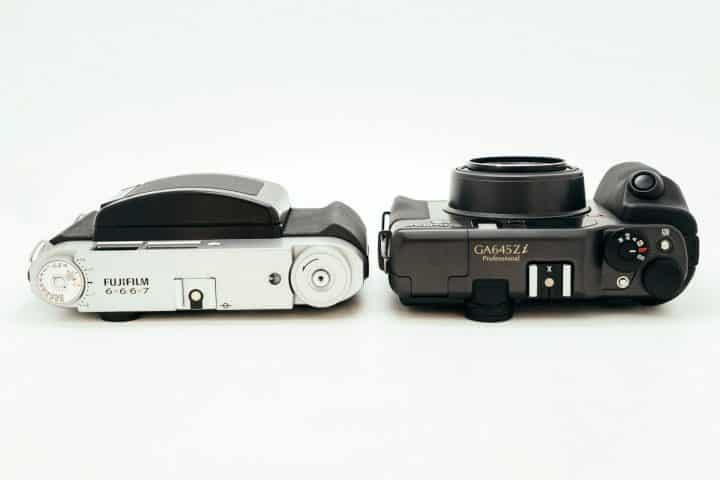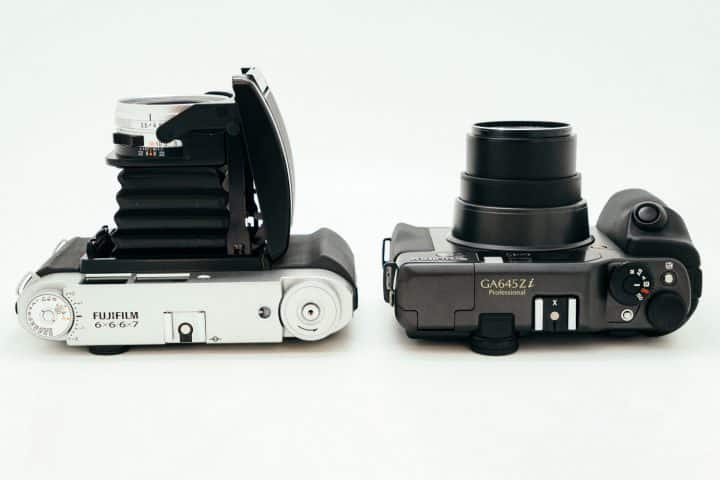 Fujifilm GA645Zi Issues
LCD ribbon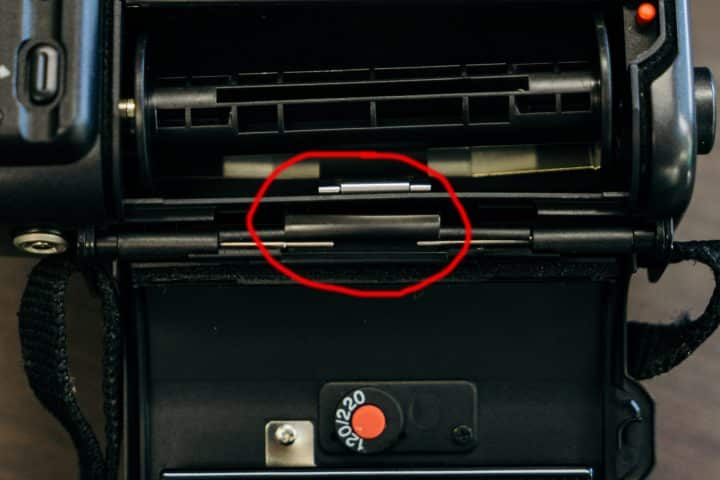 A common issue with the GA645Zi is this ribbon imbedded in the backdoor hinge. It is in quite the vulnerable position so be sure to slowly and carefully open the back door and don't let it swing out and stretch too much. As the result of this poor design, the rear LCD is liable to failure. Unfortunately this is a common occurrence as few examples of a perfectly working LCD still exist. The sample I reviewed has a finicky one, normally OK but fades when the temperature drops. Kind of annoying not be able to see how many shots you have left.
Film Alignment
Back to the incremental film advance. The quarter-turn increments can make it difficult to get the "Start line" aligned correctly. This is important because the GA645Zi is rather picky with this to be able to load the film correctly. I had it about this much off and the camera was unable to load properly so you're gonna have to take the spool off, roll it back a bit and start over.
In another roll I shot, the start line was again off a bit but it was able to load. However upon finishing and opening the back, the dreaded "fat roll" made its presence. So the tech meant to make your life easier can actually make it more of a pain if you are not careful. Thus I reckon a continuous rolling or smaller increments would have prevented these issues.
Fujifilm GA645Zi Sample Images
The following examples were shot on Fujifilm Pro 400H and JCH Streetpan 400. Self-developed with Cinestill CS41 and Df96, respectively.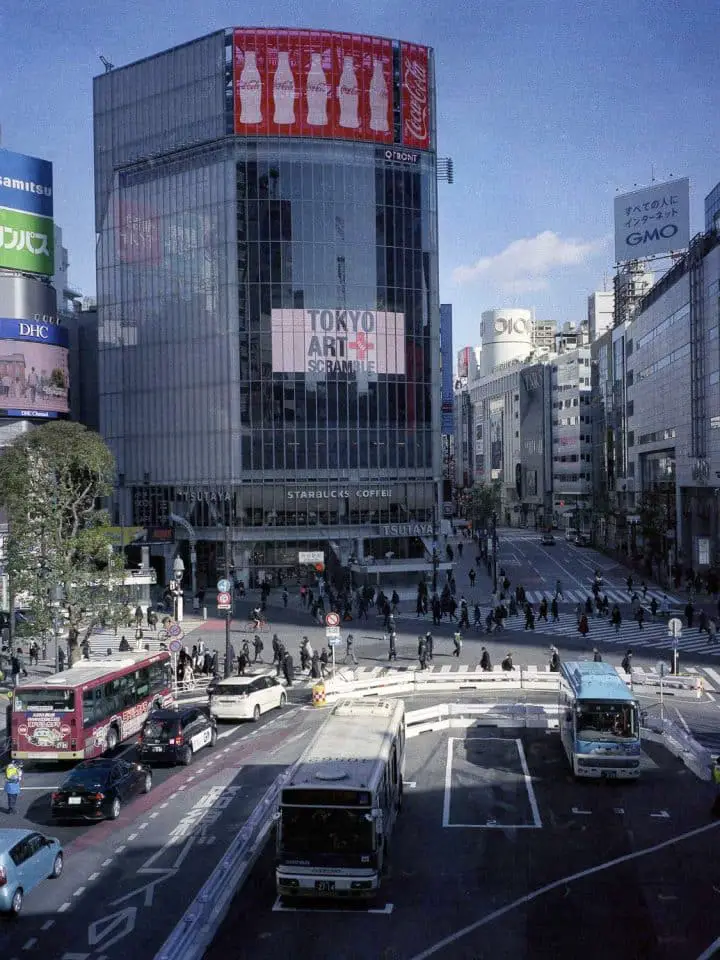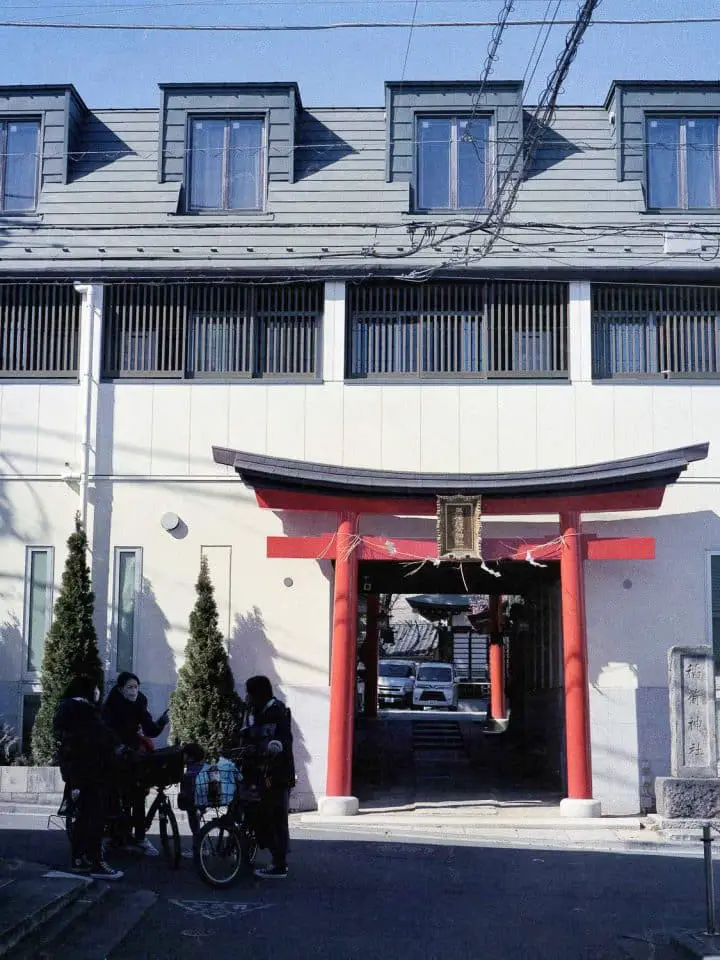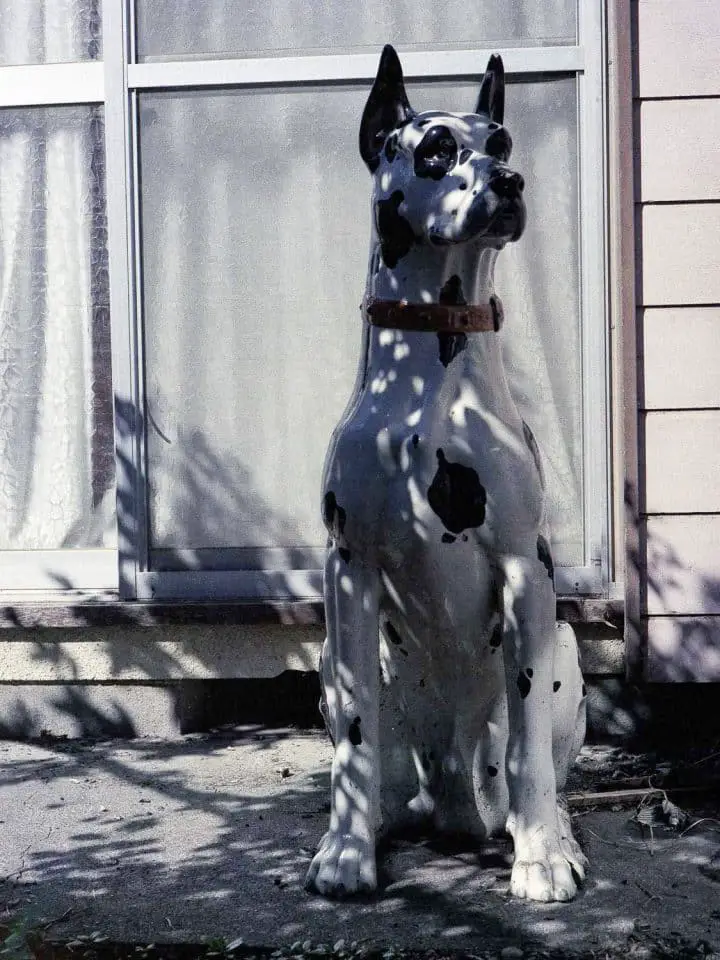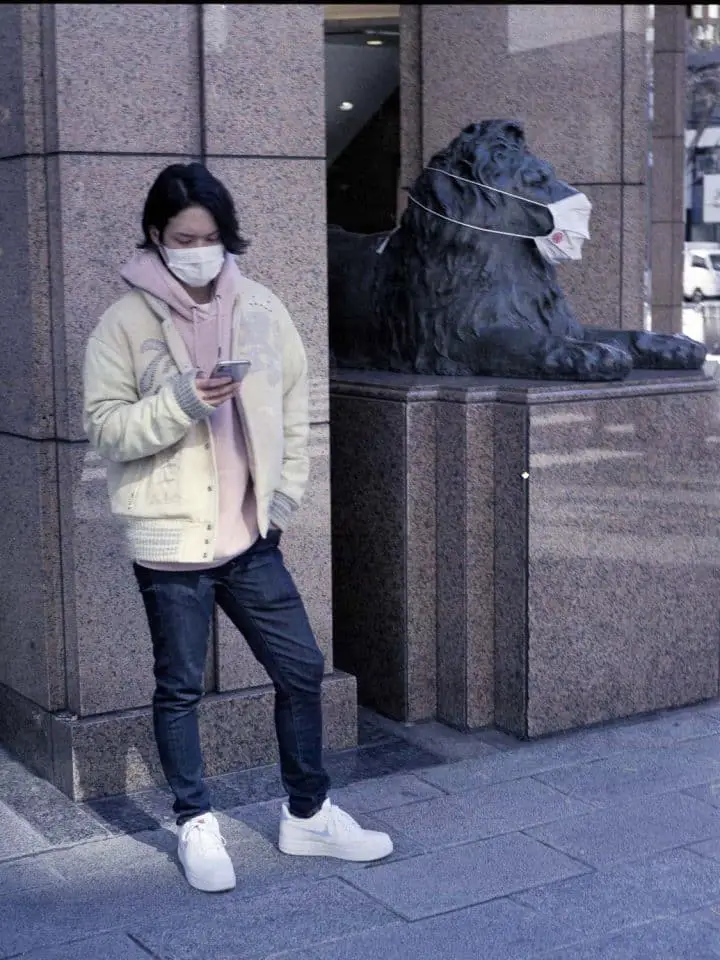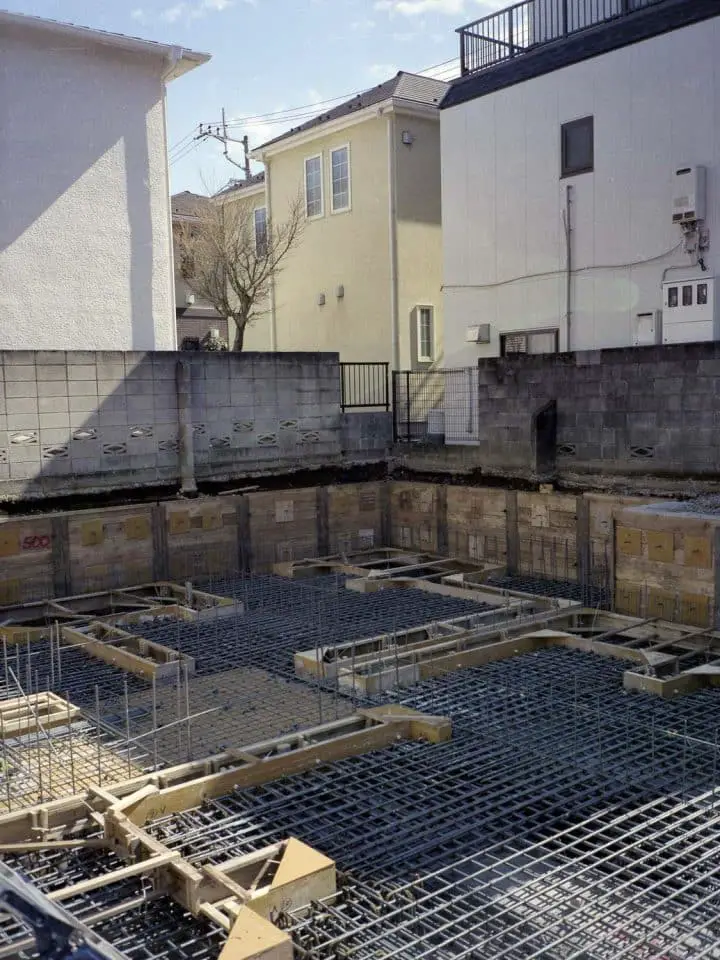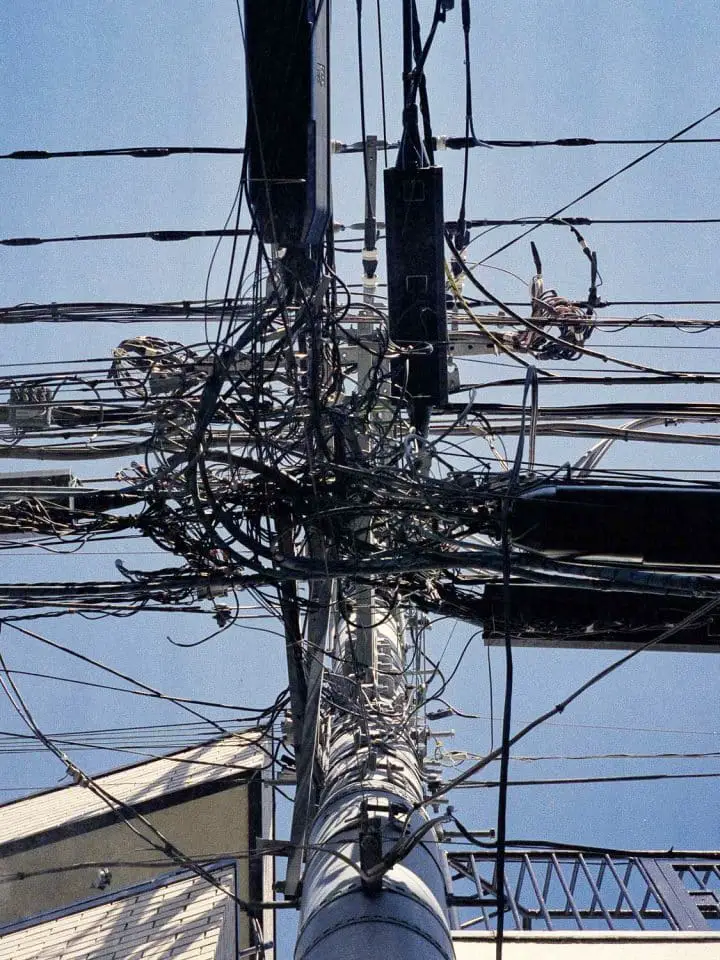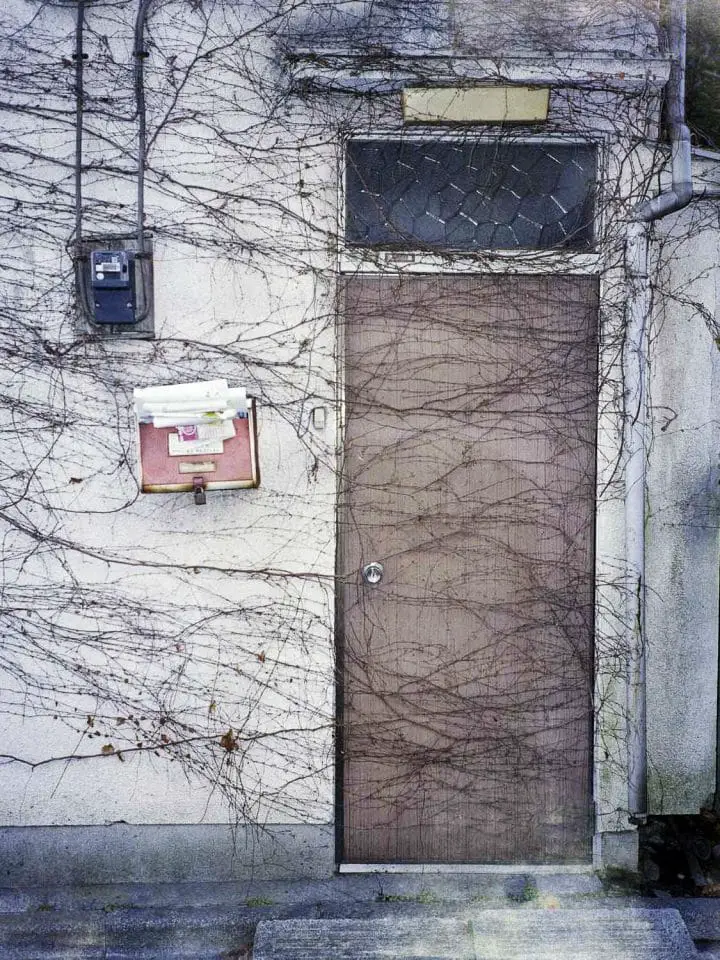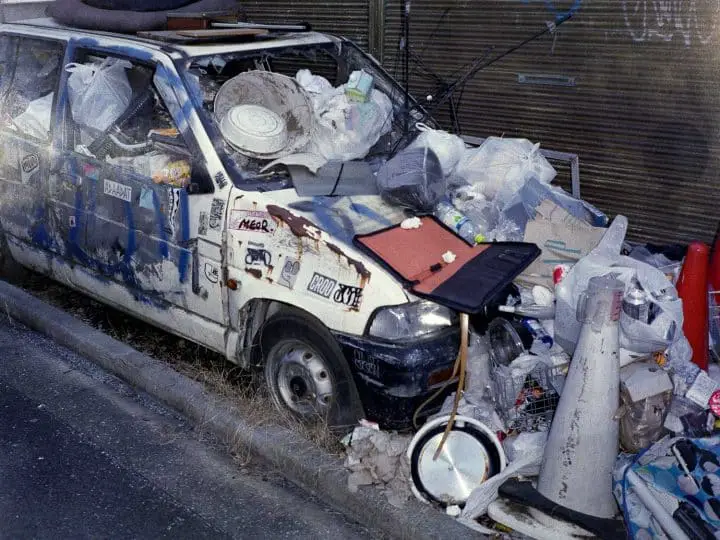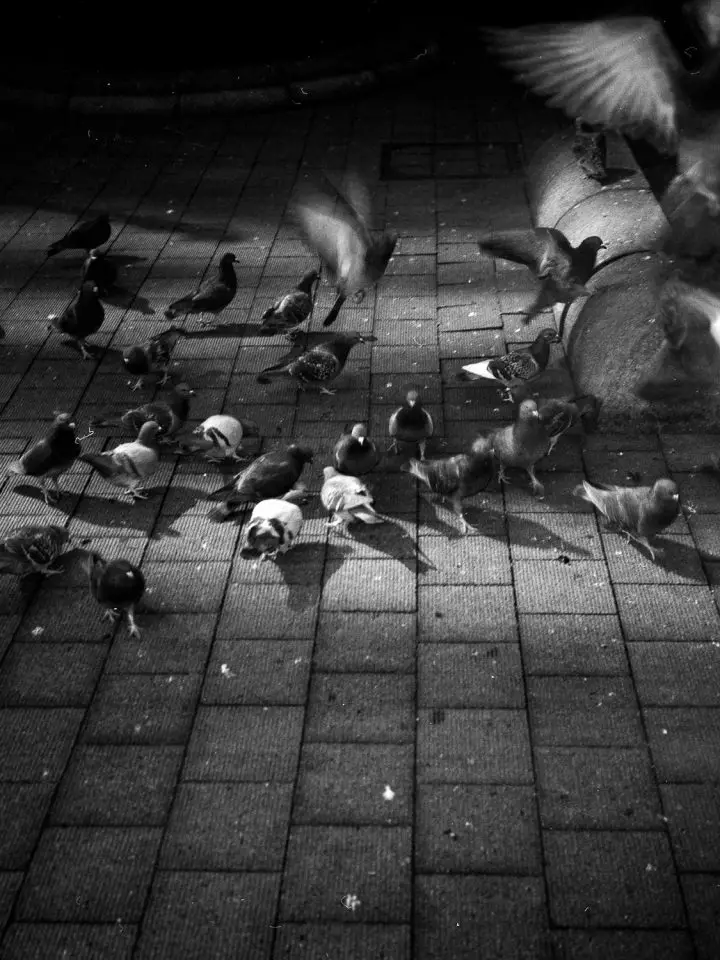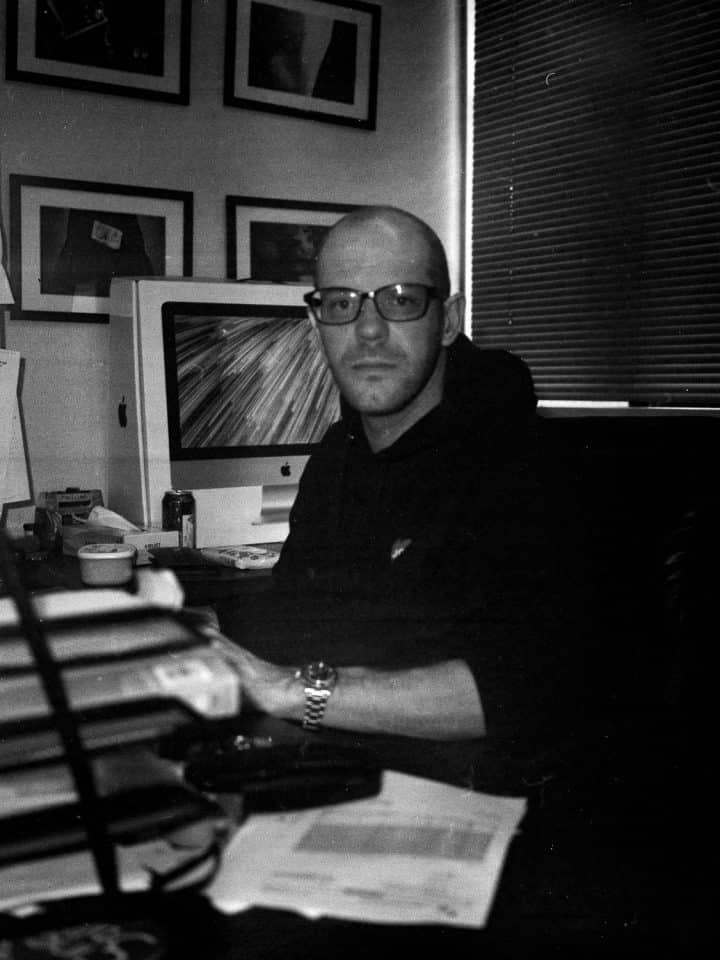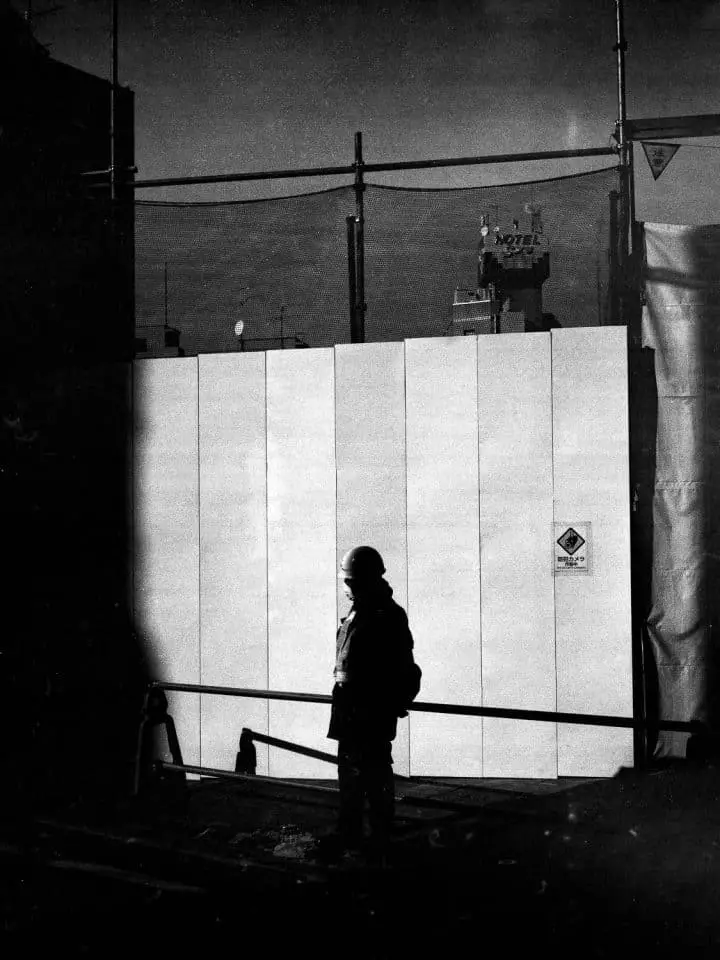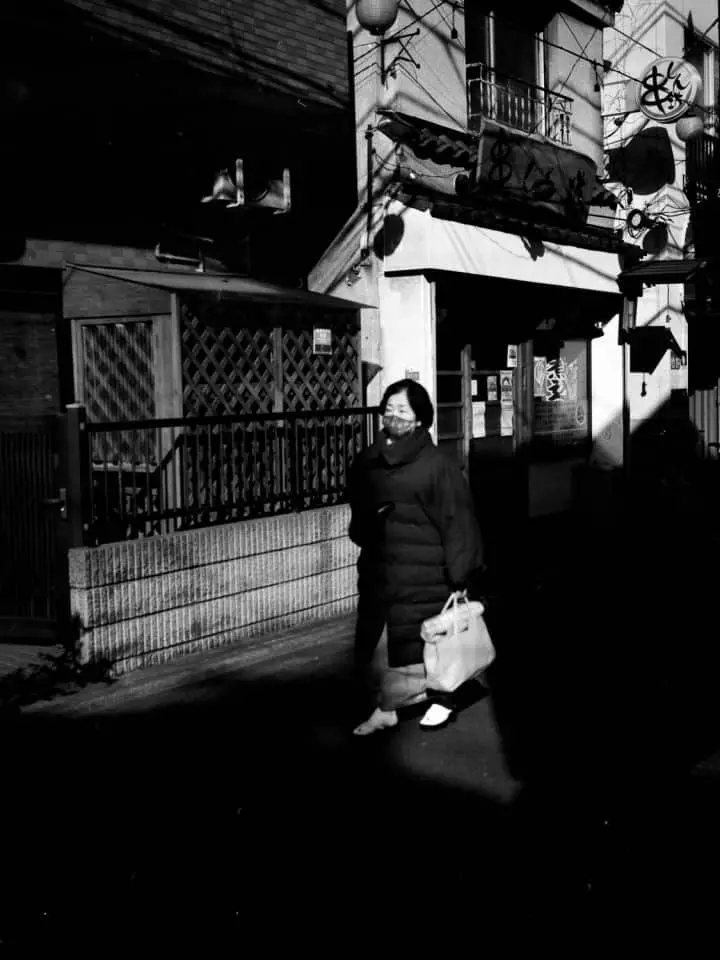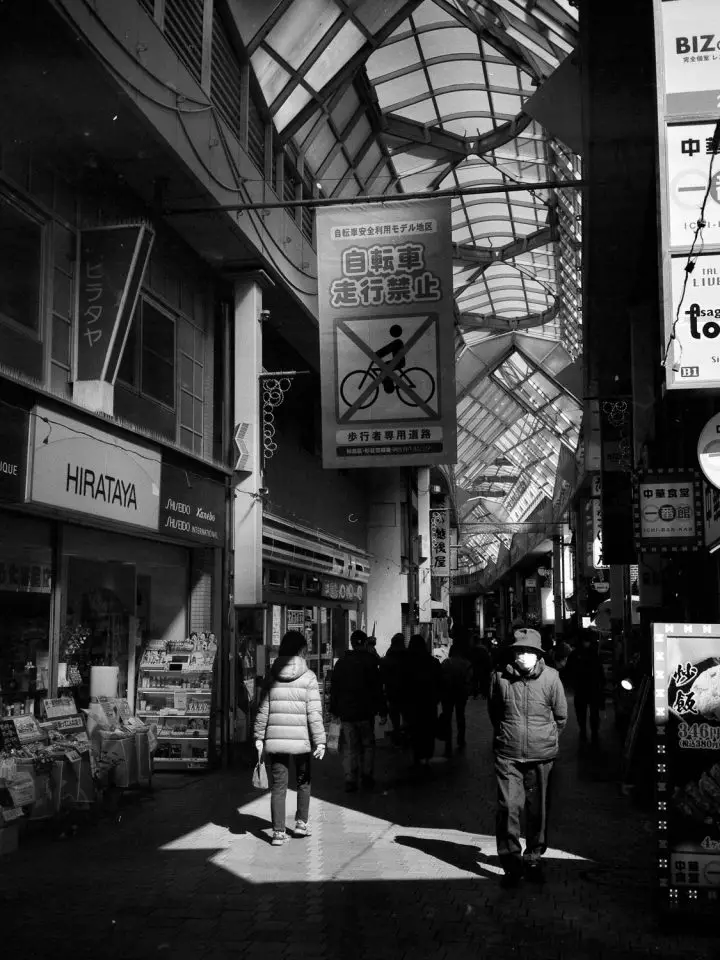 Conclusion
I find it interesting that you can only set the year up to 2025. Therefore, does that mean that in 3 years all Fuji GA645s will discreetly implode like a Mission Impossible message? The loud whirrs of the motors and 90's sounding clunky focusing doesn't inspire confidence.
The real feature of the camera is its portability and versatility in focal lengths. The flat profile of the vertically-carried GA645 means that it's less bulky than an SLR when it's slung on a shoulder strap, and the plastic body is sturdy enough to handle minor scrapes and bumps. The absence of a mirror means that there's no mirror vibration. So your slowest hand-holdable shutter speed could be down to 1/15th or even 1/8th of a second.
*Multiple sources list the GA645Zi having a max shutter speed of 1/700th but I only see a max of 1/400th in my sample. I hope other users can help clarify this. If it is indeed just 1/400th, you will be frustrated as I was with using it for street photography. That in addition to the less than reliable AF, it is not an ideal setup for action on the streets.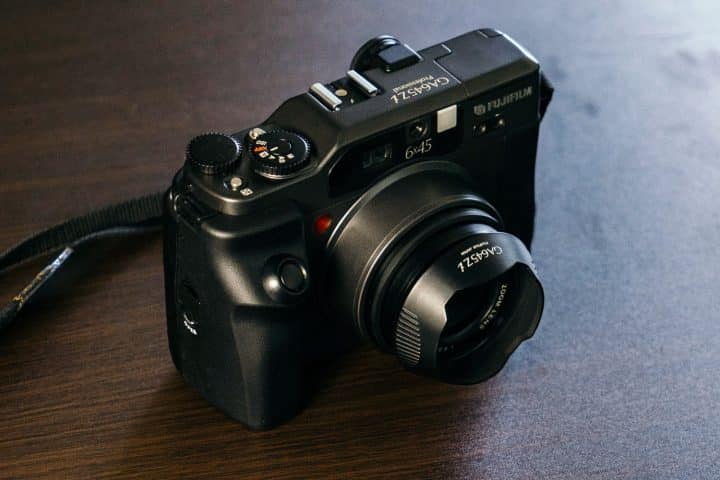 Final Thoughts
The target audience for the Fujifilm GA 645Zi remains the same in 2022 as it did in 1998. It is for those who want to travel light, not think too much and have deep pockets. If you got the dough, this camera is a great way to make the transition to medium format with and greatly eases the intimidation factor. The Fujifilm GA645Zi can be a fantastic travel and on-the-go, always-on camera.
However, expect to lose some frames with the 90's era AF tech. It struggles especially with close focusing around 1m. The lens itself though is versatile and nice, displaying thin lines with nice contrast, however the lack in speed can be limiting in low light and the shallow depth of field of that "medium format look". I wouldn't confuse it with an exhibition making tool. It is what it is; a light, simple, pretty damn pricey way for the average enthusiast to capture most travel situations on a format larger than 35mm.
MN