Review: Photomyne Filmbox
I don't know if everyone else has been bombarded lately by ads for the Photomyne Filmbox app on the surprisingly detrimental to teens and self esteem instamachine. The almighty algorithm has targeted me and I assume many others who often post and tag film photography related content. I usually just flip past sponsored posts but the pitch for easily scanning your negatives with just your phone is an intriguing proposition and I bit. The following is a quick look at the process and results from go with the Photomyne Filmbox. I did the homework so you don't have to.
What is the Photomyne Filmbox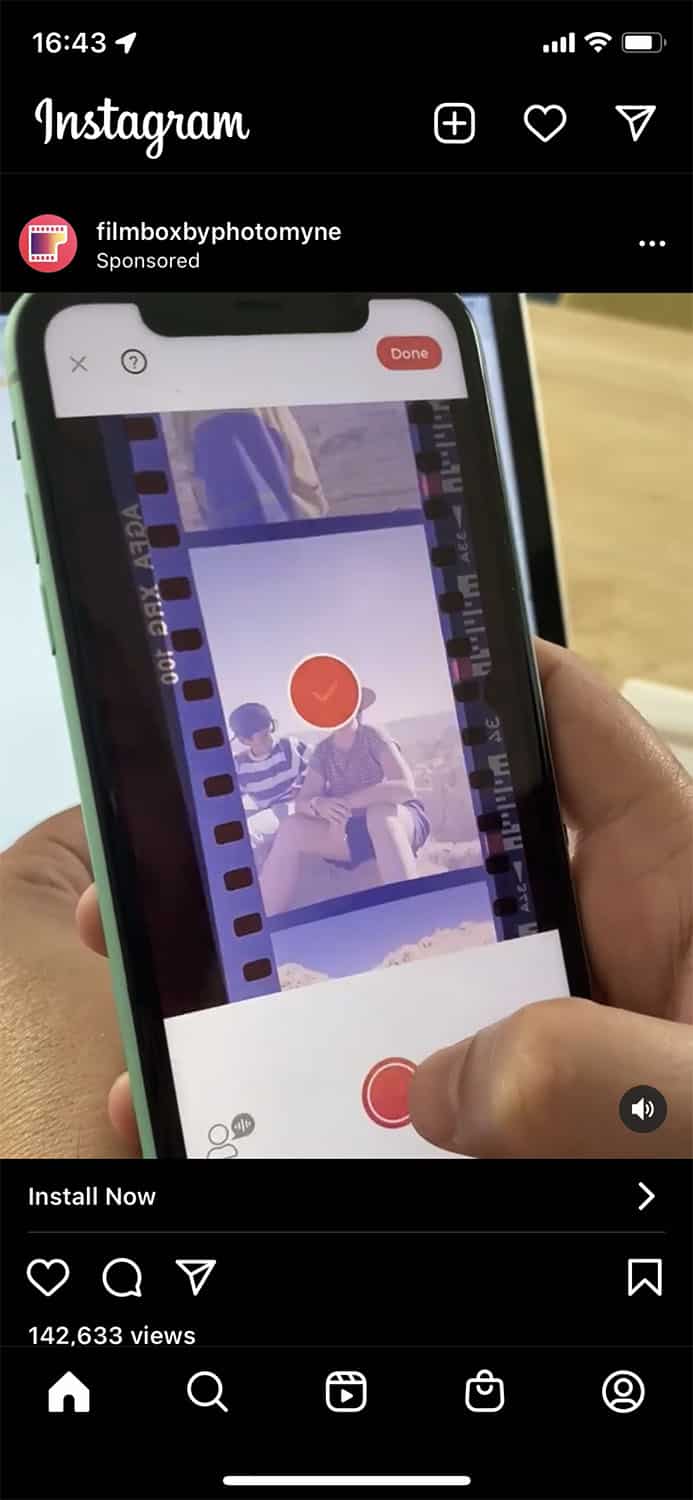 While catching up on followers posts, the sponsored ad for the Filmbox caught my eye as it initially seemed like a great idea. A quick scan of your negatives on your phone can be a boon. Of course it's unreasonable but people will somehow expect Noritsu quality from that 4mm lens and 4mm sensor in your pocket.
The app is marketed and targeted towards, shall we say "older people", and is meant as a quick and easy way to digitize the arcane physical cellulose and paper that dinosaurs use. There is just no physical possibility that this can in any way replace a proper scanner for any real work but does it do what it promises and could be a helpful tool for proofing, etc.?
Photomyne Filmbox Process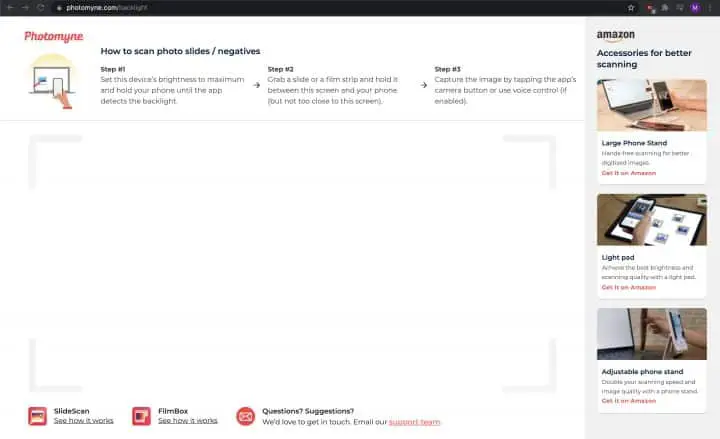 Firstly, the app tells you to open a blank white screen and set your monitor brightness to the max level. You can also just click on the link they provide which leads you to the above image.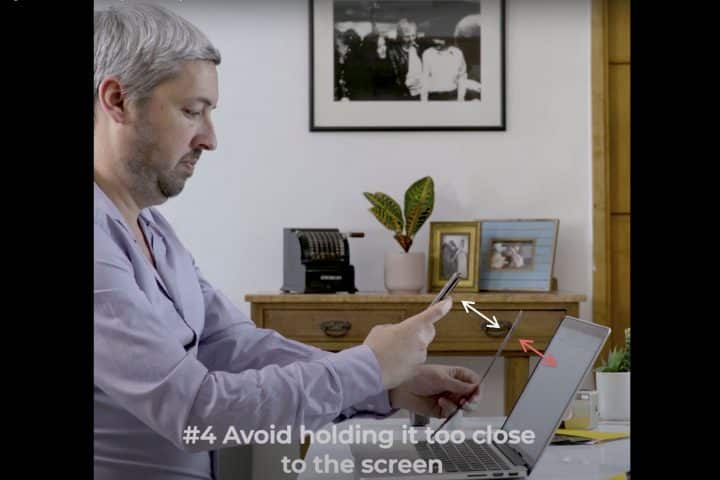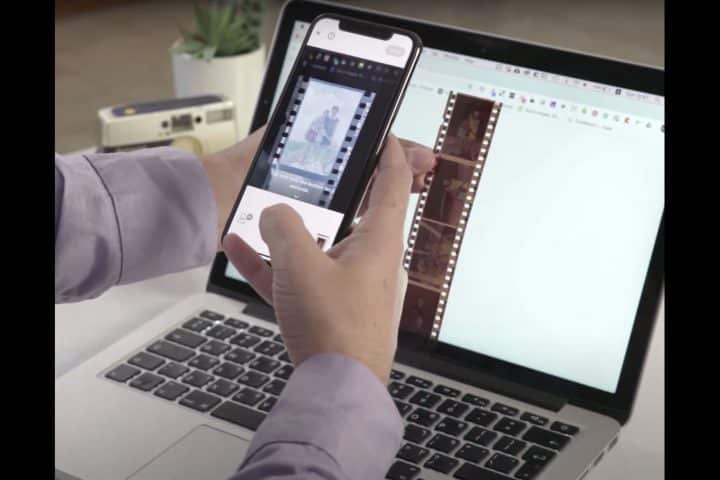 You then hold up your negative as shown, press the button for 3 seconds and your negatives will be quickly and nicely scanned to the camera roll on your phone. At least that's what the marketing material will lead you to believe.
Actual Results
The instructions video made it look simple enough. But in real world use, I don't think everyone's negatives are that straight and flat like in the how-to video. Streetpan for example, is quite thin and difficult to hold up as required. Holding it not quite right provides wildly inaccurate croppings and distortions. Below is a landscape somehow confused to be in portrait and the buildings are way skewed.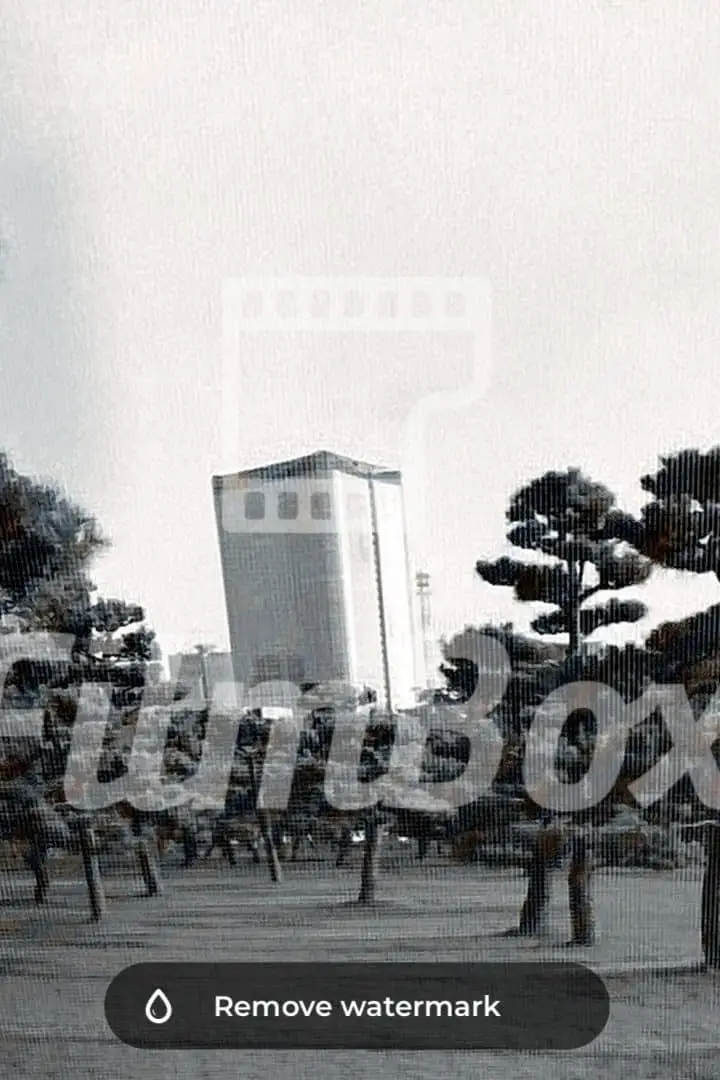 You also have to be wary of the angle you're holding the negatives at. Otherwise the glare from the monitor can cause some unsightly marks like below.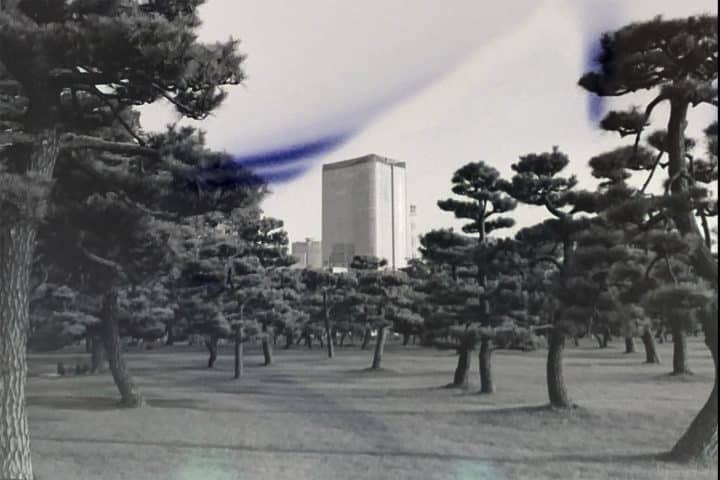 It seems many people have had similar issues enough that there is a developer response to the matter:
The negative has be 2 inches (5 cm) away from the computer screen in order not to have the image pixelated. The camera needs to see the side holes. Please try again and let us know how it goes.
Alrighty then, let's give it another go. So holding the negative precisely provides the image below. The following is the same image scanned on a Plustek Opticfilm 8200i.
The first 7 images are free as a trial, well sort of, then after that you'll need a subscription of some sorts to access your images and remove the watermark. I say sort of because, you can't export the sample images you scanned for free, you can only view them.
And before you ask, yes I tried to just take a screenshot to circumvent the watermarking to which the app responded with:
Currently, the app can only crop to 35mm film. For scanning 35mm slides there is a separate app, and scanning actual prints also requires a separate albeit related app. Why can't they be combined? Not sure…
Conclusion
Seems like the Filmbox app has good intentions but execution and the freemium features have many kinks that need to be worked out. The idea was to make digitizing your negatives "easy" but fiddling around to make sure you hold your negative perfectly still at an awkward position defeats the purpose.
The disparity in image quality between a real scanner and your smart phone is nothing that can be helped yet I was hoping that it could aid in checking your negs on a light table at the lab or sending quick samples. Not sure this even cuts it for the grandma scanning old family albums.
I don't mind the "freemium" concept per se, but you gotta offer something better to hook people let alone keep them coming. Just a nice idea doesn't cut it I'm afraid, the execution portion of the equation has much catching up to do.
What do y'all reckon? Is this something you'd be interested in given it does what it should? Let us know, you know the drill.
MN